Corredores silenciosos e milhares de livros espalhados pelas hipnóticas estantes. Sim, todo leitor sabe admirar boas bibliotecas. Das mais simples até as mais suntuosas e antigas, elas existem há milhões de anos e guardam obras preciosas para a história da Literatura e do mundo.

Uma das bibliotecas mais antigas do mundo e também uma das mais famosas é a Biblioteca de Alexandria, localizada no Egito. O acervo completo da biblioteca chegava a setecentos mil volumes, entre eles cerca de quarenta a sessenta mil manuscritos em rolos de papiro. A raridade e o número de obras que a biblioteca possuía lhe deu o prestígio de ser a maior biblioteca da antiguidade. Erguida ao longo do século III a.C, a Biblioteca de Alexandria resistiu até a Idade Média quando um incêndio destruiu parte de seu acervo.
Há alguns anos, o governo egípcio construiu uma nova biblioteca em Alexandria, inaugurada em 2002, perto do presumível local da antiga. Apesar de ter sido alvo de duras críticas pelo seu orçamento elevado, ela introduziu, como a sua antecessora também o fez, uma nova era de apoio ao conhecimento no norte da África.

As bibliotecas são verdadeiros monumentos ostentados com orgulho por instituições e governos do mundo todo ao longo dos séculos. Mantendo a arquitetura clássica ou ousando com construções futuristas, as bibliotecas preservam os maiores tesouros da sociedade, contribuindo para a expansão do conhecimento, encantando leitores e eternizando uma de nossas maiores paixões: os livros.

Veja algumas bibliotecas incríveis que todo leitor deve conhecer:
Real Gabinete Português de Leitura (Rio de Janeiro, Brasil)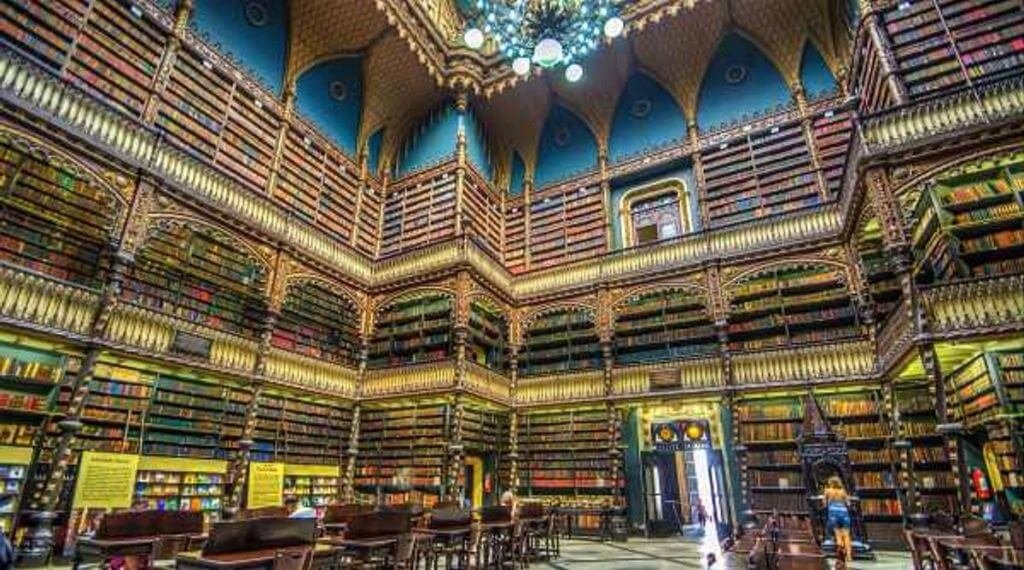 Localizado na rua Luís de Camões, no centro do Rio de Janeiro, o Real Gabinete Português de Leitura hipnotiza pela quantidade de livros distribuídos em estantes com muitos metros de altura. Entre as obras raras do Real Gabinete está um exemplar da edição de Os Lusíadas, de 1572, escrito por Luís de Camões e um manuscrito da obra Amor de Perdição, do escritor português Camilo Castelo Branco. A arquitetura do local também chama a atenção, e a instituição foi fundada em 1837 por um grupo de imigrantes portugueses.

Biblioteca do Parque Villa-Lobos (São Paulo, Brasil)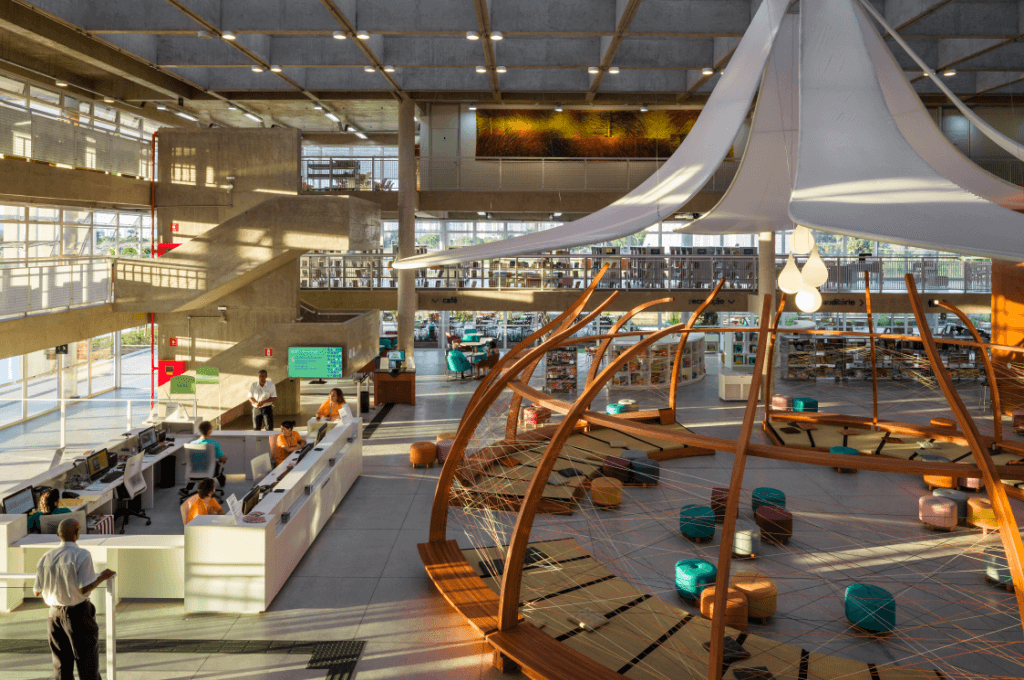 Localizada no Alto de Pinheiros, em São Paulo, a Biblioteca do Parque Villa-Lobos foi finalista do The London Book Fair – International Excellence Awards 2019, na categoria Biblioteca do Ano e disputou com instituições da Finlândia e Zâmbia. Inaugurada em 2014, a biblioteca ostenta uma arquitetura arrojada e sustentável com salas para estudos, leitura, jogos e muita área verde, afinal a instituição fica dentro do Parque Villa-Lobos.

Biblioteca da Abadia (St. Gallen, Suíça)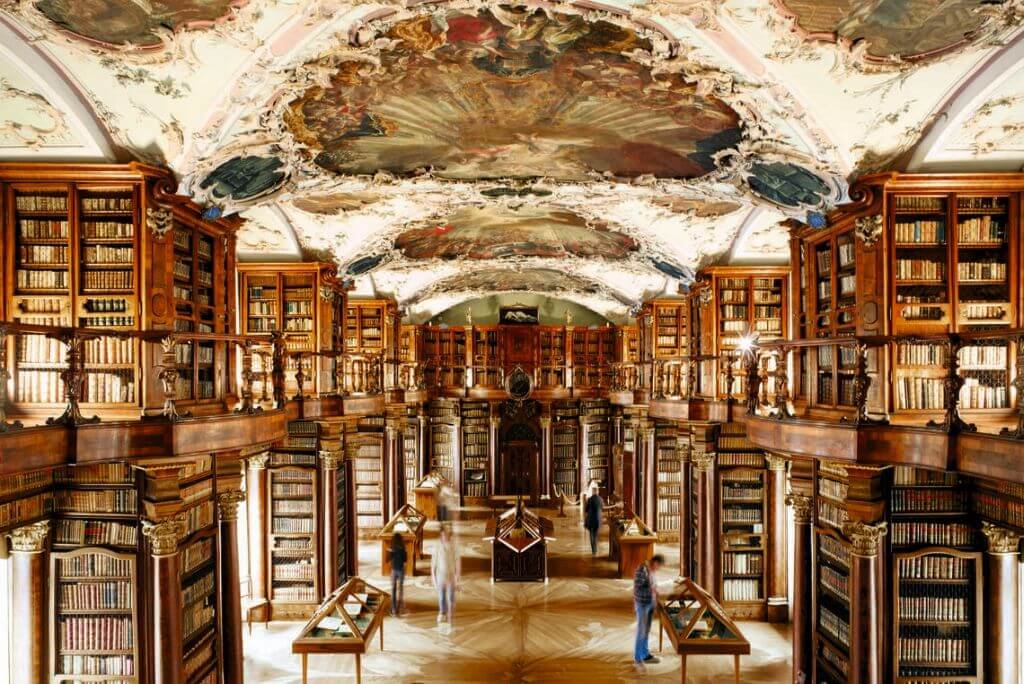 A Biblioteca da Abadia, na Suíça, chama a atenção pelo requinte de sua arquitetura e tem um belo salão barroco. Atualmente, preserva cerca de 170 mil livros — 50 mil estão no salão barroco, onde a múmia egípcia Shepenese, de 2.700 anos de idade, também se encontra. Em 1983, a instituição foi declarada Patrimônio da Humanidade pela UNESCO.
Biblioteca Pública de Nova York (Nova York, Estados Unidos)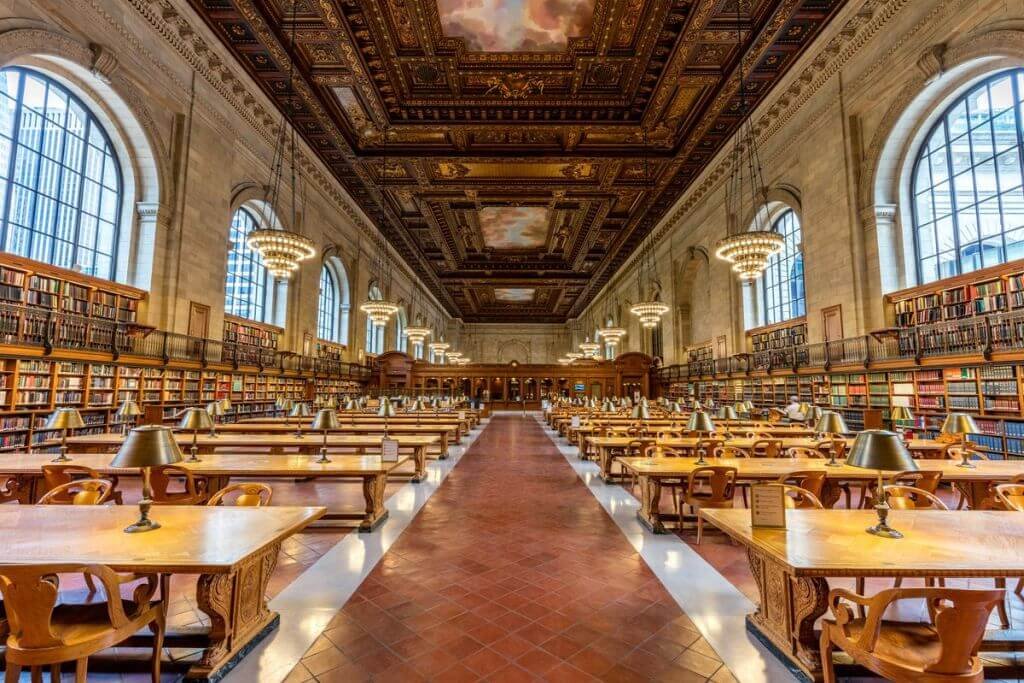 A Biblioteca Pública de Nova York fica em Manhattan e está entre as principais bibliotecas do mundo. Com mais de 20 mil livros, a instituição está entre as cinco bibliotecas mais importantes dos Estados Unidos. Todos os anos, a instituição abriga exposições e programas públicos, incluindo aulas de alfabetização, pesquisa e inglês para falantes de outros idiomas. A Biblioteca Pública de Nova York atende cerca de 18 milhões de pessoas todos os anos.

Biblioteca Vasconcelos (Cidade do México, México)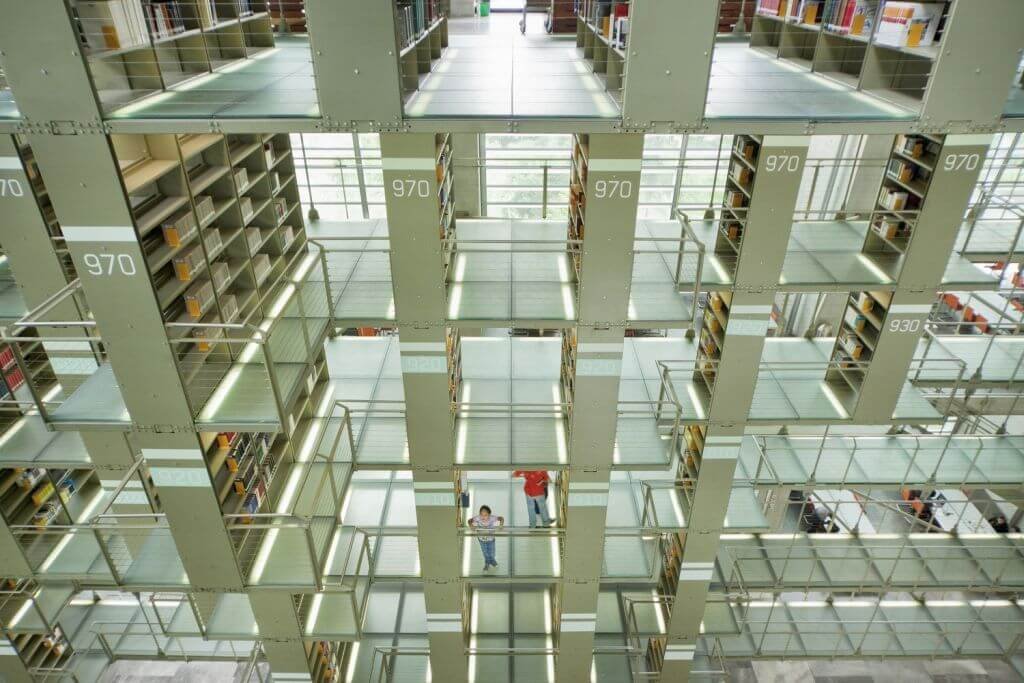 Admirada por sua arquitetura moderna digna de filmes de ficção científica, a Biblioteca Vasconcelos fica no centro da capital do México, Cidade do México, e foi inaugurada em 2006. Chamada pela imprensa de "megabiblioteca", a instituição se estende por 38 mil metros quadrados e suas estantes foram desenvolvidas de maneira que podem ser expandidas conforme o crescimento do acervo que, atualmente, conta com 580 mil itens.

Biblioteca do Trinity College (Dublin, Irlanda)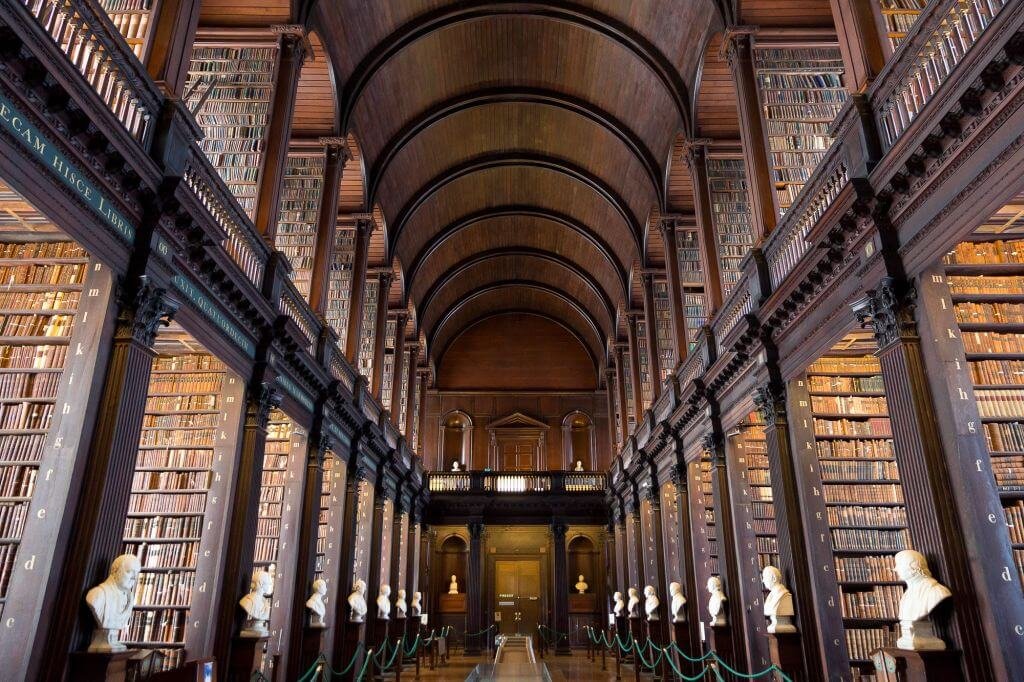 Localizada em Dublin, capital de Irlanda, a Biblioteca do Trinity College é a maior do país e tem mais de 4,5 milhões de livros. Conhecida também como Old Library, a biblioteca tem o direito de receber gratuitamente uma cópia de todos os livros publicados na Irlanda e Reino Unido, se tornando um grande acervo da produção literária e editorial irlandesa e britânica. A sala principal do prédio tem dois andares e a vista impressiona. No The Long Room estão guardados os livros mais antigos do acervo, cerca de 200.000 títulos. Bustos em mármore de nomes importantes da filosofia, literatura e outras áreas ficam expostos ao longo da sala — são 48 no total, entre eles, John Locke, Aristóteles, Francis Bacon e Shakespeare.

Biblioteca Pública de Stuttgart (Stuttgart, Alemanha)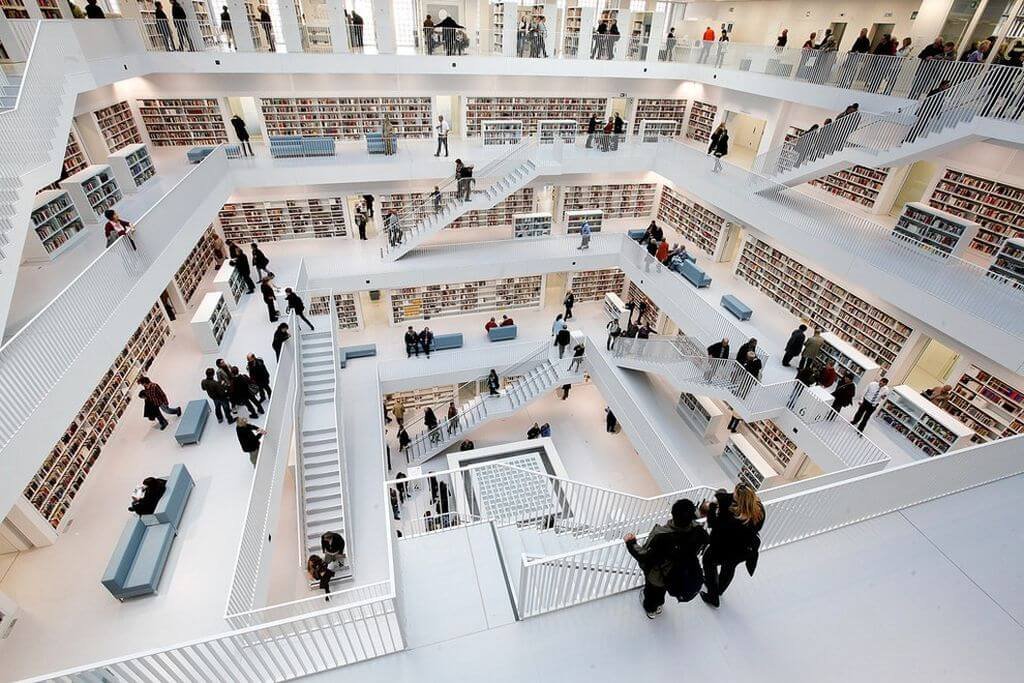 A Stadtbibliothek Stuttgart é a biblioteca pública da cidade de Stuttgart, na Alemanha. Com arquitetura moderna, mas que não impressiona do lado de fora, foi inaugurada em 2011. O prédio cinza de oito andares guarda sua beleza entre os corredores e amplos espaços para leitura. O sistema de devolução dos livros também é completamente automatizado feito pelo próprio leitor. O prédio que se parece com um caixa foi projetado pelo arquiteto sul coreano Eun Young Yi.
Biblioteca Starfield (Seul, Coreia)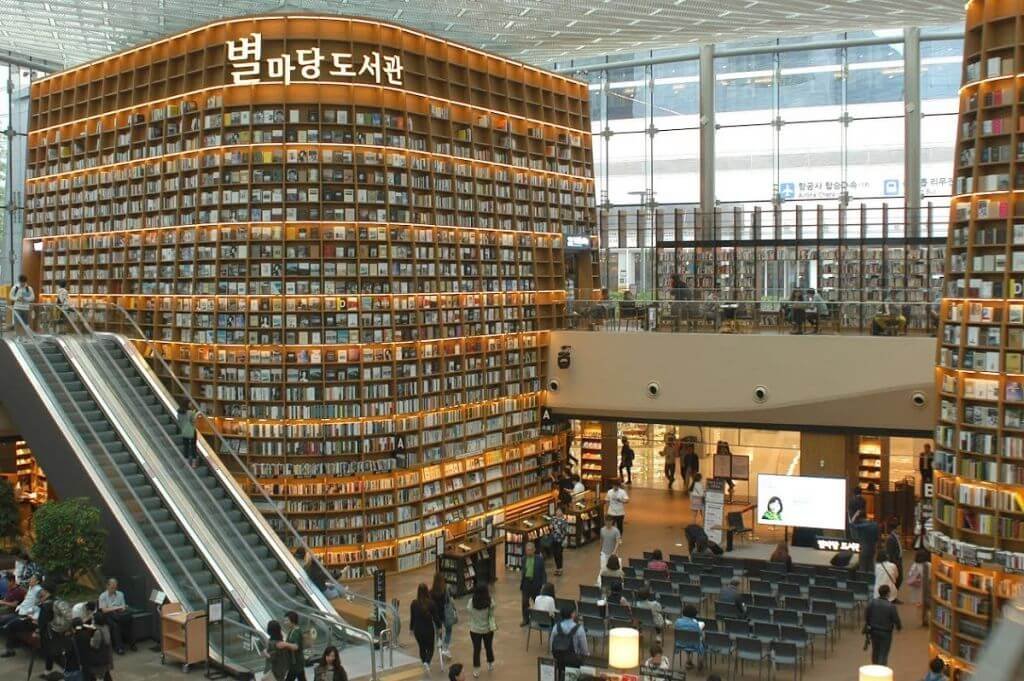 Inaugurada em 31 de maio de 2017, a Biblioteca Starfield fica dentro do Shopping Starfield COEX em Seul, Coreia do Sul. A biblioteca tem cerca 2.800 metros quadrados de área e estantes de mais de 10 metros. A arquitetura é moderna. Com estantes de livros de 13 metros de altura e mais de 50 mil livros e revistas em exposição. Apesar da maioria das publicações serem em coreano, a biblioteca conta com revistas em outros idiomas para visitantes.

Biblioteca do Congresso (Washington, Estados Unidos)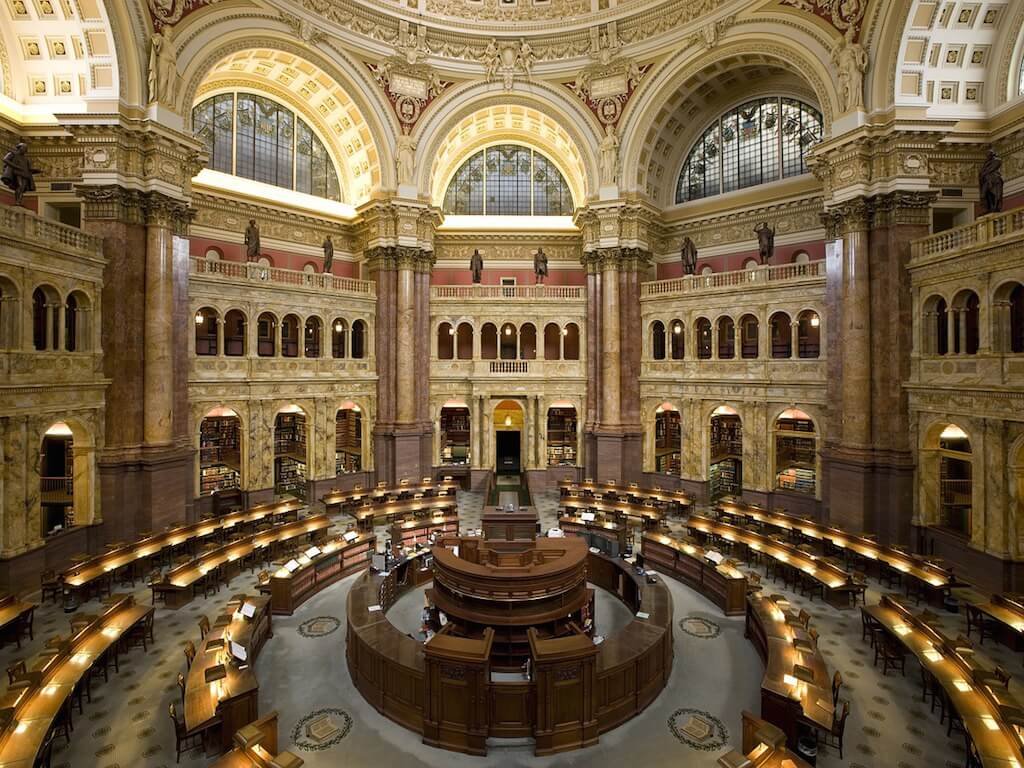 A instituição cultural mais antiga dos Estados Unidos. Localizada em Washington, a Biblioteca do Congresso possui mais de 155 milhões de itens, incluindo livros e publicações em 470 idiomas. Com isso, a instituição se tornou a maior biblioteca do mundo em número de livros. A biblioteca foi inaugurada em 1800 e entre seus itens valiosos estão quatro cópias restantes da Bíblia de Gutenberg, uma das primeiras impressões realizadas na história e marca o início da produção de livros no mundo.