Patrice Lawrence nasceu em Brighton, Inglaterra, em uma família de classe média. É escritora, jornalista, e possui um mestrado em redação para cinema e TV. Durante um curso de escrita forense teve a ideia do seu primeiro livro, Cores Vivas, uma história jovem adulta sobre a marginalização do negro, mas acima de tudo, sobre amor, compreensão e respeito. Autora premiada com o Waterstones Children's Book Award e o The Bookseller ya Book Prize em 2017, nos apresenta a uma Londres que vai muito além dos pontos turísticos: aqui, conhecemos o cotidiano de uma família que não vive na área nobre da cidade, mas em proximidade com um submundo em que a violência é constante, e o medo é apenas uma consequência.

Com sua obra, Patrice busca promover a esperança entre as famílias que vivem presas à violência de gangues locais, assim como evidenciar a situação real enfrentada por muitos adolescentes negros. Por isso, convidamos a autora para falar sobre a representatividade na literatura mundial e a importância de autores negros contarem as suas histórias:
Darkside: Patrice, você já conquistou o coração dos leitores brasileiros com a história de Marlon em Cores Vivas. Como você se sente quando obras que propagam a representatividade negra na literatura conquistam o mundo desta maneira?

Patrice Lawrence: Levei muito tempo para escrever histórias com personagens negros. Todo livro que eu gostava quando criança era escrito por uma pessoa branca e era sobre crianças e famílias brancas (a menos que fosse sobre animais!). Então, quando Cores Vivas foi publicado, fiquei com medo de aumentar os estereótipos de jovens negros como membros de gangues. No entanto, Marlon é mais do que isso. Ele é um nerd de ficção científica, viciado em Matrix e Star Trek, que se preocupa profundamente com seus amigos e familiares. Era importante para mim escrever sobre os pontos fortes das famílias negras em Londres, bem como os seus desafios. Ver Cores Vivas sendo traduzido para diferentes idiomas é incrível e espero que a história de Marlon também seja universal.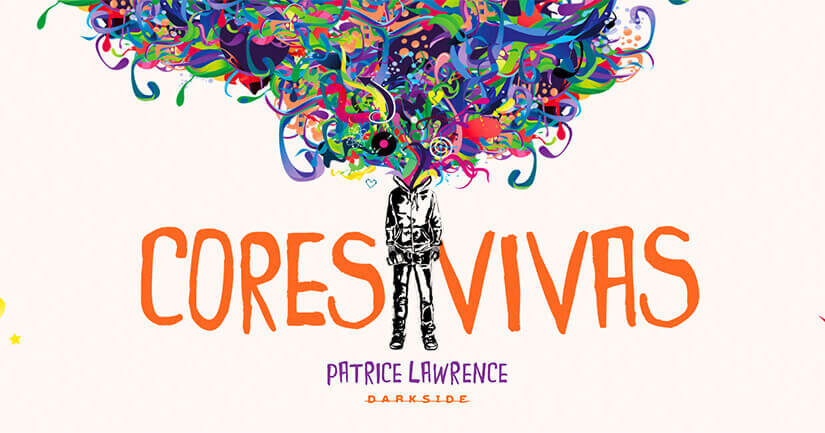 D: Cores Vivas fala muito sobre a marginalização de gangues negras e a representação de mulheres negras. Como é o seu relacionamento com essa realidade e como foi escrever sobre isso?

PL: Atualmente eu moro em Londres e é difícil evitar histórias sobre gangues. Londres é uma cidade de riqueza incrível e pobreza terrível, e não é de se surpreender que isso crie uma tensão. Meu ex-marido era conselheiro em uma área de Hackney, leste de Londres, famosa pelas gangues que atuavam no local. As mães costumavam pedir para que ele tentasse encontrar maneiras de serem removidas da área, pois temiam por seus filhos. Um pai foi esfaqueado por jovens até a morte naquela região, apenas por ter pedido para que eles fizessem menos barulho. Chega a ser comum você ver santuários de flores, velas e fotos espalhadas nos bairros de Londres para lembrar de alguém que foi morto no local.

A área em que moro costumava ser conhecida como 'Murder Mile' ('quilômetro do assassinato', em tradução livre) por causa do número de mortes relacionadas a gangues — embora agora seja gentrificada e cheia de cafeterias caras. Ainda assim, quando eu estava escrevendo Cores Vivas, um jovem atirou em outro homem na rua ao lado do meu apartamento. Era 13h, em uma movimentada tarde de sábado. Eu queria entender como essas coisas podem acontecer…
O livro de memórias de Robyn Travis, chamado Prisoner to the Streets, me ajudou a entender o que pode acontecer a jovens negros que cometem algum erro, mas não têm uma rede de segurança das ruas para os proteger… E o autor deste livro, cresceu na mesma área em que moro.
Em termos de mulheres negras, eu queria que a mãe de Marlon representasse todas nós que temos que conter nosso medo e raiva. Eu queria mostrar que sim, somos fortes, mas não podemos ser fortes o tempo todo e nem para todos. E também queria que Tish tivesse os 15 anos que eu queria para mim. Ela é leal, barulhenta, confiante e gentil — a consciência de Marlon.

D: Você acredita que hoje, com o espaço que os livros com representatividade ganharam, é mais fácil para um autor negro publicar sua obra ou ainda há muito a melhorar?

PL: No Reino Unido, a indústria editorial ainda é predominantemente de classe média alta e branca, então há muitos debates no mercado editorial sobre os autores que são publicados e o tipo de história que eles escrevem. No caso de Cores Vivas, por exemplo, apenas um editor do Reino Unido estava interessado na história, talvez porque os outros não sabiam como divulgar uma narrativa sobre um garoto negro no Reino Unido — parece haver mais confiança em autores norte-americanos para este modelo de história. Ou talvez os outros editores não tivessem uma conexão pessoal com a trama, pois não precisavam pensar em como é ser negro em uma sociedade branca.
No entanto, este ano houve uma celebração da escrita negra do Reino Unido em todos os gêneros (poesia, ficção, infanto juvenil, biografia e ensaios). Editores independentes liderados por negros, como Hope Road e Jacaranda, estão nos ajudando a redescobrir autores já publicados e também novos talentos. É um momento emocionante para nós.
D: Como você se sente sabendo que seu trabalho vai inspirar uma nova geração de autores negros a contar suas próprias histórias?

PL: Para mim, isso é a coisa mais importante. É sobre ser negro, mas também sobre a classe social. Minha mãe era enfermeira e meu padrasto italiano era carregador no mesmo hospital que ela trabalhava. O mercado editorial raramente celebra escritores de cores ou vozes da classe trabalhadora e isso passa aos jovens uma forte mensagem. Mas quero que os escritores negros saibam que são talentosos, únicos, e que suas histórias merecem ser contadas.

D: E já que estamos falando de representatividade na literatura mundial, quais autores negros a inspiram?

PL: Eu encontrei obras de Toni Morrison e James Baldwin por acidente em livrarias de segunda mão. Suas histórias eram novas e convincentes, mas também sobre os EUA… E eu não conseguia entender por que os negros no Reino Unido não podiam encontrar suas próprias vozes. Então eu descobri os poemas de Fat Black Woman, de Grace Nichols — uma escritora britânica da herança guiana. Foi uma verdadeira alegria quando ela me permitiu usar seu poema Praise Song For My Mother como a abertura para o meu segundo livro para jovens adultos.
Malorie Blackman também é inspiração. Ela é britânica e escreve histórias sobre famílias negras para crianças e jovens. Finalmente, a acadêmica e escritora, bell hooks (pseudônimo), mudou minha vida. Seus livros, Olhares Negros: Raça e Representação e Anseios: Raça, Gênero e Políticas Culturais me deram permissão para me afastar do olhar branco, que eu adotara como meu próprio olhar. Isso me fez sair das margens e realmente acreditar que minhas experiências, opiniões e visão de mundo eram importantes.