Vamos saudar o rei. Stephen King escreveu mais de sessenta livros — quantos deles você já leu? Vendeu mais de 300 milhões de livros e coleciona mais de 50 prêmios por suas obras. Seu nome está no Guinness Book como o autor vivo com o maior número de adaptações para o cinema. Leitores sedentos por calafrios e pesadelos, histórias sinistras, personagens complexos e duvidosos… Um autor de mão-cheia, e um legado incomparável.
O Homem do Maine inspirou grandes nomes do terror contemporâneo e se infiltrou no inconsciente de todos nós. Cravou suas garras com tanto afinco que de lá jamais poderá ser arrancado. Alguns desses autores já são conhecidos pelos leitores da Caveira; outros, surpresas guardadas como um segredo sobrenatural de família.
É com orgulho no peito e um coração assombrado que a DarkSide® Books apresenta a Antologia Dark, uma homenagem à obra de Stephen King e um agradecimento por suas palavras terem formado leitores e vidas. Editada e organizada por Cesar Bravo — autor de VHS: Verdadeiras Histórias de Sangue e Ultra Carnem, tradutor de The Dark Man — , a antologia é o primeiro volume de uma coleção que vai promover a importância do conto no universo do horror e o diálogo entre autores nacionais e grandes mestres da literatura dark. O próximo homenageado será ninguém menos que o genial e maldito Edgar Allan Poe, considerado o grande nome da literatura fantástica e de horror.
Cesar Bravo se dedicou a encontrar mentes criativas que, assim como ele, seguiram o rastro sombrio do mestre para dar vida a criações próprias — talentos nacionais que transformaram suas loucas obsessões em palavras assustadoras e cativantes.
O resultado é uma coletânea encharcada de sangue novo, com histórias de respeito inspiradas nos grandes clássicos de King: Cemitério Maldito, O Iluminado, A Dança da Morte, Carrie: A Estranha, A Torre Negra… e muitos outros.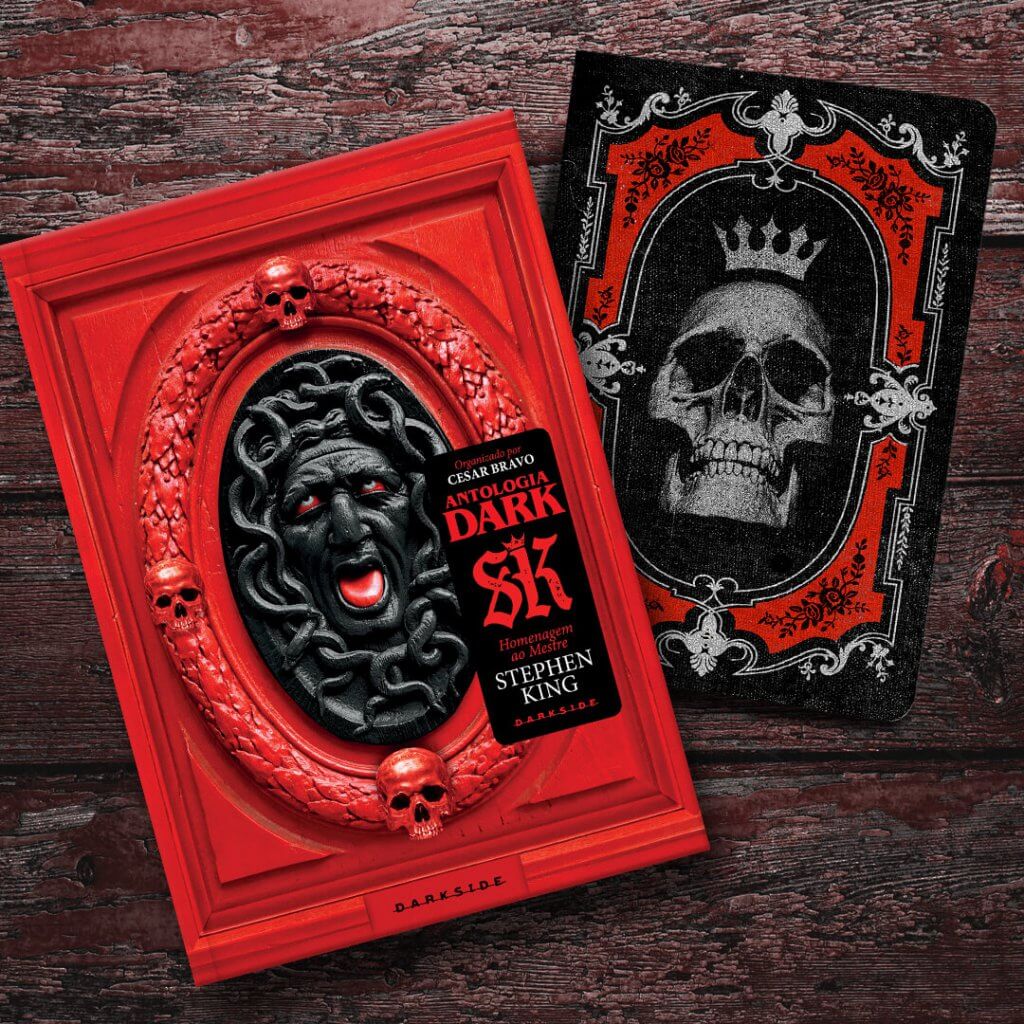 Cláudia Lemes, Vitor Abdala, Cesar Bravo, Ferréz, Carol Chiovatto, Everaldo Rodrigues, Marco de Castro, Ilana Casoy, Fernando Toste, Alexandre Callari, Antonio Tibau, André Pereira, Soraya Abuchaim e Andrea Killmore (Ilana Casoy e Raphael Montes) emprestam seu talento para honrar a carreira de um dos escritores mais prolíficos da história — e convidam você para um passeio perturbador por suas mentes tortuosas. As ilustrações exclusivas do brasileiro Hokama Souza — já conhecido dos darksiders pelo seu trabalho em Medo Clássico: Edgar Allan Poe Volume 2 — emprestam sua aura obscura aos contos. De fã pra fã, como sempre foi. Vai encarar?
Cesar Bravo nasceu em 1977, em Monte Alto, São Paulo. Bravo publicou suas primeiras obras de forma independente, e em pouco tempo ganhou reconhecimento dos leitores e da imprensa especializada. É autor e coautor de contos, romances, enredos, roteiros e blogs. Transitando por diferentes estilos, possui uma escrita afiada, que ilumina os becos mais escuros da psique humana. Suas linhas, recheadas de suspense, exploram o bem e o mal em suas formas mais intensas, se tornando verdadeiros atalhos para os piores pesadelos humanos. Pela DarkSide®, o autor já publicou Ultra Carnem, vhs: Verdadeiras Histórias de Sangue, e a tradução de The Dark Man, de Stephen King. Cesar ainda aluga fitas vhs na videolocadora Fire Star em um município próximo.
Hokama Souza é ilustrador, graduado em artes visuais, e vive em Juiz de Fora (MG). É conhecido dos darksiders pelo seu trabalho em Medo Clássico: Edgar Allan Poe Volume 2 e O Mundo Invisível Entre Nós. É fascinado pela arte da gravura, pela natureza e por coisas sombrias, principais influências em seu trabalho. Veja mais em instagram.com/noiaillustration. "Contos sombrios inspirados em clássicos de Stephen King escritos por grandes autores do horror nacional? Suspire longamente e prepare-se porque o sangue vai escorrer.
A Antologia Dark vai provocar danos irreversíveis em sua alma."
— GETRO GUIMARÃES, GETRO.COM.BR —
"Quando os grandes nomes nacionais do horror se reúnem sob o teto da Caveira para homenagear Stephen King, podemos esperar histórias grandiosas e aterrorizantes. Antologia Dark vai te deixar sem dormir. Esteja preparado."
— JÉSSICA REINALDO, FRIGHT LIKE A GIRL —
Ficha Técnica
Título | Antologia Dark
Autores | Marco de Castro, Claudia Lemes, Ilana Casoy, Raphael Montes et.al
Organizador | Cesar Bravo
Ilustrador | Hokama Souza
Editora | DarkSide®
Edição | 1a
Especificações | 224 páginas, capa dura (Limited Edition)
Idioma | Português
Dimensões | 16 x 23 cm
ISBN | 978-85-9454-189-5