Do criador do clássico Black Hole, a DarkSide Books orgulhosamente apresenta outra obra-prima do horror moderno nos quadrinhos do mestre Charles Burns. Big Baby reúne quatro histórias do personagem título, apelido de Tony Delmonte, um fã dos clássicos quadrinhos de terror, revistinhas pulp e filmes B e um típico jovem dos subúrbios norte-americanos dos anos 1980.
As quatro histórias – escritas e desenhadas entre 1983 e 1992 e publicadas na revista RAW, de Art Spiegelman (autor de Maus) e Françoise Molly, em jornais semanais de forma serializada e mais tarde em livro pela Kitchen Sink Press – foram reunidas pela primeira vez em livro pela editora norte-americana Fantagraphics em 1999 e, finalmente, chegam ao Brasil.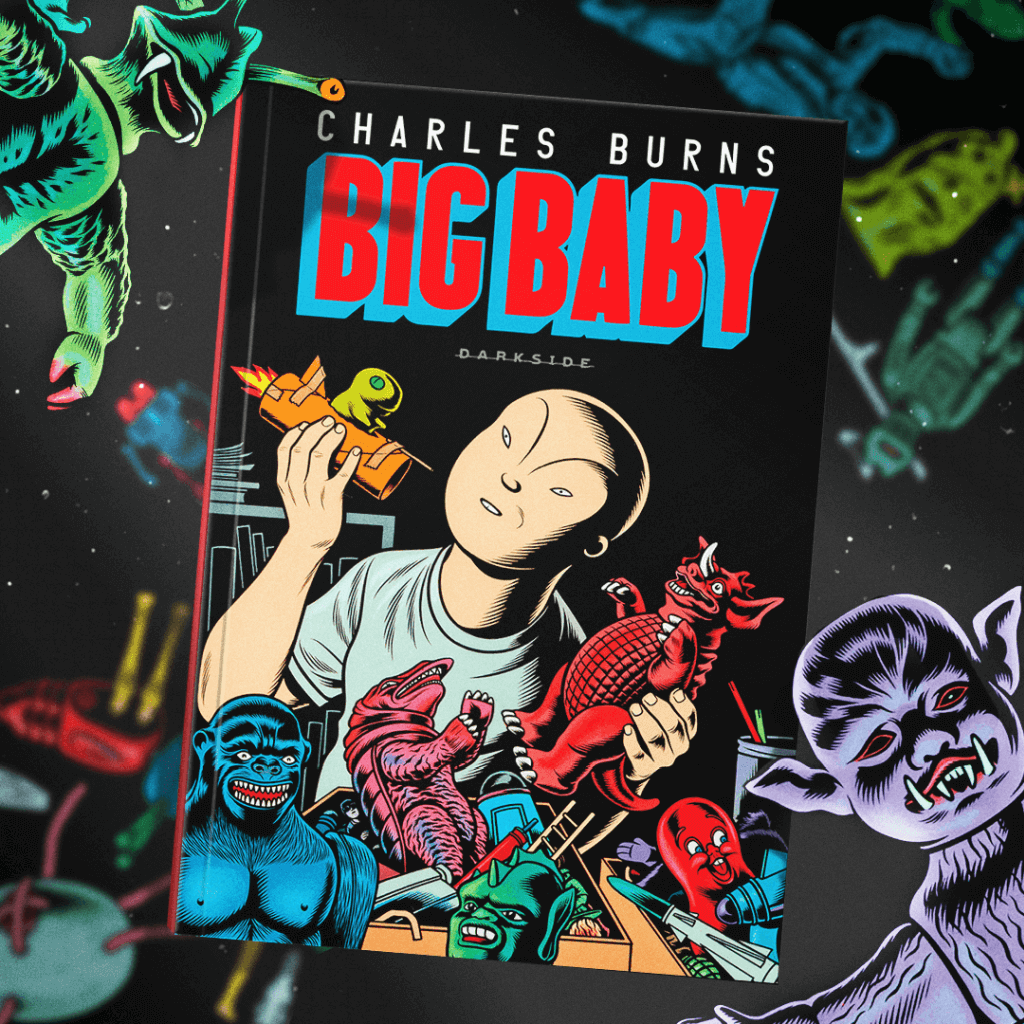 Em "A Maldição dos Toupeiras", Big Baby e sua curiosidade infantil são o ponto de partida para uma história que envolve um marido desconfiado de sua fiel esposa e homens toupeira que mantêm pessoas em cativeiro em uma prisão subterrânea no quintal do vizinho. "Peste Juvenil" poder ser lido como preâmbulo a Black Hole e seus jovens infectados, em um mundo às voltas com possíveis seres bizarros e alienígenas. Já "Clube de Sangue" se passa em um acampamento de verão, cenário perfeito e usual para histórias de fantasma e intrigas entre os adolescentes que precisam provar estarem aptos a entrarem para o clube. Como em seus melhores momentos, Burns investiga os dramas, as dores e as delícias do amadurecimento e da aceitação em um dos períodos mais conturbados na vida de qualquer pessoa.
A precisão cirúrgica do traço de Burns acrescenta uma frieza sinistra ao seu peculiar senso de humor. Junto à sua ligação afetiva com a cultura do horror em voga nos anos 1950 e 1960, algo constante em sua obra, produz em Big Baby mais uma narrativa brilhante que captura de maneira magistral o desconforto e o medo da adolescência no final do século XX.
Charles Burns nasceu em 1955 em Washington, D.C., e cresceu em Seattle durante os anos 1970. Sua obra começou a aparecer e a se destacar na revista Raw, de Art Spiegelman, em meados dos anos 1980, seguida por uma variedade de quadrinhos e projetos, de colaborações para revistas de HQs como Métal Hurlant, Frigidaire, El Víbora e Schwermetall, à capas para os álbuns de Iggy Pop e para publicações como Esquire, New Yorker, New York Times Magazine, Time e The Believer.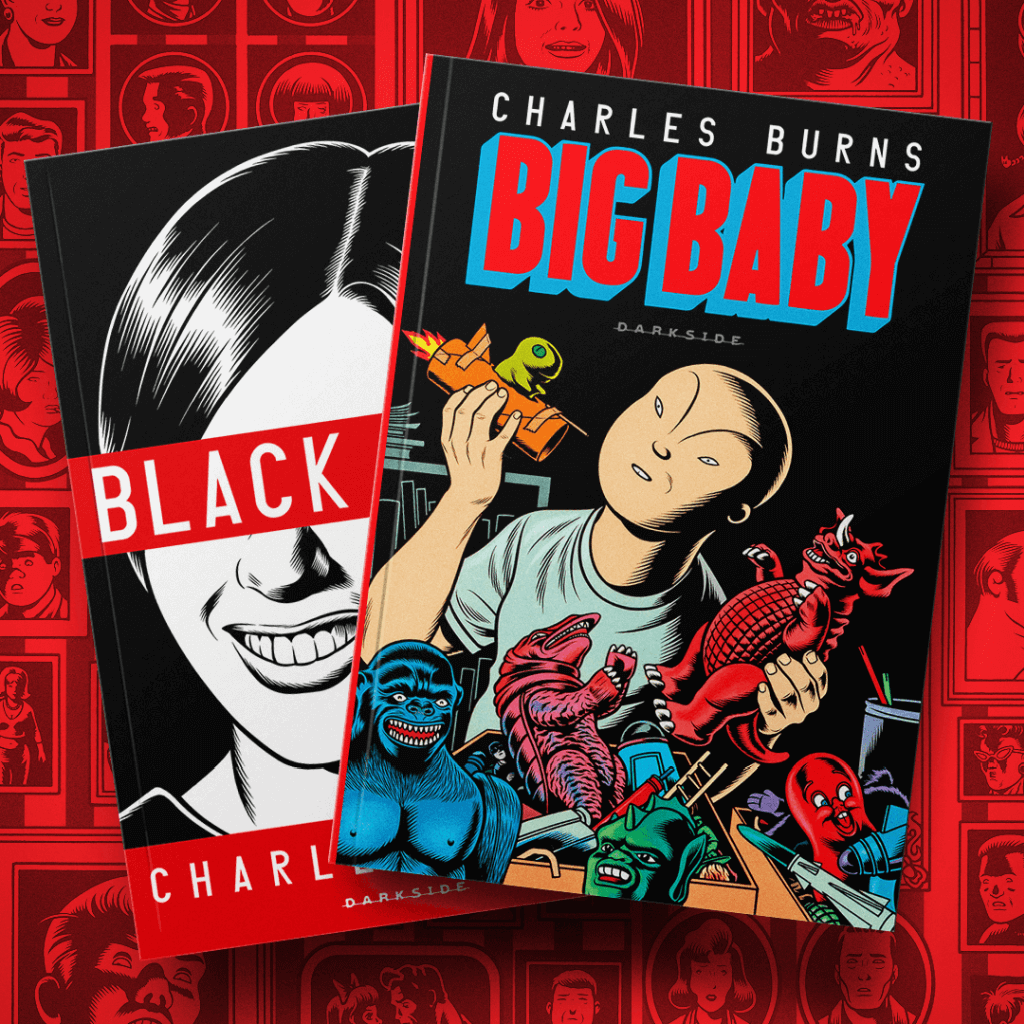 Black Hole foi publicado originalmente de forma seriada em doze edições pela Kitchen Sink Press e pela Fantagraphics entre 1993 e 2004, e reunida em volume único pela Pantheon em 2005. Em 2007, Burns contribuiu para antologia animada de horror Peur(s) du noir (Medo(s) do escuro), ao lado de nomes como Lorenzo Mattotti e Richard McGuire. O autor deu início a uma nova série em 2010, com X'ed Out, seguida por The Hive (2012) e Sugar Skull (2014), reunidas em Last Look,em 2016 (Sem Volta, Quadrinhos na Cia., 2018, Trad. Diego Gerlach).
JOHN PORCELLINO:
"Essa hq é brilhante, cheia de humor e paixão pelos filmes b, pulps e velhas histórias em quadrinhos. 'A maldição dos Toupeiras' é um clássico dos quadrinhos modernos."

ROBERT CRUMB:
"A obra de Charles Burns apresenta uma perspectiva horripilante e estranhamente cômica, executada com uma clareza fria e impiedosa. […] É como se o artista… como se ele não fosse completamente… humano!"
SPIN:
"Burns é uma figura central em uma geração de artistas que absorveu a pop art e a cultura pop como parte integral de suas obras da mesma maneira que qualquer tradição clássica."
JUXTAPOZ:
"Ao mesmo tempo grotesco e atraente, o imaginário de Burns foi abraçado com entusiasmo pela contracultura, pela mídia tradicional e pelo implacável mundo de arte sem comprometer sua estética surpreendentemente singular."
Ficha Técnica
Título | Big Baby
Autor | Charles Burns
Tradutor | Daniel Pellizzari
Editora | DarkSide®
Edição | 1a
Idioma | Português
Especificações | 112 páginas, capa dura
Dimensões | 16 x 23 cm
ISBN | 978-85-9454-160-4