Violento e visceral, Cabo do Medo foi publicado pela primeira vez nos anos 1950 e deixou leitores atormentados com sua narrativa brutal. Depois de mais de 60 anos, a DarkSide Books tem orgulho de receber John D. MacDonald e sua obra-prima em nossa casa dos horrores. E colocamos para os leitores a pergunta: Até onde você iria para salvar aqueles que mais ama?

Por catorze anos, o condenado Max Cady nutriu um ódio por Sam Bowden, um advogado de sucesso que ostenta uma família margarina e que, ao testemunhar contra o então colega do Exército, acabou por colocá-lo atrás das grades.
Agora um homem livre, Max retorna à sociedade com sangue nos olhos e enlouquecido por uma sede de vingança pelo tempo e família que perdeu. E decide fazer com que toda a família de Sam pague por seu erro.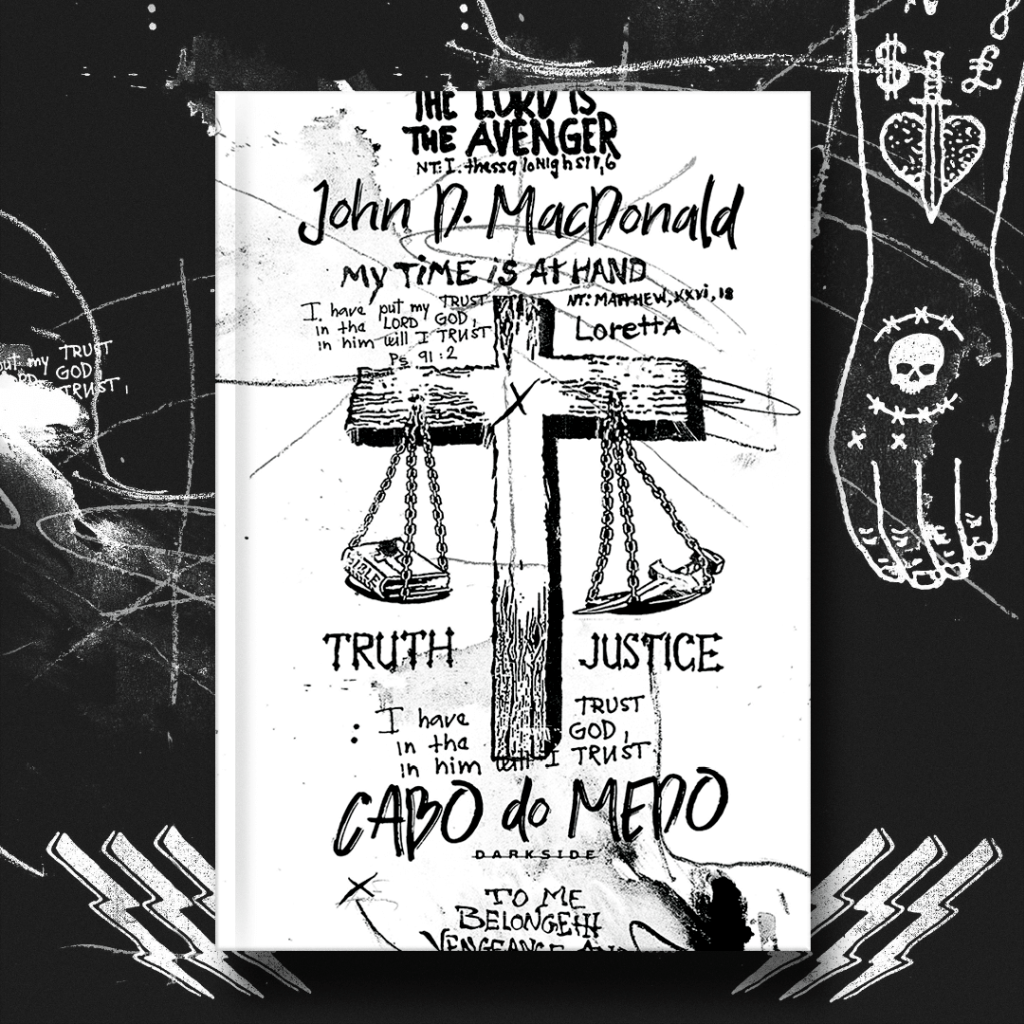 Ícone do suspense, Cabo do Medo foi inspiração para não apenas uma, mas duas adaptações hollywoodianas de peso. A primeira estreou em 1962, com Gregory Peck e Robert Mitchum no elenco. Já a segunda é o remake de 1991, indicado em duas categorias no Oscar e dirigido pelo mestre Martin Scorsese, com Robert De Niro no papel do ex-presidiário e Nick Nolte como o advogado. Talvez você se lembre da trilha sonora de perfurar os tímpanos ou dos closes de gelar o sangue.
Mas o que fascina tanto em Cabo do Medo para justificar suas adaptações? Só lendo o livro e mergulhando na frieza de suas palavras para descobrir. Mas a Caveira dá uma dica: a trama é um thriller do começo ao fim, feita para ser lida em uma noite chuvosa, difícil de largar e mais ainda de esquecer.
John D. MacDonald apresenta um angustiante jogo de gato e rato em que as camadas psicológicas da história se entrelaçam com a trama de vingança. Impulsionando seus personagens até o limite, o autor guia o leitor por uma jornada cheia de sentimentos conturbados de hipocrisia, insanidade e fúria. Princípios são traídos e somos confrontados com o questionamento sobre o limite entre o que a lei é capaz de fazer e aquilo que é correto.
Martin Scorsese e Robert De Niro são 100% DarkSide, e essa parceria ainda vai trazer muita histórias para os leitores da Caveira. Cabo do Medo chega em uma edição casca grossa, tatuada e em capa dura, no padrão de qualidade quase psicopata da DarkSide Books. Um livro que aguenta o tranco de uma viagem até os portões do Inferno.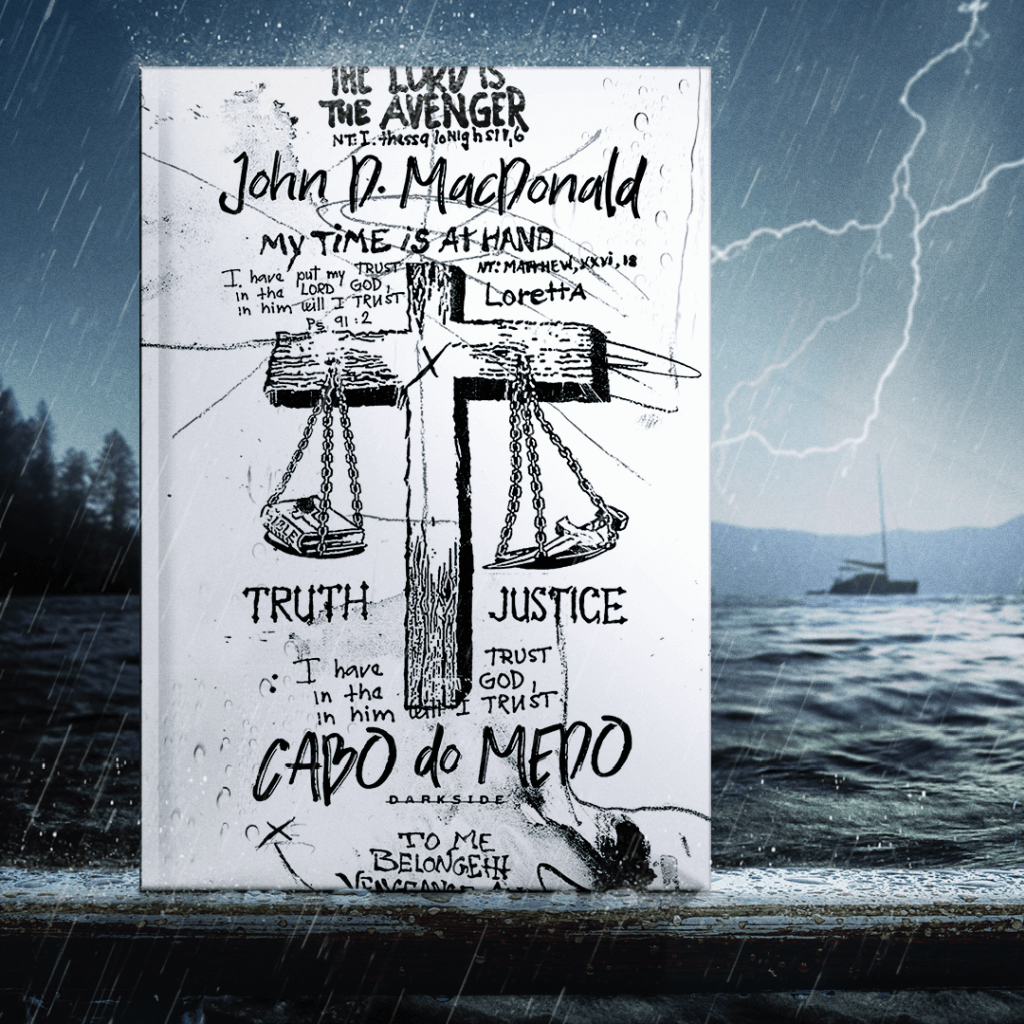 A história por John D. MacDonald (1916-1986) que conquistou os cinemas finalmente chega ao Brasil pela editora DarkSide Books. MacDonald começou a escrever após ter servido ao Exército norte-americano entre 1940 e 1946. Publicou seus primeiros contos de suspense e crime em revistas pulp, antes de seu primeiro romance, The Brass Cupcake, de 1950. Em 1972, foi reconhecido pelo Mystery Writers of America como Grão-Mestre pelo conjunto da obra. Esta inclui 78 livros e quase quinhentos contos, chegando a 75 milhões de exemplares impressos, o que o torna um dos maiores romancistas best-sellers do planeta. Cabo do Medo, publicado originalmente em 1957 como The Executioners, foi adaptado duas vezes ao cinema. A primeira, em 1962, com direção de J. Lee Thompson e Robert Mitchum e Gregory Peck no elenco. A segunda, em 1991, dirigida por Martin Scorsese, contou com Robert De Niro, Nick Nolte, Jessica Lange e Juliette Lewis.
STEPHEN KING:
"O grande artista de nossa época e um contador de histórias hipnotizante.
THE NEW YORK TIMES:
"Uma história poderosa e aterrorizante."
Ficha Técnica
Título | Cabo do Medo
Autor | John D. MacDonald
Tradutora | Carla Madeira
Editora | DarkSide®
Edição | 1a
Idioma | Português
Especificações | 224 páginas, Limited Edition (capa dura)
Dimensões | 14 x 21 cm
ISBN | 978-85-9454-148-2