Macabra é novo selo da DarkSide® Books pronto para dissecar histórias ainda mais assustadoras e transgressoras da realidade e da ficção. Ainda que superstições e tradições folclóricas tenham influenciado a Medicina por um bom tempo, o passado também revela a existência de médicos capazes de encontrar soluções e aplicar tratamentos bem sofisticados. A Medicina mudou dramaticamente, passou por uma transformação que fez de sua arte uma ciência.
Enquanto pesquisava para escrever seu primeiro livro, o escritor Thomas Morris fez uma descoberta um tanto quanto… curiosa: entre dissertações cheias de linguagem técnica e textos desafiadoramente longos, pérolas divertidas e grotescas sobre casos bizarros estavam escondidas. Muitos destes relatos eram bons demais para serem esquecidos na literatura médica, e ele decidiu fazer uma seleção irresistivelmente peculiar.
Da Holanda do século XVII até a Rússia czarista, da zona rural do Canadá até um baleeiro no Pacífico, Medicina Macabra é uma reunião de casos insólitos da história da Medicina que ocorreram em um período de trezentos anos. Alguns desses relatos são angustiantes ou comoventes, outros são macabros, mas todos oferecem algo mais além do que uma boa anedota. Por mais constrangedoras que sejam as enfermidades, por mais estranhos que sejam os tratamentos, todos esses casos expressam algo sobre as crenças e a sabedoria de uma época.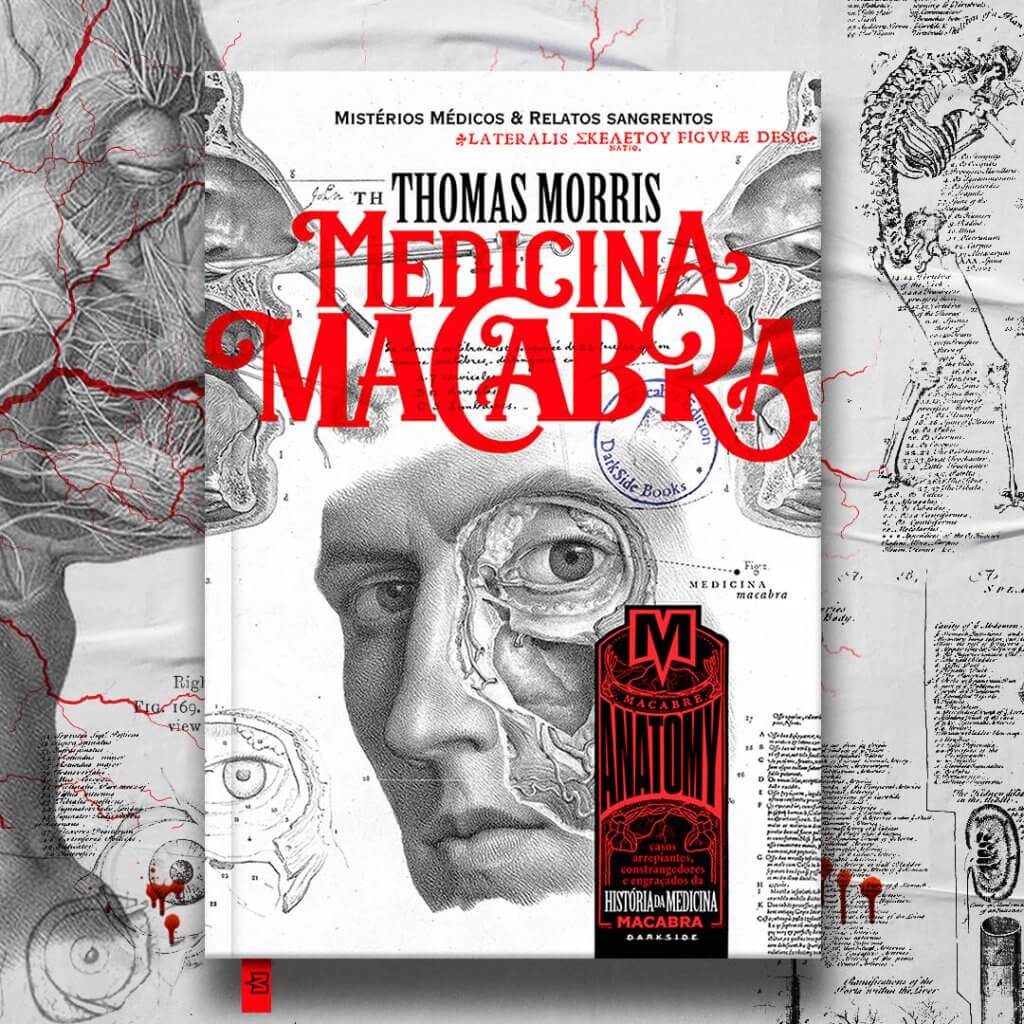 Uma família inteira sofrendo de dores e que decidiu amputar as pernas para acabar com o sofrimento. Uma paciente com ataques histéricos que recitava Goethe e Shakespeare. Qual foi a última vez que um de seus dentes explodiu? E quando você comeu uma alface fresca e dois dias depois lesmas saíram pela sua boca? Medicina Macabra traz relatórios de casos verídicos, escritos por médicos que relataram aquilo que viram e fizeram, obtidos a partir de livros, panfletos, cartas e bilhetes.
Remédios irremediáveis, curas extraordinárias, cirurgias que tinham tudo para dar errado, casos insólitos e lamentáveis embaraços: está tudo aqui. Medicina Macabra é feito sob medida para os darksiders de estômago forte, narrado com aquela injeção de humor que não poderia faltar. Você está pronto para dissecar essas excentricidades do passado? Você é uma pessoa macabra?
Chegou a hora da Colheita Macabra
A Macabra Filmes e a DarkSide® Books selaram um pacto eterno na quarta-feira de cinzas de 2019, promovendo filmes e seus criadores, apresentando com curadoria e critério os novos nomes do cinema de terror nacional e internacional. A DarkSide® Books agora inaugura o selo Macabra dentro de sua casa editorial, trazendo livros e quadrinhos que vão deixar a sua estante mais trevosa.
Para dar início à colheita, a DarkSide® apresenta três títulos: Medicina Macabra, uma reunião de casos arrepiantes e constrangedores da medicina; Vitorianas Macabras, uma antologia inédita de vozes femininas da Era Vitoriana em treze contos de gelar a espinha, perfeito para fãs de Lady Killers; e Antologia Macabra, com histórias de horror e mistério escritas por grandes mestres da literatura dark, como Stephen King e Clive Barker. A fazenda está pronta para cultivar o horror em todas as suas formas.
Thomas Morris é escritor e historiador da medicina. Durante dezessete anos foi produtor de rádio da bbc e, depois dessa experiência, passou a escrever artigos para veículos como The Lancet, The Times e The Cricketer. Enquanto pesquisava para escrever seu primeiro livro, The Matter of the Heart, Morris se debruçou sob inúmeros registros estranhos e perturbadores de casos médicos, o que acabou virando uma pesquisa completa para Medicina Macabra, um livro que faz todos os leitores serem gratos pela medicina moderna. Saiba mais em thomas-morris.uk.
Macabra Filmes é a fazenda do terror. Compartilhamos o horror e a beleza, a vida e a morte. Brindamos com sangue as alegrias de existir. Cultivamos o primeiro suspiro, o abrir de olhos, o frio na espinha, o grito na montanha russa, o crepúsculo e a eterna escuridão. Para nós, o medo é natural — e a vida, um presente sobrenatural. É puro terror. 100% macabra. Saiba mais em macabra.tv.
"Deliciosamente horripilante."
— Popular Science —
"Um olhar informativo e fascinante sobre a história da medicina."
— Library journal —
"Morris oferece uma visão amplamente generosa das falibilidades do corpo e da psique, e as tentativas criativas e heróicas dos médicos de remediar as situações à medida que a ciência médica se desenvolvia. Medicina Macabra é uma exploração de nossa humanidade em todo o seu absurdo e valor."
— Dawn Raffel, autor de The Strange Case of Dr. Couney —
"Este passeio por casos médicos estranhos e inacreditáveis da história é divertido e aterrorizante em igual medida."
— Shelf Awareness —
Ficha Técnica
Título | Medicina Macabra
Autor | Thomas Morris
Tradutor | Carlos Norcia
Editora | DarkSide®
Especificações | 432 páginas, capa dura (Limited Edition)
Dimensões | 16 x 23 cm
ISBN | 978-85-9454-197-0