O diretor e roteirista do filme Corra!, Jordan Peele, e o ator principal de Candyman, Tony Todd, foram entrevistados para o documentário Horror Noire: A History of Black Horror, revelado com exclusividade pelo site Entertainment Weekly.
O documentário é baseado no livro Horror Noire: Blacks in American Horror Films from the 1890s to Present, da Dra. Robin R. Means Coleman, e aborda de forma crítica a maneira como, ao longo dos séculos, os filmes de terror exploraram, caricaturaram e marginalizaram os negros até que a negritude conquistasse seu espaço dentro do gênero e desafiasse as imagens mais negativas e racistas vistas em outros meios de comunicação.
Horror Noire é o primeiro documentário original do Shudder, plataforma de streaming de filmes, séries e documentários de terror que ainda não está disponível no Brasil, e estreia no dia 7 de fevereiro deste ano exclusivamente na plataforma, depois de uma exibição especial em Nova Iorque e Los Angeles.
Entre os entrevistados estão os diretores de cinema Ernest Dickerson (Bones), Rusty Cundieff (Tales from the Hood) e Tina Mabry (Mississippi Damned) e os atores Paula Jai ​​Parker (Tales from the Hood) e Ken Foree (Dawn of the Dead).
Horror Noire foi dirigido por Xavier Burgin, tem produção executiva da Dra. Robin R. Means Coleman, da educadora e autora Tananarive Due, de Phil Nobile Jr, editor-chefe da revista Fangoria e Kelly Ryan, da Stage 3 Productions e é produzido e co-escrito por Ashlee Blackwell e Danielle Burrows.
"Depois que eu vi Corra!, de Jordan Peele, resolvi criar uma aula na UCLA (Universidade da Califórnia) em torno do terror negro chamada The Sunken Place", disse Due, em comunicado. "O livro que recomendei para leitura foi Horror Noire: Negros em Filmes Americanos de Terror de 1890 até o Presente, do Dr. Robin R. Means Coleman. Fiquei tão feliz em ajudar a dar vida a essa história na tela. Horror Noire é sobre a história dos filmes de terror com negros, mas é também um testemunho do poder da representação e de como o horror é uma maneira tão visceral de combater o trauma racial: é a nossa dor e o nosso medo da maneira mais real possível, mas de uma distância segura — enquanto nos fortalecemos."
"O terror consegue nos ensinar de maneira ousada e inabalável", disse Coleman. "É como um resumo do nosso mundo social, político e racial. O filme de terror é fascinante porque consegue se firmar ao lado do tabu, enquanto confunde nosso senso de bem e mal, do monstruoso e do divino, e do sagrado e profano. É uma das formas mais intrépidas de entretenimento em nossa humanidade e também revela nossas fraquezas. Minha esperança que o Horror Noire acenda um debate feroz e desencadeie descobertas ainda mais precisas e sutis sobre o poder do horror. ", concluiu.
"Há mensagens de humanidade e sobrevivência que diretores, roteiristas e atores negros têm expressado no horror desde o começo do gênero", disse Ashlee Blackwell, produtora e co-roteirista do Horror Noire e fundadora do Graveyard Shift Sisters, um site dedicado ao tema de mulheres negras no terror. "Tem sido uma jornada emocionante trabalhar junto com a equipe para essa história que, antes era ocultada, possa sair das sombras."
"Horror Noire é um documentário importante e oportuno que explora uma parte negligenciada do gênero de terror que está apenas começando a receber a atenção que merece. Estamos honrados e emocionados por ajudar a dar vida a este projeto e compartilhá-lo com o mundo." — CRAIG ENGLER, gerente geral da Shudder
A história doce e sangrenta de Candyman, de Clive Barker, que estreou nos cinemas em 1992 com Tony Todd no papel principal – e que será refilmada por Jordan Peele -, ganhou uma edição especial com luva e capa dura pela DarkSide® Books.
Antes de estrear na plataforma de streaming Shudder, Horror Noire terá sua estréia mundial no dia 1º de fevereiro deste ano, em colaboração com o Beyond Fest e a Cinemateca Americana no Egyptian Theatre, em Hollywood, com dois dias de exibições com convidados especiais em comemoração ao horror negro.
Confira o pôster de Horror Noire: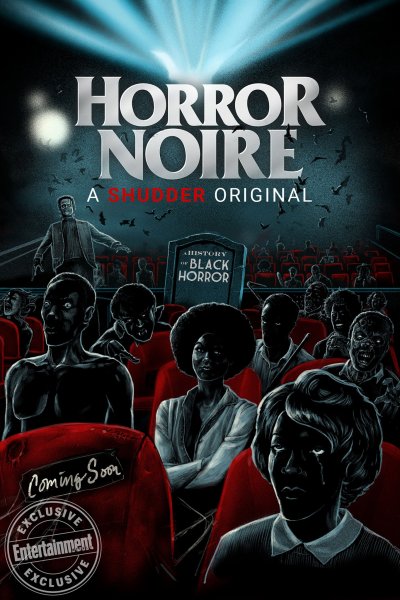 Traduzido e adaptado do site Entertainment Weekly