Desde que Ben colocou ordem na casa em A Noite dos Mortos-Vivos (1968), de George A. Romero, ver um personagem negro como herói nos filmes de terror se mostrou possível — e pra lá de necessário. A Noite dos Mortos-Vivos é um clássico cult agora, e foi uma das maiores contribuições de Romero para o gênero e para a mídia, contudo, já se passaram cinquenta anos desde que o filme exigiu que nos perguntássemos o que era mais assustador: zumbis comedores de carne, ou aquilo que fazemos uns com os outros diariamente?
O terror, como gênero que desafia limites, tem sido um lugar para análises provocativas de racialismo e racismo, bem como alternativas na cultura popular estadunidense. E muito se tem pesquisado e escrito sobre a história dos negros no cinema, mas até agora sua presença — ou ausência — nos filmes de terror tem sido relegada a um único capítulo ou a várias notas de rodapé. Para contribuir com a narração histórica da negritude no cinema de gênero, a Dra. Robin R. Means Coleman — professora norte-americana nascida e criada na mesma cidade que Romero e Tom Savini — desenvolveu uma pesquisa profunda com a análise das imagens, influências e impactos sociais dos negros nos filmes de terror desde 1890 até o presente.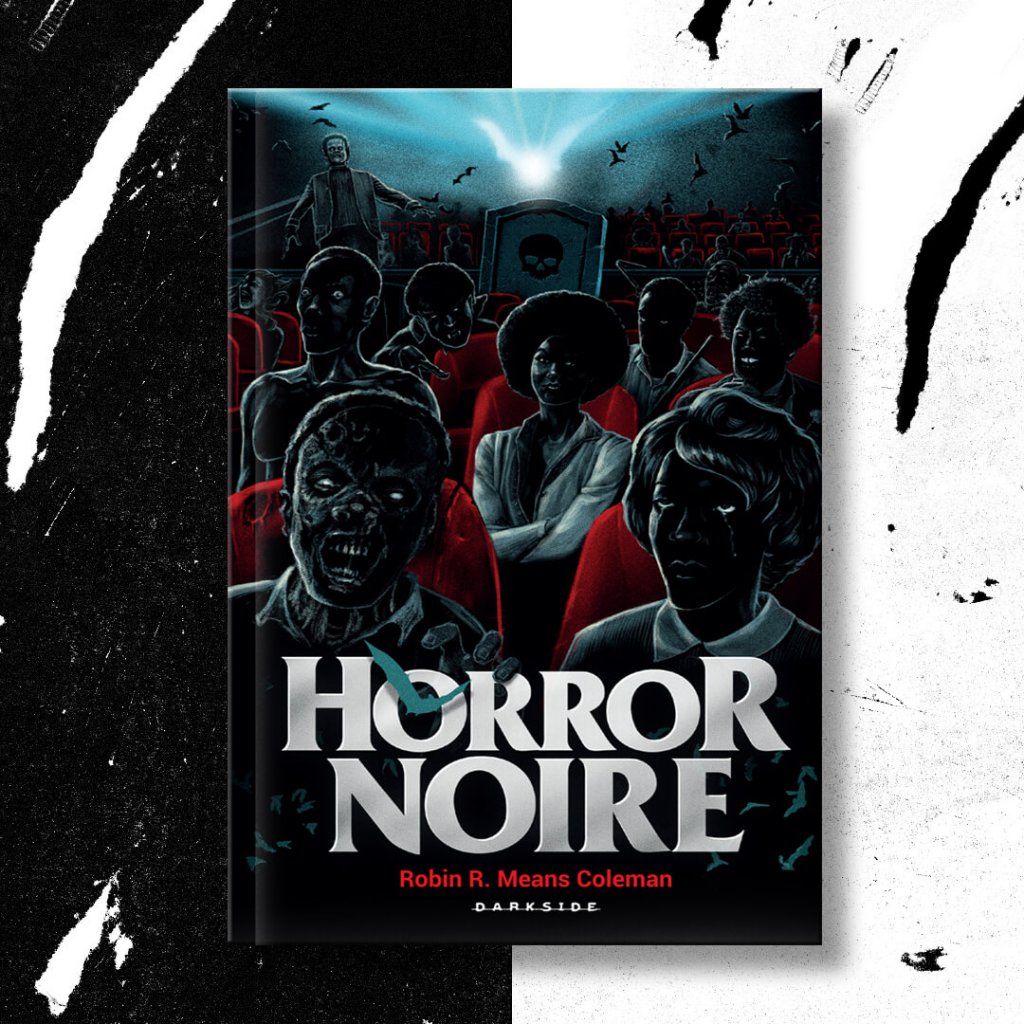 Coleman afirma que o terror oferece um espaço representativo único para desafiarmos as imagens mais negativas e racistas vistas nos meios de comunicação. Sua ampla pesquisa cronológica do gênero para o livro Horror Noire: A Representação Negra no Cinema de Terror inclui grandes produções de Hollywood, filmes de arte, blaxploitation e as emergentes produções de horrorcore inspiradas pela cultura hip-hop. Uma obra única que encoraja o leitor a desmontar a imagem racializada do gênero, assim como as narrativas que compõem os comentários da cultura popular acerca de raça, e acende um debate feroz e necessário sobre o poder do horror, seu impacto na sociedade, e suas reproduções como reflexo dela.
Leia também: "Nós" também fazemos filme de terror, afirma Jordan Peele
O cineasta, professor e escritor S. Torriano Berry diz em sua introdução para Horror Noire: A Representação Negra no Cinema de Terror que um dos aspectos mais danosos do espectro limitado de papéis representados por atores negros nos filmes de terror iniciais é a falta de imagens positivas para proporcionar um sentimento de equilíbrio. "Ver um personagem negro arregalar os olhos e empalidecer ao se deparar com um fantasma não teria sido tão ruim se o seu papel seguinte ou anterior tivesse sido como um médico, advogado ou empresário de sucesso. No entanto, os filmes hollywoodianos relegavam aos negros os personagens subservientes, como mordomos, empregadas e motoristas", diz. É esta análise que Coleman propõe ao público em sua obra.
Horror Noire: A Representação Negra no Cinema de Terror é um marco e virou documentário produzido e exibido pela Shudder, plataforma de streaming audiovisual de terror ainda não disponível no Brasil. Dirigido por Xavier Burgin, o documentário foi lançado em 2019 e tem produção executiva da Dra. Robin R. Means Coleman, da educadora e escritora Tananarive Due, de Phil Nobile Jr, editor-chefe da revista Fangoria e Kelly Ryan, da Stage 3 Productions, e é produzido e co-escrito por Danielle Burrows e Ashlee Blackwell — que, aliás, contribuiu com um texto especial exclusivo para a edição brasileira.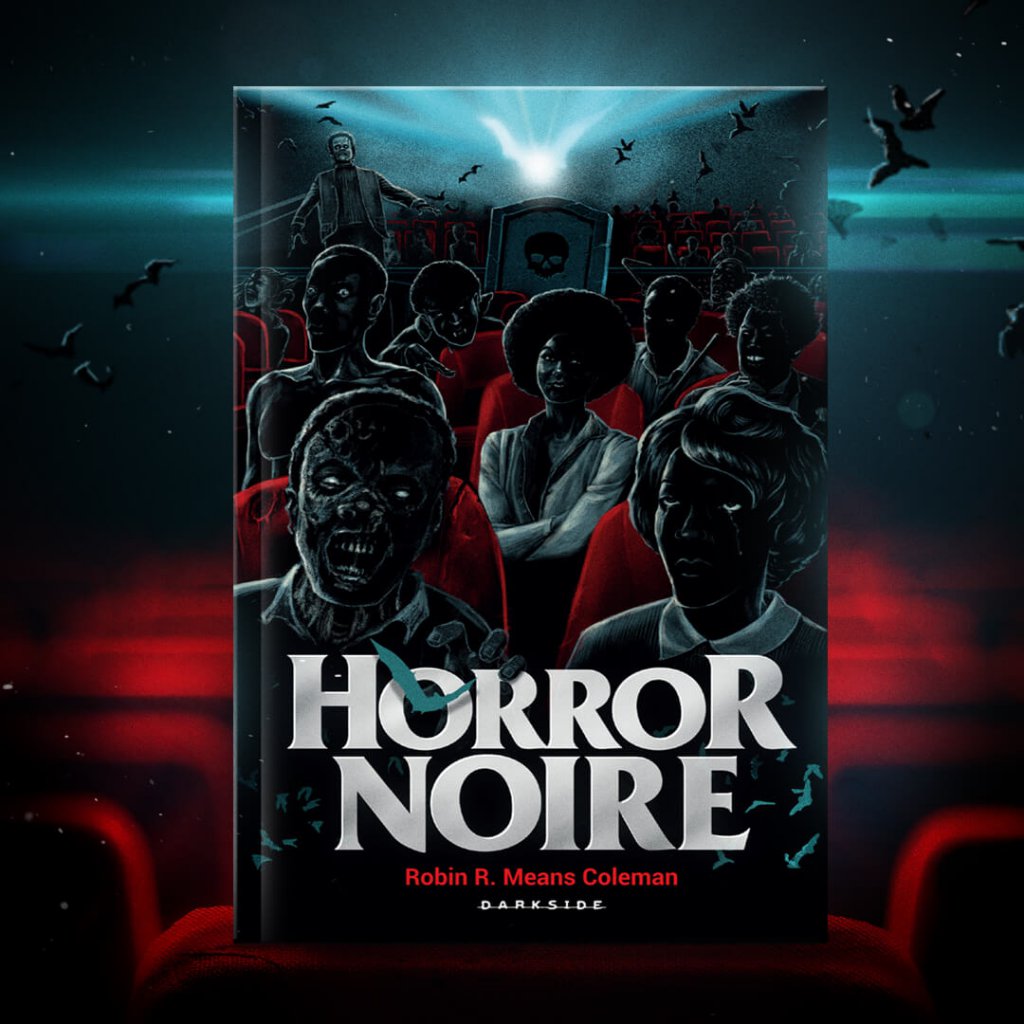 Horror Noire: A Representação Negra no Cinema de Terror integra a Coleção Dissecando, da DarkSide Books — dedicada a revelar os bastidores e a história de grandes produções audiovisuais e seus imortais criadores — chega para os leitores em capa dura, com textos especiais e galeria de imagens. Uma obra indispensável em nossa exploração e favorecimento do gênero de terror. Coleman é professora adjunta no Departamento de Estudos da Comunicação e no Centro de Estudos Afro-Americanos e Africanos da Universidade de Michigan. Seus trabalhos anteriores incluem African Americans and the Black Situation Comedy: Situating Racial Humor e a edição da coletânea Say It Loud! African Americans, Media and Identity, e, mais recentemente, a coedição do volume Fight The Power! The Spike Lee Reader.
Tananarive Due, produtora executiva de Horror Noire e autora de The Good House:
"Horror Noire é sobre a história dos filmes de terror com negros, mas é também um testemunho do poder da representação e de como o horror é uma maneira tão visceral de combater o trauma racial: é a nossa dor e o nosso medo da forma mais real possível, mas de uma distância segura — enquanto nos fortalecemos."
FORBES:
"Crítico, desafiador, e fundamentado no amor ao gênero e otimismo em relação ao que o futuro reserva."
Ficha Técnica
Título | Horror Noire: A Representação Negra no Cinema de Terror
Autora | Robin R. Means Coleman
Tradutor | Jim Anotsu
Editora | DarkSide®
Edição | 1a
Idioma | Português
Especificações | 464 páginas, capa dura (Limited Edition)
Dimensões | 16 x 23 cm, capa dura
ISBN | 978-85-9454-181-9