Estamos prestes a viver as jornadas mais extraordinárias e estranhas de nossas vidas. A DarkSide Books mexeu seus peões e leu as instruções com muito cuidado para, finalmente, trazer ao Brasil Jumanji e Zathura, do autor e ilustrador Chris Van Allsburg. E atenção para as instruções desse jogo mágico: tirando dados iguais, a rodada se repete. O primeiro a chegar ao final é o grande vencedor. Mas lembre-se: é preciso começar o jogo querendo terminar…
Jumanji e Zathura são os mais novos lançamentos da Caveirinha, selo da DarkSide Books que incentiva os pequenos a darem seus primeiros passos no mundo mágico da imaginação.
Leitores de todas as idades também poderão se aventurar nesses mundos fantásticos. Afinal, quem nunca desejou viver uma jornada na selva ou no espaço que atire o primeiro dado. E de mundos incríveis o autor e ilustrador Chris Van Allsburg entende. Afinal, as obras de sua vida deixaram muita gente empolgada (e receosa) com a possibilidade de encontrar jogos de tabuleiro perdidos por aí.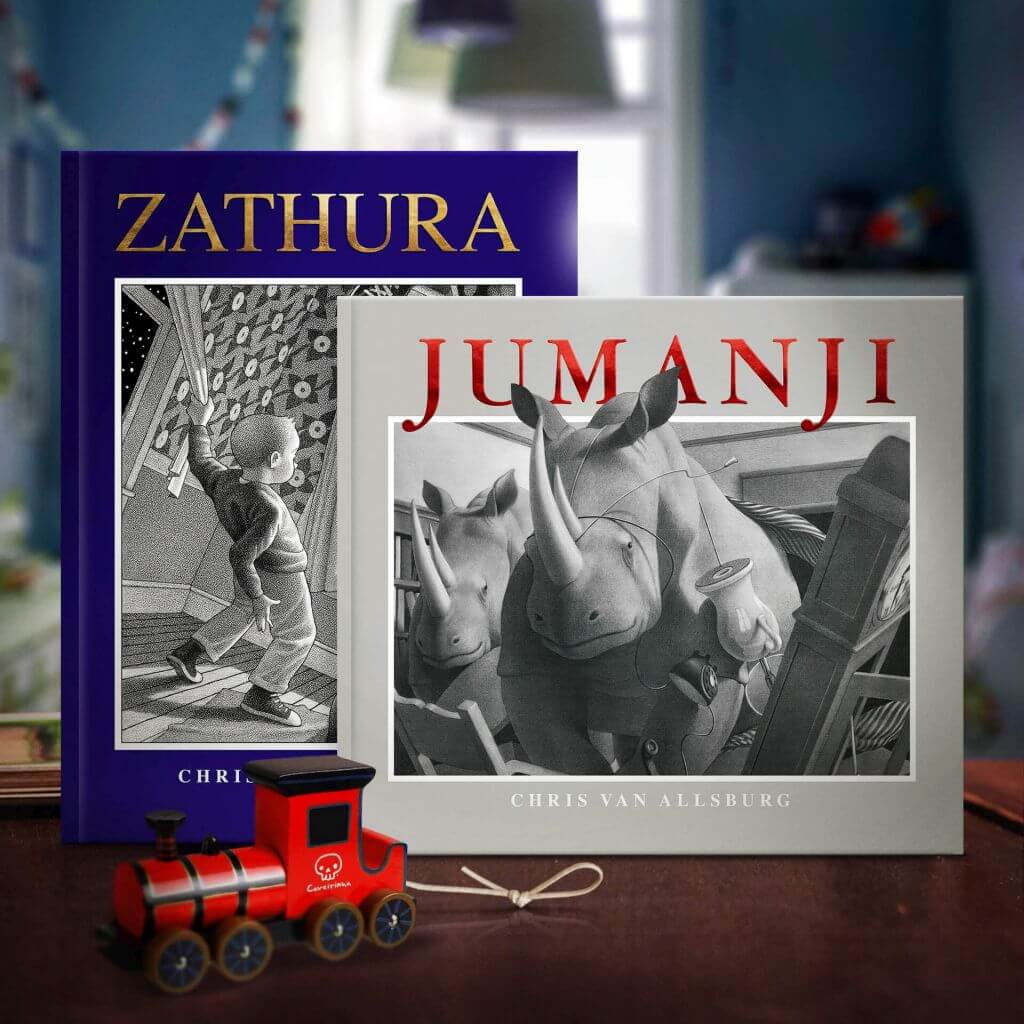 Van Allsburg é ganhador de duas Medalhas Caldecott, uma por Jumanji e outra por O Expresso Polar, assim como da Menção Honrosa do Caldecott por The Garden of Abdul Gasazi. Ele já escreveu e ilustrou diversos livros infantis e ganhou a Medalha Regina pelo conjunto da obra na literatura infantil.
Jumanji conta a história de Peter e Judy, que encontraram um misterioso jogo de tabuleiro cujas instruções avisam: a partida deve ir até o final ou durará para sempre. Nem nos sonhos mais desvairados eles imaginavam que um jogo aparentemente simples viraria realidade, nem que levaria à aventura mais espantosa de suas vidas.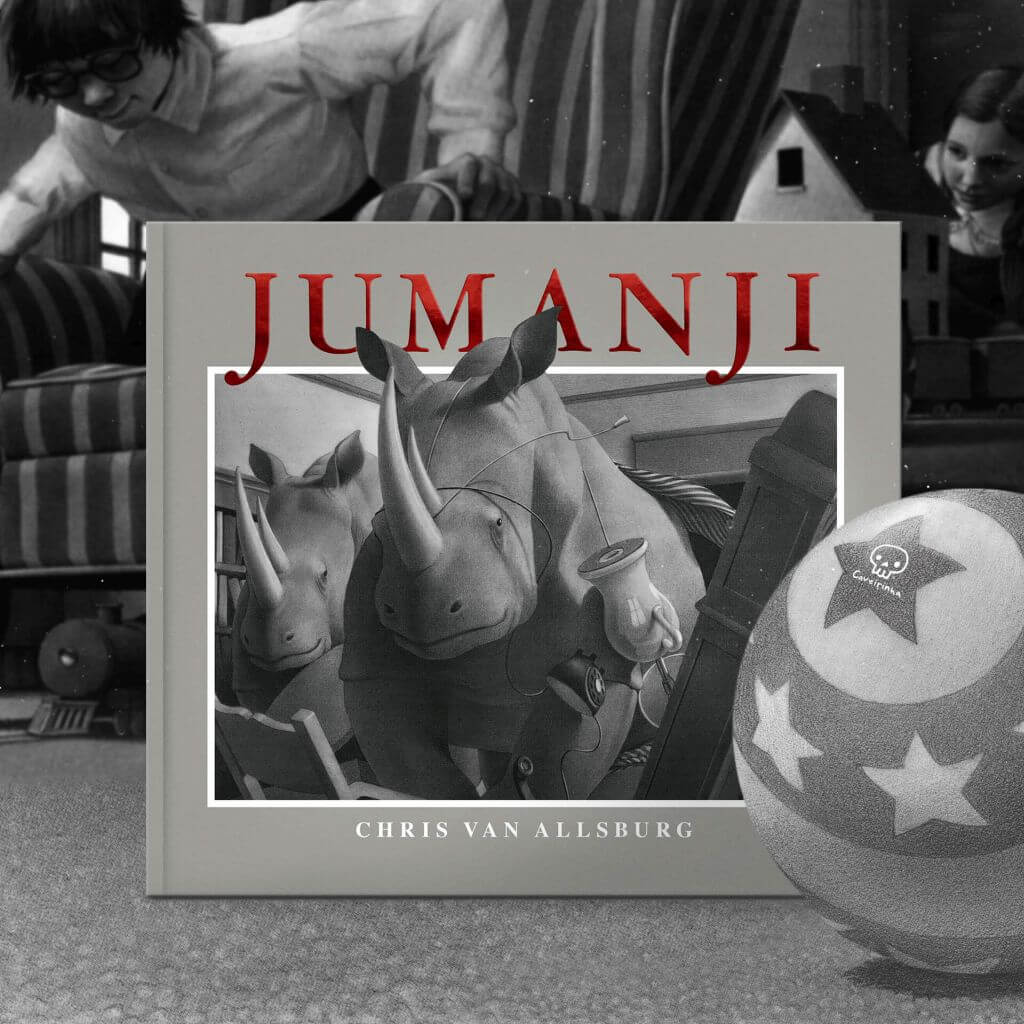 Na última página de Jumanji, vemos Danny Budwing correndo para casa com a caixa de um jogo embaixo do braço. Agora, vinte anos depois, Van Allsburg pode revelar o que acontece quando Danny e seu irmão jogam os dados. Desta vez, o nome do jogo é Zathura, e Walter e Danny, que estão sempre brigando, precisam trabalhar em equipe para concluir a partida.
Apenas a mente e a mão de Van Allsburg poderiam criar um mundo tão fantástico, onde as variações de tempo, espaço e perspectiva conduzem o leitor em uma jornada única. Entre chuvas de meteoros, buracos negros e muitos animais selvagens, ele conta duas das histórias mais criativas de todos os tempos, e que se tornaram verdadeiros marcos na literatura infantil.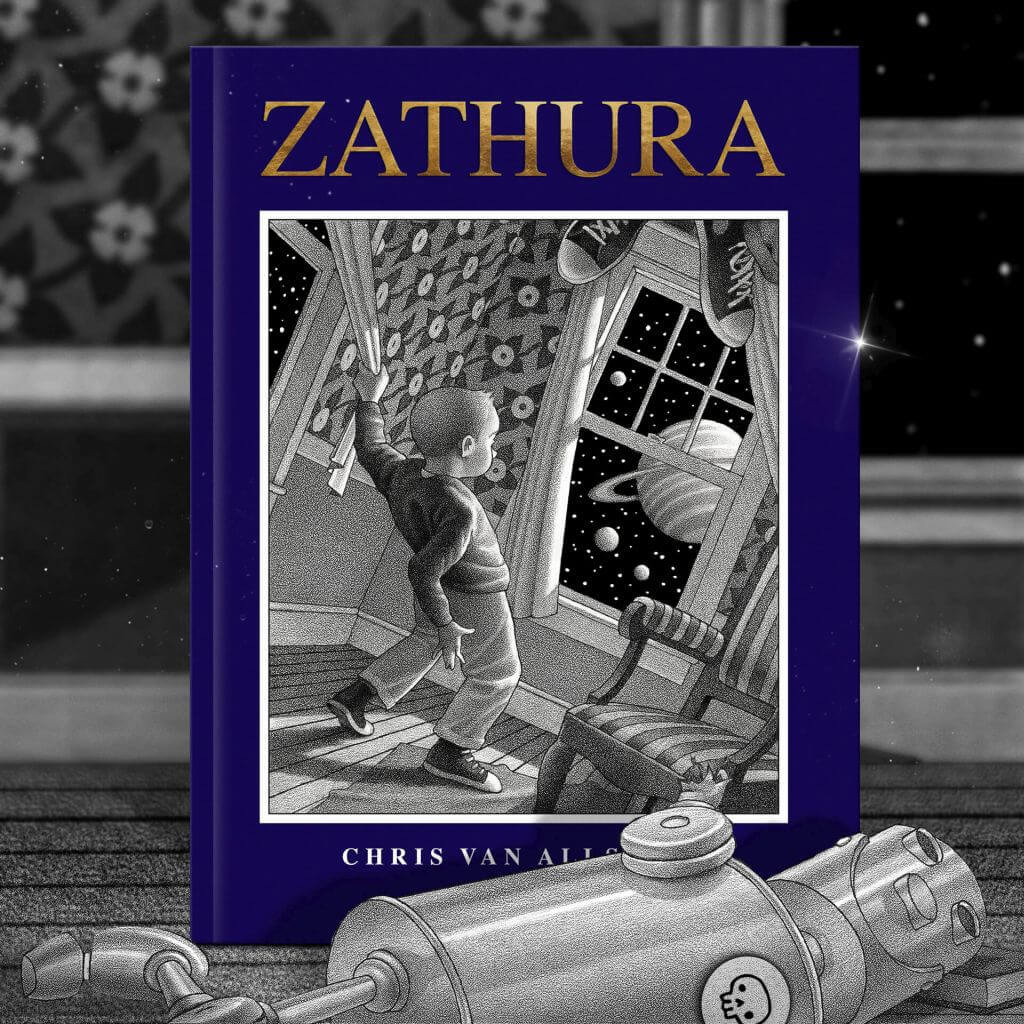 Tanta criatividade, é claro, levou os dois livros para as telas do cinema. Jumanji (1995), com Robin Williams e Kirsten Dunst no elenco, segue sendo o queridinho de muita gente até hoje e ampliou o universo criado pelo autor para uma verdadeira aventura de Sessão da Tarde. E dez anos depois estreou Zathura (2005), com Josh Hutcherson e Kristen Stewart, que também guiou toda uma geração por um cenário estrelado enquanto os dois irmãos-heróis tiram cartas, uma rodada por vez.
Jumanji e Zathura chegam juntos para nossos leitores pequeninos e aventureiros com o tratamento especial que os fãs deste e de outros mundos já conhecem e, através da Experiência Dark, o livro chega com uma caixinha de lápis de cor especial para nossos pequenos aventureiros. Acabou a rodada. É sua vez de rolar os dados. Você está preparado?
JOHN GARDNER, NEW YORK TIMES REVIEW:
"De belíssima simplicidade no design, no equilíbrio [e] nas texturas,
de inteligência sutil que foge à ilustração ordinária."
PUBLISHER'S WEEKLY:
"Imagens com detalhes tão infinitos e tão tridimensionais
que parecem que se mexem, que respiram, que fazem barulho."
BOOKLIST:
"Imagens poderosas, que perduram na mente."
Fichas Técnicas
Título | Jumanji
Autor | Chris Van Allsburg
Tradutor | Érico Assis
Editora | DarkSide®
Edição | 1a
Idioma | Português
Dimensões | 28 x 24,5 cm, 32 páginas
ISBN | 978-85-9454-162-8
Título | Zathura
Autor | Chris Van Allsburg
Tradutor | Érico Assis
Editora | DarkSide®
Edição | 1a
Idioma | Português
Dimensões | 23 x 30 cm, 32 páginas
ISBN | 978-85-9454-163-5