Quem leu O Menino que Desenhava Monstros sabe: Keith Donohue escreve histórias realmente assustadoras. O autor é mestre em trabalhar com sutilezas que dão arrepios e em A Dança das Marionetes, novo lançamento da DarkSide® Books, o sobrenatural dá as caras novamente.
A diferença é que, desta vez, são bonecos de madeira aparentemente inanimados, com sorrisos congelados e bochechas rosadas que vão fazer formigar a pele até mesmo dos leitores mais corajosos. Isso e uma trama intrincada, cujos contornos entre a realidade e a fantasia são calculadamente borrados. Somos marionetes diante do tempo e dos sentimentos. Podemos lutar contra o imutável ou dançar e brincar até o fim.
Em A Dança das Marionetes, Keith Donohue nos leva a um mundo de mistério e encantamento, onde realidade e magia se entrelaçam de maneira hipnotizante. Nesta emocionante história, que utiliza a construção do mito grego de Eurídice e Orfeu, somos apresentados a Kay e Theo, um casal apaixonado que se vê preso em um pesadelo inexplicável durante uma viagem a Quebec. Ela é uma acrobata em um circo, e ele está trabalhando em uma biografia do fotógrafo inglês Eadweard Muybridge, que ficou conhecido pelo uso de múltiplas câmeras para registrar o movimento dos animais. Após Kay desaparecer misteriosamente e ser transformada em uma marionete de uma loja de antiguidades, Theo inicia uma busca desesperada para resgatá-la das garras do desconhecido. Em uma aventura repleta de simbolismo e magia, Donohue nos convida a questionar os limites da realidade e a profundidade do amor.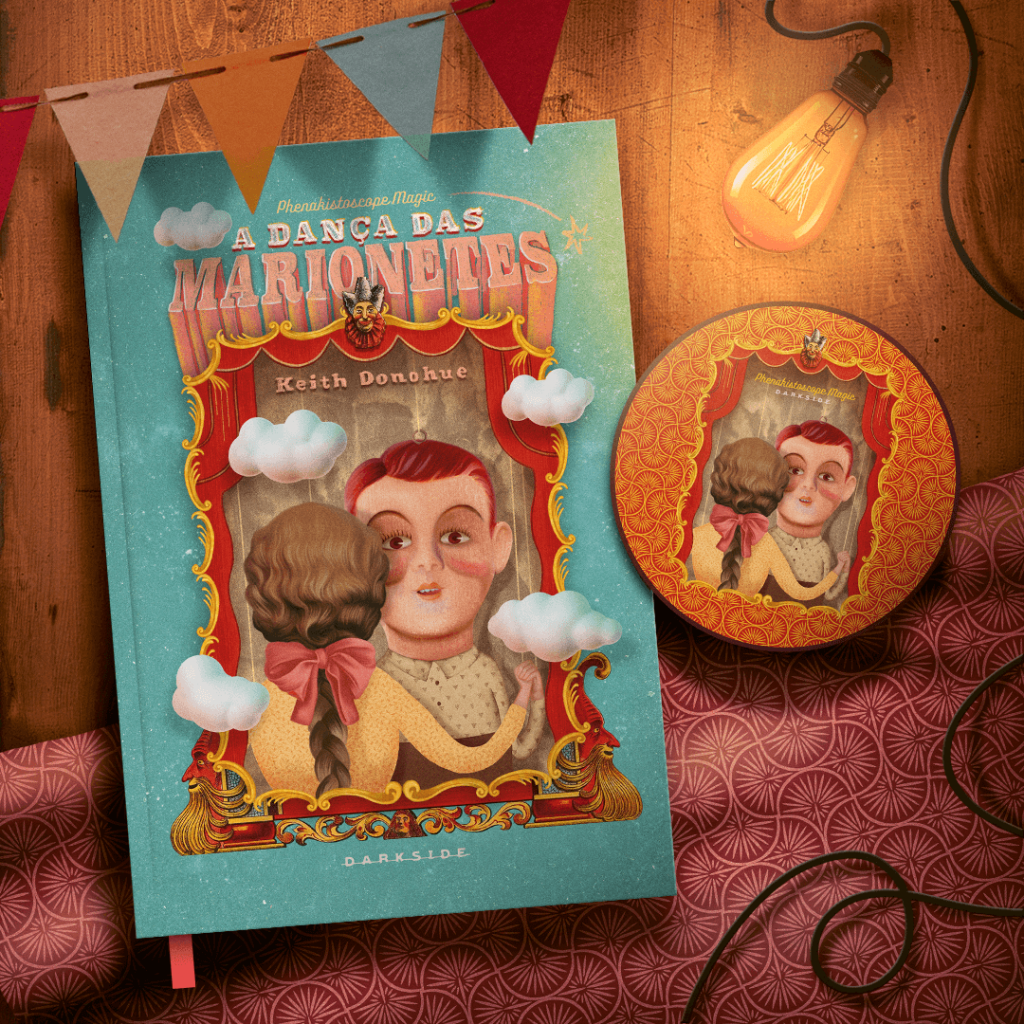 A Dança das Marionetes chega aos DarkSiders em uma edição caprichosamente montada, com arte do premiado artista plástico Rafael Silveira, que transportou seu universo particular — onde há mulheres com mãos de galhos e flamingos que andam de bicicleta — para a capa. Um acabamento tão perfeito que poderia muito bem ter sido entalhado por algum aprendiz de Geppetto… Depois de ler A Dança das Marionetes, você vai pensar duas vezes antes de jogar no lixo ou confinar em uma caixa escura os brinquedos que tanto amou.
"Ao mesmo tempo antigo e novo, emprestado e original, A Dança das Marionetes desdenha das expectativas de gênero e do que é mainstream para chamar a atenção dos leitores para a fronteira permeável entre a vida e sua imitação." — The Washington Post
"Evoca Coraline, de Neil Gaiman […] Por trás de todas as mudanças, a história de Donohue tem a profundidade emocional, o amor e a tristeza do antigo mito." — The Wall Street Journal
"Uma história inventiva e cheia de suspense contada por uma perspectiva original, o romance de Donohue examina como se recusar a abraçar o agora e lutar para escapar de circunstâncias inevitáveis pode alterar a vida de uma pessoa para sempre." — Publishers Weekly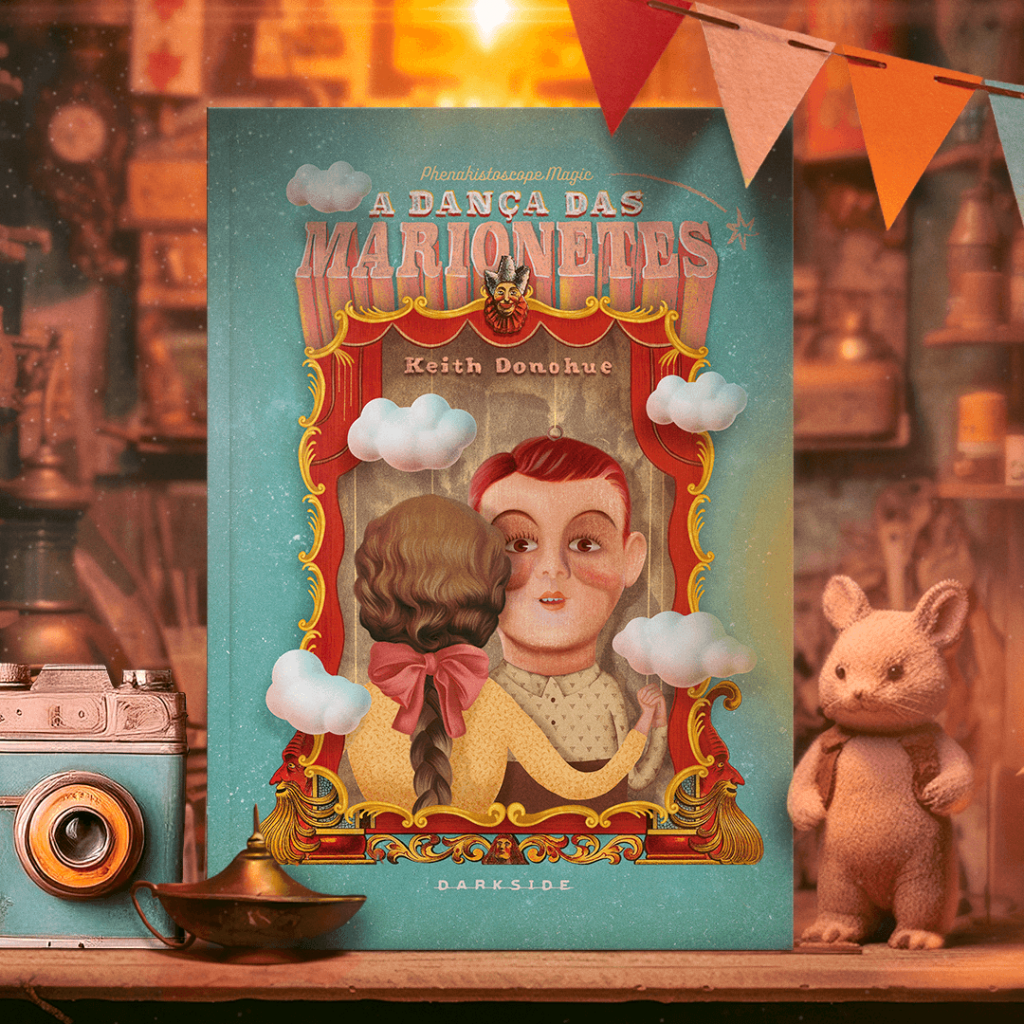 Keith Donohue é o autor do best-seller The Stolen Child, além de The Angels of Destruction e Centuries of June. Seus livros já foram traduzidos para mais de doze idiomas. O Menino que Desenhava Monstros (DarkSide® Books, 2014) chamou tanto a atenção do público que rapidamente teve seus direitos vendidos para o cinema. O autor, que tem Ph.D. em Inglês pela Catholic University of America, vive em Maryland.
Ficha Técnica
Título | A Dança das Marionetes
Título original | The Motion of Puppets
Autor | Keith Donohue
Tradutora | Claudia Guimarães
Editora | DarkSide® Books
Marca | DarkSide
Edição | 1ª
Idioma | Português
Especificações | 16 x 23 cm, 256 páginas, capa dura
ISBN | 978-65-5598-221-3