Uma família peculiar, excêntrica, acolhedora, engraçada, apaixonada por bichinhos nada convencionais, com regras e rituais próprios. Uma família muito unida. Uma família como a nossa. É com essa identificação poderosa que a Família Addams tomou o coração de várias gerações. Essa história começa muito antes dos seriados de tv, filmes icônicos e animações, quando a Família Addams frequentava as páginas de jornais.
Charles Addams, o célebre criador da família mais adorada do mundo, publicou a primeira tirinha em 1938 na New Yorker. Ano após ano, ele usou sua habilidade artística para criar um universo simultaneamente macabro e mundano com figuras deliciosamente avessas às convenções sociais, mas muito verdadeiras e afetuosas. Morticia, Gomez, Vandinha, Feioso, Tio Chico, Mãozinha, Primo It… todos esses personagens excêntricos se moldaram nas mãos de Charles Addams, e pularam das páginas para as telas com interpretações inesquecíveis de Carolyn Jones, John Astin,
Lisa Loring, Anjelica Huston, Raúl Juliá, Christina Ricci, Christopher Lloyd e tantos outros que eternizaram esta família singular.
A Família Addams: Álbum de Família, lançamento especial da DarkSide® Books em parceria com a Macabra Filmes, é o primeiro livro já publicado que traz a história completa da família mais macabra e querida da cultura pop. Com mais de 200 cartuns, pôsteres, sketches, cartões e capas criadas por Charles Addams — aproximadamente 50 delas nunca antes publicadas e muitas em cores —, este álbum de família repleto de grandes memórias é perfeito para todos os fãs que não resistem ao estalar de dedos da música tema. O livro traz ainda capítulos dedicados a cronologia de cada personagem, descrições originais e detalhes que nos ajudam a compreender a genialidade e o impacto dos Addams.
A Família Addams sempre tem um lugar à mesa para aqueles de coração peludo e verdadeiro. Com essa família, nos sentimos em casa. E, sempre que estamos juntos, é Halloween.
CHARLES ADDAMNS foi um dos grandes humoristas americanos e fez sucesso por seu humor obscuro e ácido. Como artista, sua grande criação é a excêntrica Família Addams, que conquistou o mundo com seus personagens únicos e cativantes. Embora representem apenas uma pequena porcentagem do trabalho extenso e prolífico do artista, os Addams ganharam o mundo e foram eternizados em filmes, séries de tv. Charles Addams trabalhou durante anos como artista para o jornal New York Times e a revista New Yorker. A casa onde morava com a esposa Tee, em Nova York, hoje abriga a Tee and Charles Addams Foundation.
H. KEVIN MISEROCCHI é diretor da Tee and Charles Addams Foundation e trabalha diretamente com o espólio do artista. Miserocchi conhece a fundo o trabalho de Charles Addams e decidiu organizar e comentar os cartuns e a trajetória completa da Família Addams neste memorável livro.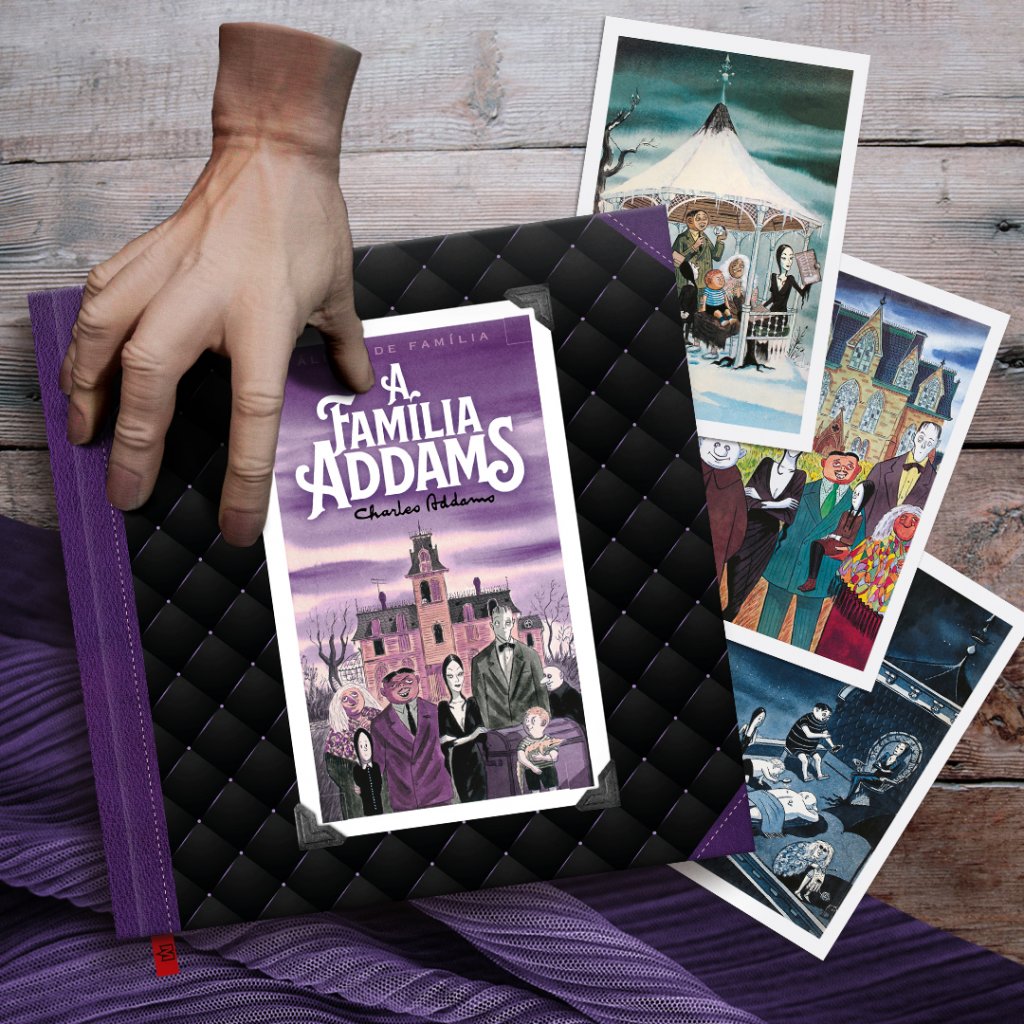 "Eu tratava cada tirinha como um enigma, um quebra-cabeça a ser resolvido […] A Família Addams é fascinante."
— NEIL GAIMAN, AUTOR DE SANDMAN E DEUSES AMERICANOS —
"Cresci lendo Charles Addams e fingindo ser Morticia em frente ao espelho. Sou imensamente feliz por ter feito parte dessa família."
— ANJELICA HUSTON, A MORTICIA NO FILME DE 1991 —
"Charles Addams é indescritível, exceto para dizer 'isso é Addams'."
— JOHN ASTIN, O GOMEZ NA SÉRIE DE 1964–1966 —
Ficha Técnica
Título | A Família Addams: Álbum de Família
Autor | Charles Addams
Tradutor | Érico Assis
Editora | DarkSide®
Marca | Macabra
Especificações | 23 x 23 cm, 256 páginas, capa dura