"Canções podem ser incrivelmente proféticas, como mensagens
subconscientes ou avisos para mim mesma, mas, muitas vezes, eu
só sei o que estou tentando dizer anos mais tarde. Ou uma previsão
se concretizou e eu não pude fazer nada para impedi-la,
então parece uma espécie de inútil magia."
Embora o coração seja difícil de traduzir por ter uma linguagem própria, Florence Welch faz de suas músicas e poesias um canal para revelar as coisas inimagináveis que ela esconde. A artista, que já tocou o coração de milhões de fãs ao redor do planeta, inclusive com um dos shows mais memoráveis no Brasil, em 2016, no Lollapalooza, é uma verdadeira força da natureza. Nas canções do grupo Florence + The Machine, ela encanta com sua voz poderosa e versos que inspiram magia, amor, autoconhecimento e transição.
Os fãs brasileiros podem comemorar que os dias de cão acabaram, pois a DarkSide® Books apresenta Inútil Magia, uma obra íntima e musical carregada pelos braços do oceano diretamente para a marca Magicae. O livro reúne letras de músicas, poesias e sermões inéditos no Brasil, além de fotos, obras de arte, anotações manuscritas, playlists, desenhos e sketches da própria Florence Welch, que abre seu coração em uma espécie de diário pessoal capaz de inspirar fogo e devoção nos leitores. Uma edição incrível e bilíngue, que mantém a tipografia original da autora, respeitando o trabalho artístico e mágico de uma compositora singular. Inútil Magia é uma forma de conhecer ainda mais esta artista de tamanha sensibilidade, que também passou por momentos delicados com o álcool e conseguiu se afastar dele em 2014, e continua apoiando aqueles que encaram o mesmo problema.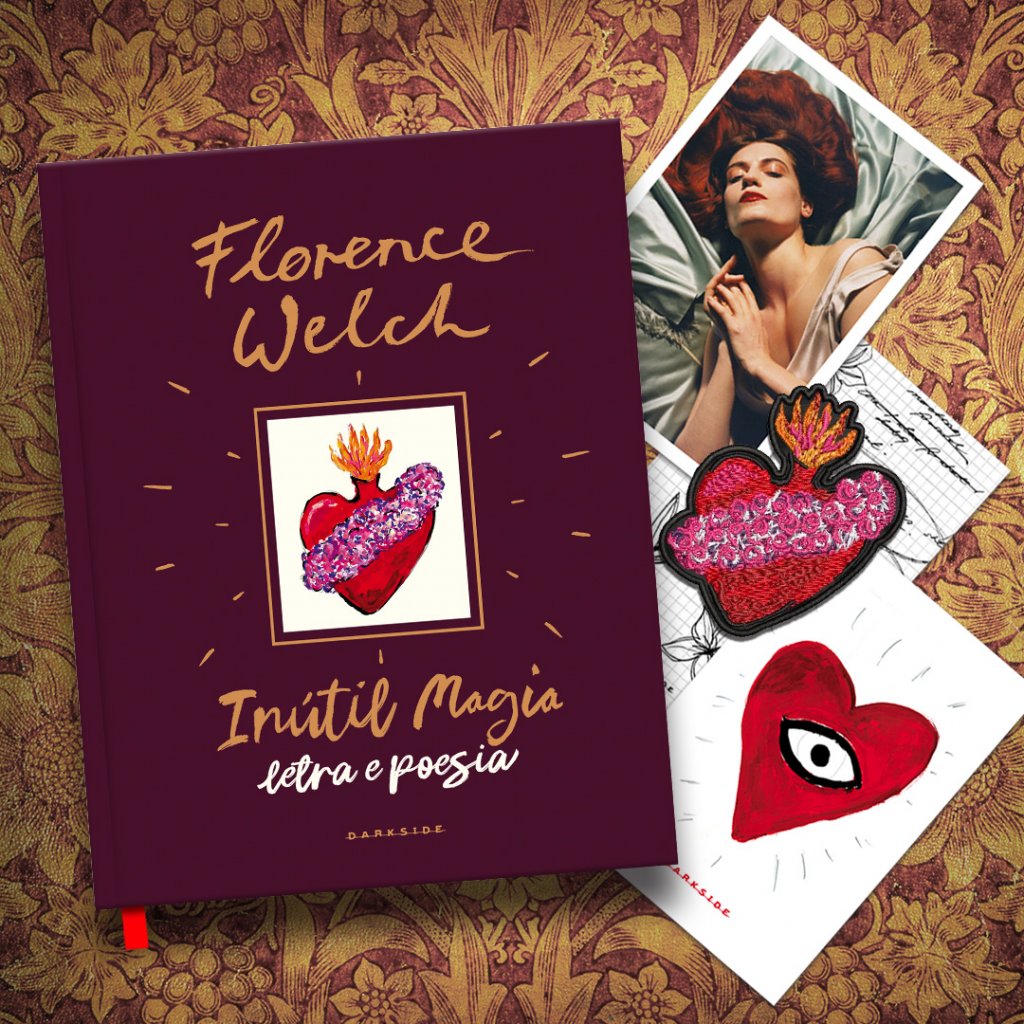 Inútil Magia é um rito sagrado para todos que mergulham em seu universo particular. Em versos que ecoam mais alto que sirenes e sinos, e são mais doces que o céu, mas também mais duros que o inferno, o sangue da artista corre fundo, ensinando seus ouvintes e leitores a seguirem as linhas do coração em suas mãos.
Uma obra fundamental na coleção de todos os fãs de Florence + The Machine que estão se preparando para a chegada de Dance Fever, seu novo e quinto álbum, Inútil Magia chega para os leitores brasileiros em uma edição especial bilíngue (português/inglês) em capa dura e com pintura dourada para iluminar os corações assombrados com amor e poesia.
MAGICAE | Magicae celebra a vida, as fases da lua, as marés internas e os mistérios dos oráculos. Livros repletos de encantamento que honram os poderes ancestrais e cultuam as leis da natureza. A magia que mora no farfalhar das folhas, na alquimia dos aromas, no sopro do vento e no virar das páginas também existe em todos nós. Magicae é o reencontro com a nossa própria essência.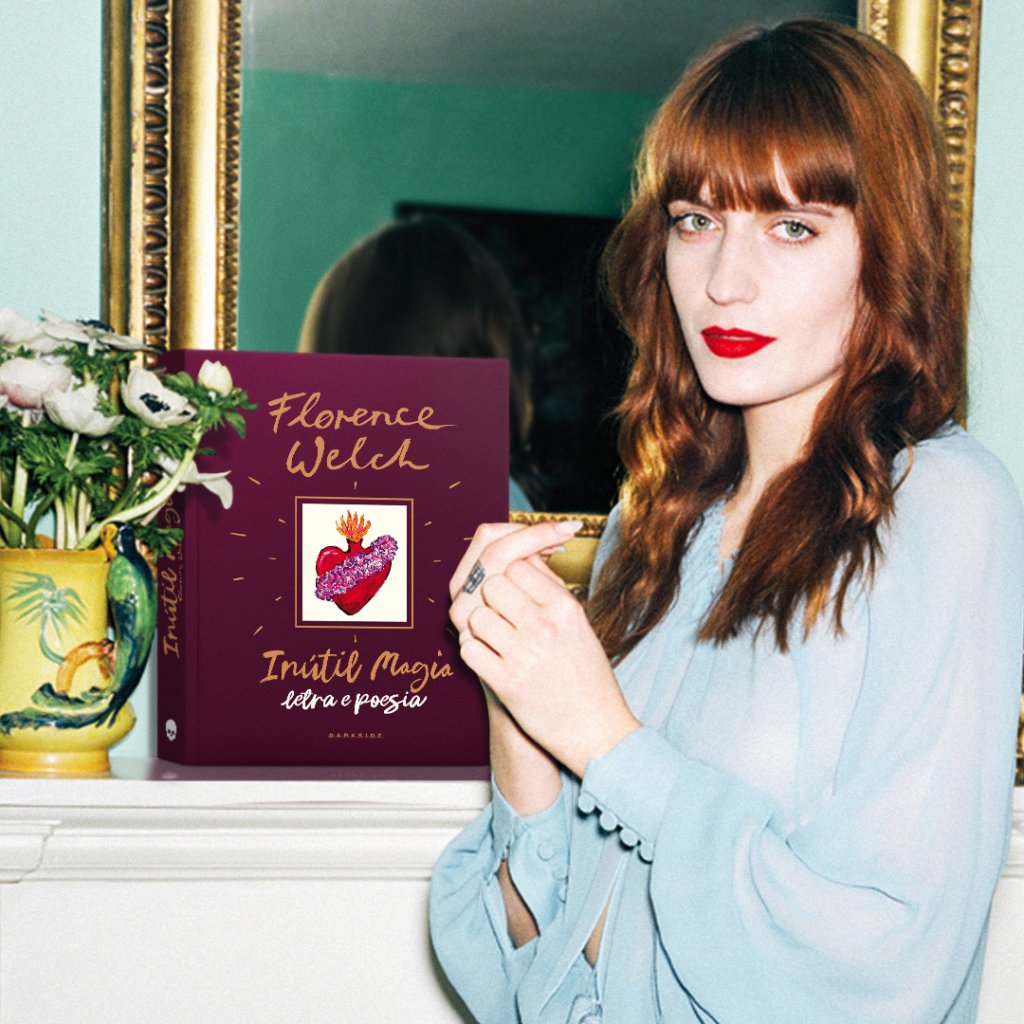 Nascida em Londres de pai inglês e mãe norte-americana, Florence Welch é cantora, compositora e vocalista do grupo de indie rock Florence + The Machine desde 2007. Seus quatro álbuns, Lungs, Ceremonials, How Big How Blue How Beautiful e High as Hope, chegaram ao topo das paradas. O grupo já foi indicado ao Grammy e recebeu o prêmio da crítica no Brit Awards 2009. Florence Welch afirma que escreve músicas para amarrar as pessoas a ela própria, em uma fita de fantasia. Saiba mais em florenceandthemachine.net.
"Tanto a letra quanto a poesia de Inútil Magia validam a escolha de Welch, oferecendo a chance de apreciar no palco vazio da página em branco a delicadeza de suas palavras."
— The Guardian —
"Generoso na sua honestidade, no final você sente como se tivesse subido ao colorido, e às vezes torturado, mundo – e quarto – de uma artista apaixonada."
— inews.co.uk —
Ficha Técnica
Título | Inútil Magia
Autora | Florence Welch
Tradutora | Caroline Busarello Brüning
Editora | DarkSide®
Edição | 1ª
Idioma | Português
Especificações | 336 páginas, 17 x 22, capa dura