Em 1978, em uma região de floresta amazônica na Guiana, mais de 900 pessoas beberam uma mistura de suco e cianeto, instigadas a encontrar o paraíso por Jim Jones, o líder religioso do Templo Popular. As imagens dantescas da tragédia correram o mundo e marcaram o evento como o maior suicídio coletivo da história.
Jim Jones encarnava uma figura imponente e messiânica, propagava curas milagrosas e fraudulentas aos quatro ventos, organizava encontros religiosos de grande porte nos quais acolhia as minorias e, ainda, disponibilizava aos seguidores do Templo Popular diversos recursos assistenciais, tornando-se um homem respeitado, idolatrado e com grande influência política.
Em certo momento de sua pregação religiosa, quando já possuía a confiança inquestionável dos seguidores, trouxe a ideia de um iminente apocalipse nuclear que rapidamente ganhou mais força e adeptos. Depois disso, todos os seus passos levavam a um único caminho: Jonestown, projeto agrícola da organização religiosa sob a liderança de Jones, situada no noroeste da Guiana — o refúgio construído para que todos escapassem de um mundo condenado ao grande apocalipse final.
Em Jim Jones Profile: Massacre em Jonestown, através de uma narrativa fascinante, ágil e detalhada, Jeff Guinn — premiado jornalista investigativo e já conhecido pelos fãs da marca Crime Scene® por seu best-seller Manson, A Biografia —, examina a vida de Jim Jones desde a sua infância, o abuso de drogas, os primeiros passos como líder religioso até a conturbada decisão de transferir seus seguidores para um assentamento nas selvas da Guiana.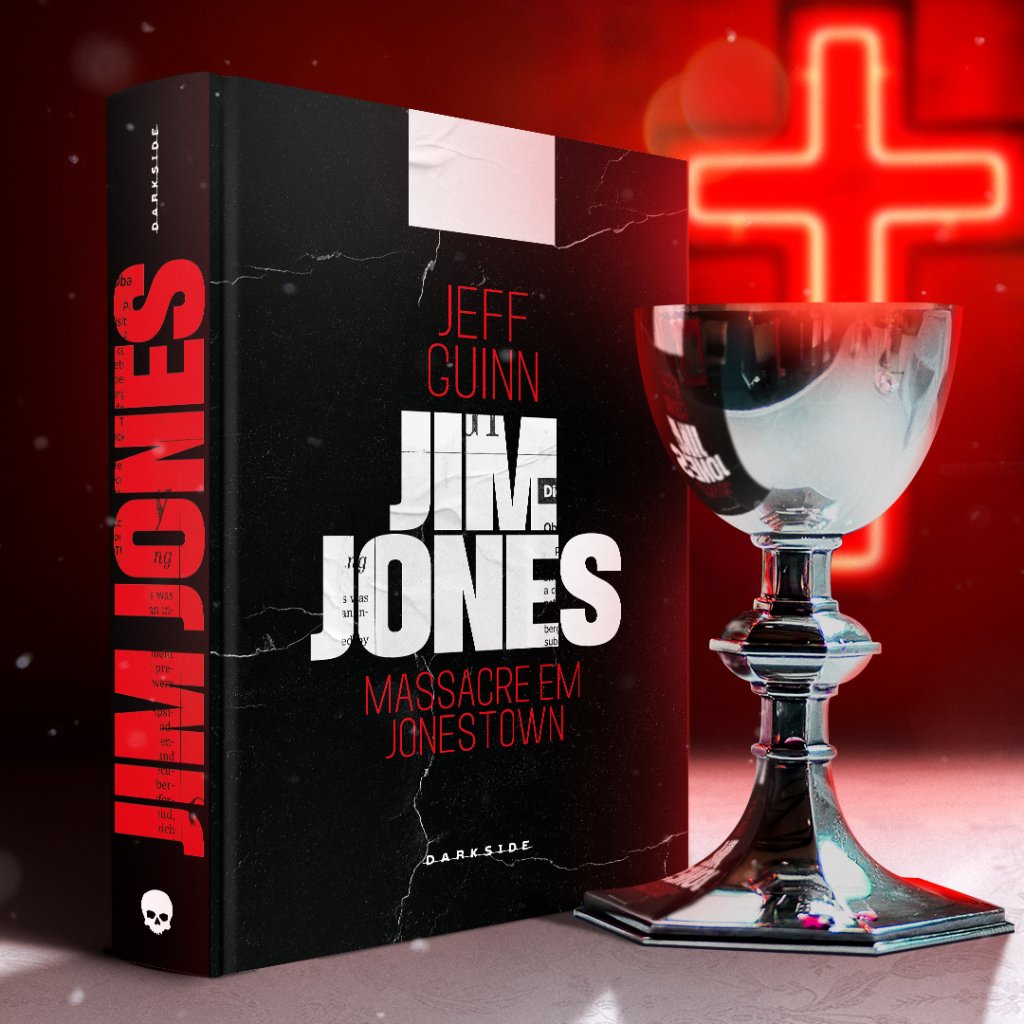 E, infelizmente, com uma triste e surpreendente atualidade, muitos têm comparado a abominável figura com políticos populistas contemporâneos, como é o caso da deputada pela Califórnia Jackie Speier, que sobreviveu ao massacre de Jonestown há mais de 40 anos. "Você olha para Donald Trump, um líder carismático, que foi capaz de continuar a falar em termos que atraíram as pessoas que estavam desiludidas à procura de algo, muito parecido com aqueles que se tornaram parte da congregação de Jim Jones. Eles eram almas perdidas, e a única diferença entre Jim Jones e Donald Trump é o fato de que agora temos redes sociais. Agora, todas essas pessoas podem se encontrar de maneiras que não conseguiam antes", afirmou a deputada.
Guinn analisou milhares de páginas de arquivos do FBI, entrevistou dezenas de pessoas e também viajou para a cidade natal de Jones, onde conversou com pessoas que nunca antes haviam falado sobre o assunto. Jim Jones Profile: Massacre em Jonestown/19 chega na DarkSide® Books com detalhes impressionantes dos eventos que levaram ao trágico novembro de 1978. Um livro definitivo a respeito de Jim Jones e do massacre em Jonestown, e um alerta para o perigo que corremos ao seguir cegamente os profetas do Apocalipse.
Jeff Guinn é autor do best-seller Manson, A Biografia; The Last Gunfight: The Real Story of the Shootout at the O.K. Corral — And How It Changed the American West; e do finalista do prêmio Edgar Award Go Down Together: The True, Untold Story of Bonnie & Clyde. Guinn tem longa experiência no jornalismo e já ganhou prêmios nacionais, regionais e estaduais por suas reportagens investigativas, especiais e críticas literárias. Escreveu dezenove livros, inclusive best-sellers do New York Times. É membro do Hall da Fama da Literatura, no Texas. Mora em Fort Worth.
"Um relato nítido e arrepiante sobre um vigarista astuto e suas vulneráveis presas."
— The Boston Globe —
"Eu preciso dizer que é estranho descobrir o pano de fundo das coisas que eu cresci ouvindo ao redor da mesa de jantar. O nível de pesquisa e detalhes é o melhor de todos os tempos e realmente permite que os leitores entendam não apenas o que aconteceu, mas como e por quê. Essa obra conta a história de Jim Jones da melhor forma que li até hoje."
— Jim Jones Jr. —
"Magistral. […] a pesquisa exaustiva de Guinn, a análise perspicaz e a prosa envolvente iluminam uma figura monstruosa e trágica — e os motivos daqueles que perderam suas almas para ele."
— Publishers Weekly —
"Jeff Guinn oferece o que pode ser, até hoje, o panorama mais completo desta trágica saga e do homem que a projetou […]. O resultado é um retrato perturbador do mal — e um memorial compassivo para aqueles levados pelo carisma maligno de Jones."
— Kevin Canfield, The San Francisco Chronicle —
Ficha Técnica
Título | Jim Jones Profile: Massacre em Jonestown
Título original | The Road to Jonestown: Jim Jones and Peoples Temple
Autor | Jeff Guinn
Tradutor | Lucas Magdiel
Editora | DarkSide®
Marca | Crime Scene
Edição | 1ª
Idioma | Português
Especificações | 16×23 cm, 544 páginas, capa dura