Quatro amigos inseparáveis se encontram para uma partida de Dungeons & Dragons em uma casinha da pacata cidade de Hawkins. O temível Demogorgon parece incansável, o jogo termina tarde e já é hora de dormir. Os meninos sobem em suas bicicletas para voltar para casa, mas um deles nunca termina o caminho. Will Buyers desapareceu misteriosamente, e algo estranho está prestes a acontecer…
Desde sua estreia, em julho de 2016, Stranger Things se tornou um fenômeno global. O clima de aventura, mistério e ficção científica que ronda os filmes que mais amamos está lá. A série é um mergulho completo nos detalhes vívidos e sensações de uma época: os adoráveis anos 1980. Outras produções audiovisuais tentaram evocar esse período e suas singularidades, mas nenhuma delas conseguiu uma aclamação que chegasse aos pés.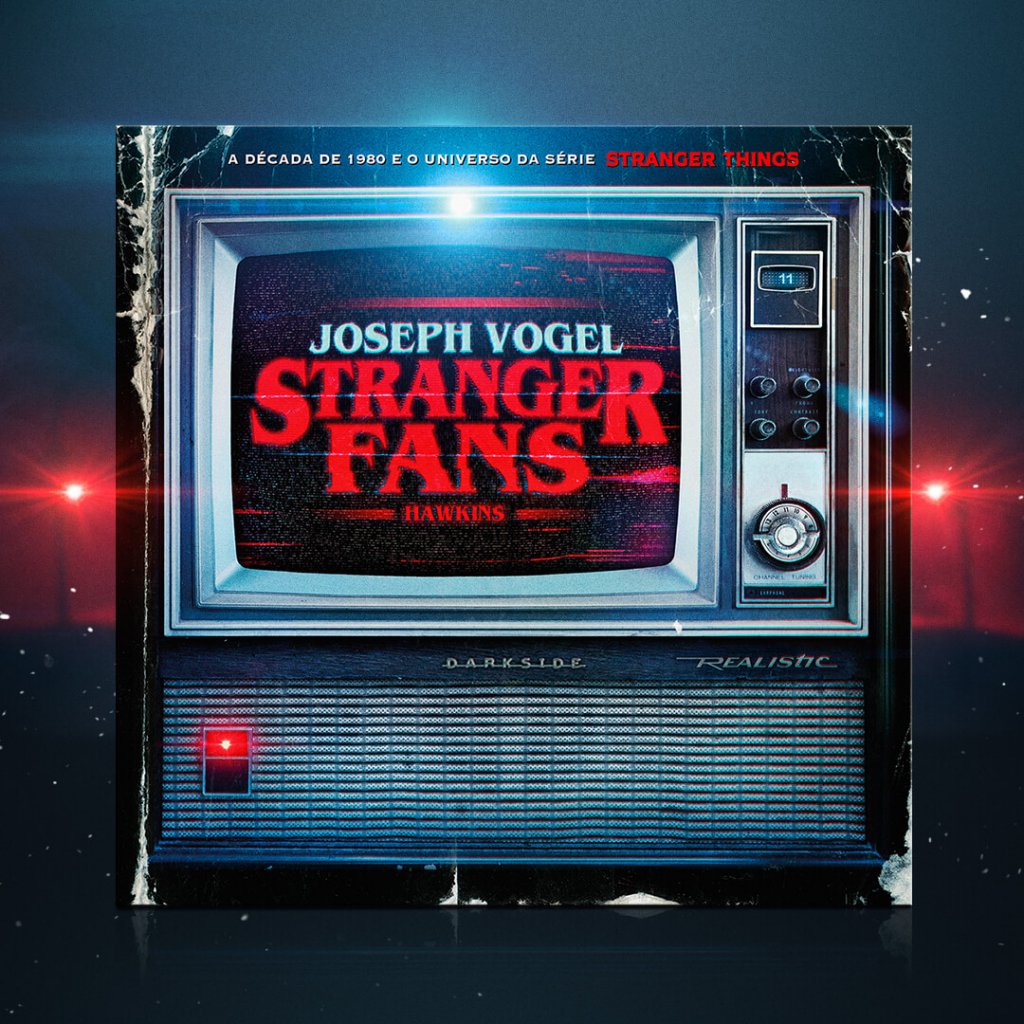 Para muitos de nós, a década de 1980 significou bem mais que um período de dez anos, e talvez o grande culpado por esse fenômeno seja o próprio tempo, que parecia avançar em um ritmo bem menos acelerado naqueles estranhos anos. Em Stranger Things, tudo remete a este período vivo, criativo e libertador: da trilha sonora do sintetizador às fontes retrô, dos nostálgicos acenos a Spielberg e Stephen King ao figurino impecável.
E como amigos não mentem, a DarkSide Books finalmente revela a surpresa que estava preparando para os leitores sedentos por muitas coisas estranhas: Stranger Fans — A década de 80 no universo da série Stranger Things. O autor, Joseph Vogel, é fã de carteirinha da série e criou um documento completo que é uma verdadeira homenagem ao universo dos Irmãos Duffer.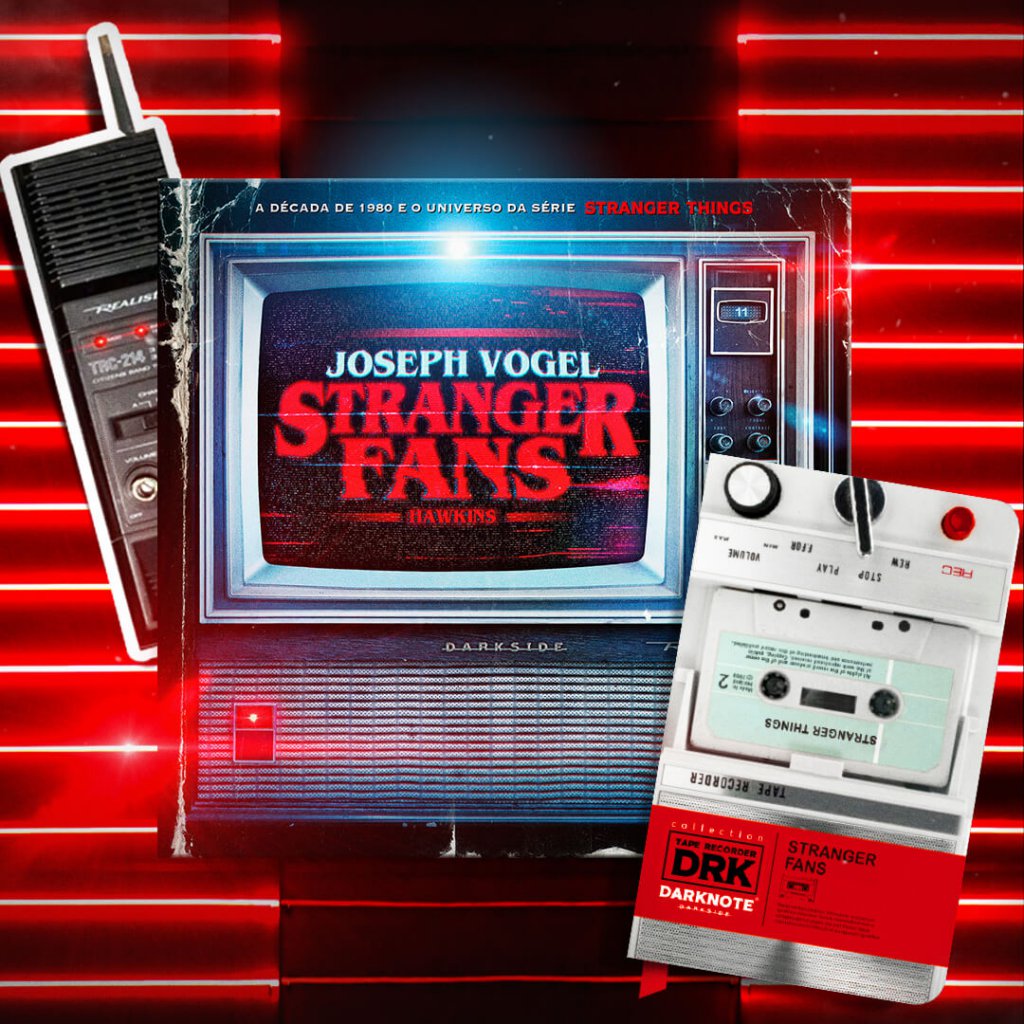 Falando de fã para fã, Vogel mergulha nos detalhes que tornaram os anos 1980 um terreno tão fértil para as ideias dos criadores de Stranger Things. Ele apresenta ainda informações preciosas e ilustrações de artistas que se inspiraram na sinergia sinistra que une a história, seus personagens e, é claro, os fãs. Um livro que evoca leitores e espectadores a compartilhar teorias e lembranças de uma série que veio para fincar raízes no imaginário pop mundial.
Stranger Fans — A década de 80 no universo da série Stranger Things é um livro completo que documenta quão imersa a série está na cultura dos anos 1980, desde sua trilha sonora até seus personagens, tecnologias e bicicletas. Entre as muitas curiosidades desvendadas por Joseph Vogel estão os videogames na casa de fliperamas Palace Arcade e como eles transformaram a cultura jovem nos anos 1980, os paralelos com Et: O Extraterrestre, o contexto por trás de Dungeons & Dragons, como surgiram as caixinhas de leite com anúncios de crianças desaparecidas, os filmes e livros mais importantes para o programa e muitas outras coisas que todo fã vai adorar saber.
Prepare-se para entrar em uma verdadeira máquina do tempo. Se Stranger Things é uma carta de amor para os anos 1980, este livro é um guia minucioso para se apaixonar pela era revivida pela série.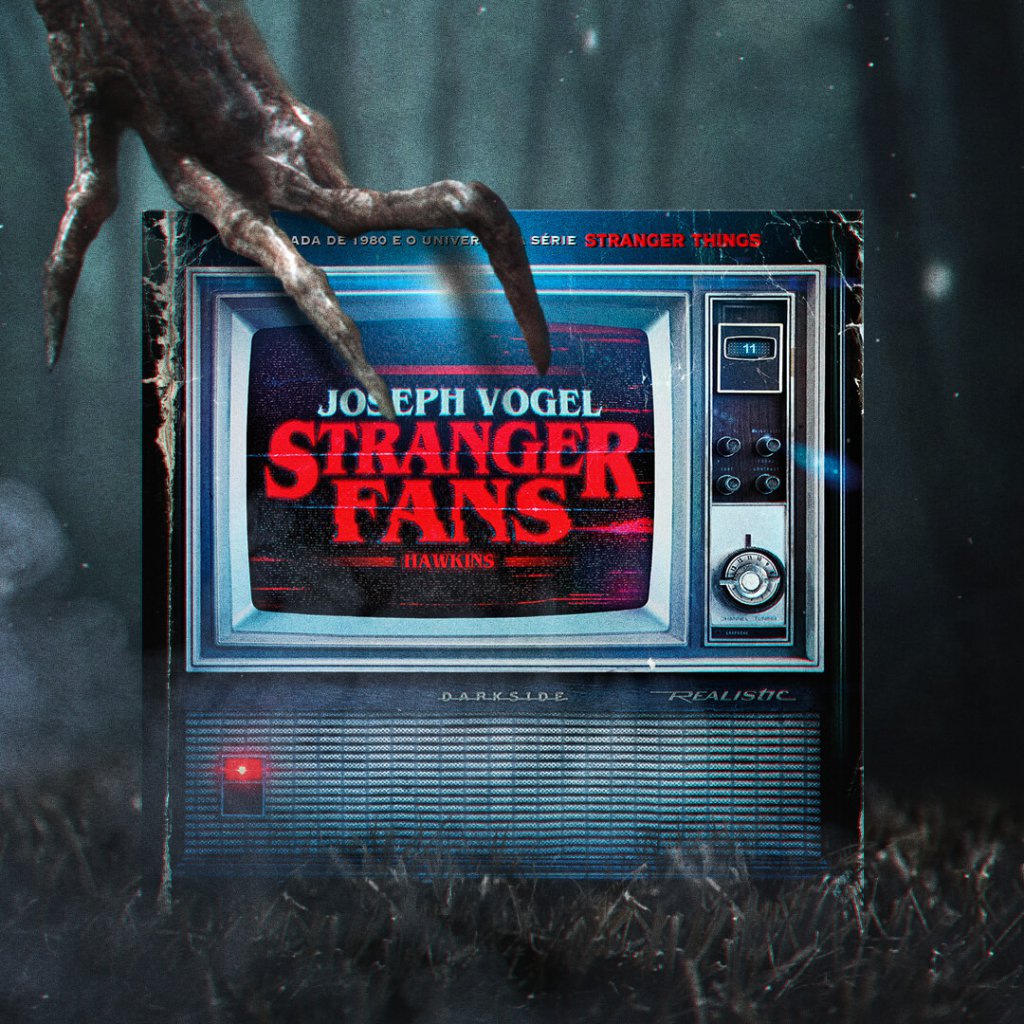 O autor Joseph Vogel nasceu e cresceu na década de 1980, e se apaixonou por Stranger Things no momento em que viu aquele logotipo esquisito e misterioso. Ao assistir o primeiro episódio, não teve dúvidas: era amor mesmo. Vogel é professor assistente no Merrimack College, em Massachusetts, e escreveu vários livros, incluindo Man in the Music: The Creative Life and Work of Michael Jackson e This Thing Called Life: Prince, Race, Sex, Religion, and Music. Seus textos já foram publicados na Atlantic e Slate, no Guardian, na Forbes, e no The Huffington Post. Stranger Fans é seu tributo à série de sucesso dos Irmãos Duffer, e mais um exemplo de livro de fã para fã da DarkSide Books.
CASEEN GAINES, AUTOR DE DE VOLTA PARA O FUTURO: OS BASTIDORES DA TRILOGIA
"Joseph Vogel faz um trabalho magistral conectando cada ponto da cultura pop, levando-nos de volta aos anos 80 a 88 mph, em um livro que é tão nostálgico e divertido quanto a próprio série"
HEROIC HOLLYWOOD
"Uma leitura obrigatória para qualquer fã de Stranger Things."
Ficha Técnica
Título | Stranger Fans
Autor | Joseph Vogel
Tradutora | Flávia Gasi
Editora | DarkSide®
Edição | 1a
Idioma | Português
Especificações | 304 páginas, capa dura (Limited Edition)
Dimensões | 23 x 23 cm
ISBN | 978-85-9454-084-3