A morte é inevitável. Lembrar que um dia morreremos ainda gera desconforto em muita gente; discutir as possibilidades para a cerimônia de despedida, então, é impensável. Bem, não para Caitlin Doughty, agente funerária, criadora do grupo The Order of the Good Death e escritora publicada pela DarkSide Books que está lançando seu novo livro, Para Toda a Eternidade, pela marca Darklove.
Alguns leitores já conhecem a escrita divertida e realista de Caitlin, mas, para quem ainda não teve o prazer de ler Confissões do Crematório, a Caveira explica: ainda jovem, Caitlin conseguiu emprego em um crematório na Califórnia e aprendeu muito mais do que imaginava barbeando cadáveres e preparando corpos para a incineração.
Em seu primeiro livro, ela compartilha histórias reais do dia a dia de uma casa funerária. Já Para Toda a Eternidade é o fruto de uma jornada global para conhecer o mundo de mãos dadas com a morte. Através das palavras poderosas de Caitlin Doughty e das ilustrações deslumbrantes do artista Landis Blair, vemos como outras culturas lidam com o fim da vida enquanto entendemos a nossa relação com o assunto.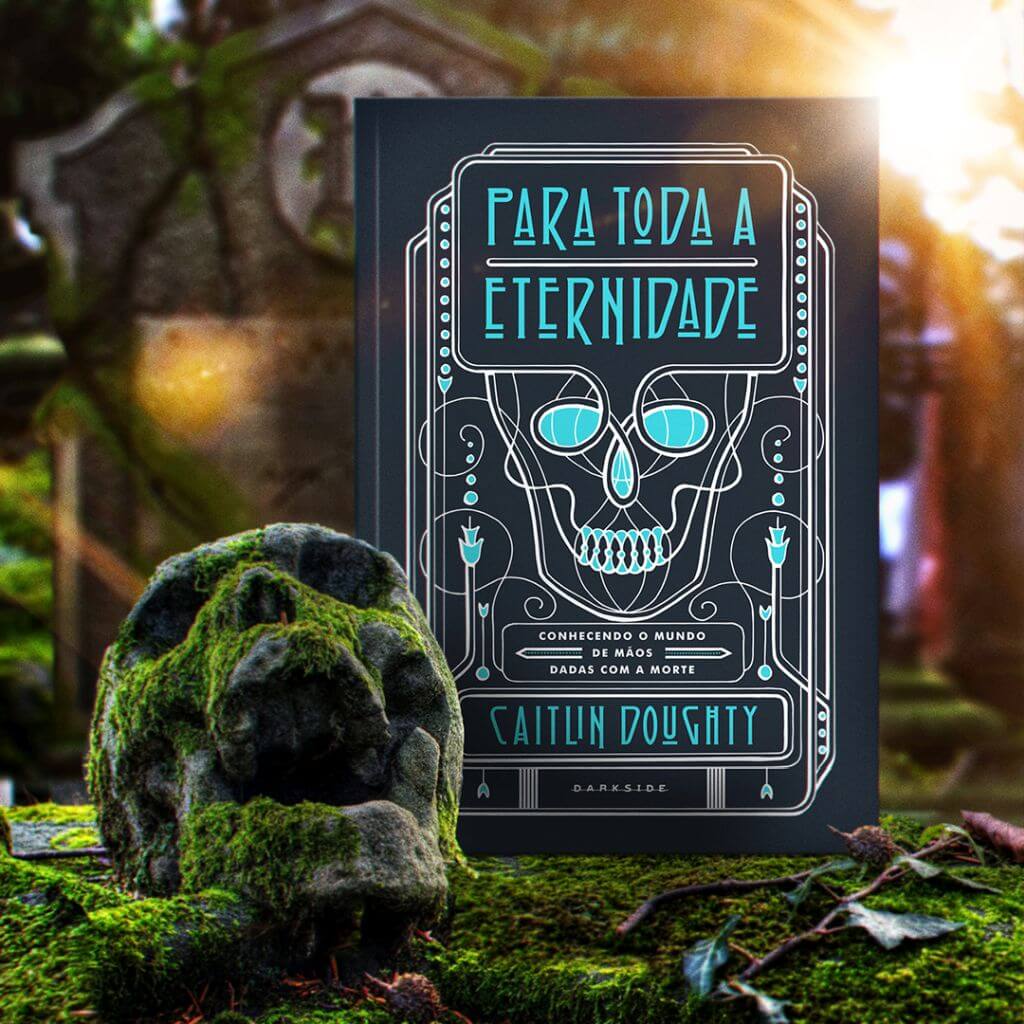 Na Indonésia, Caitlin observa enquanto um homem limpa e veste o corpo mumificado de seu avô, que mora na casa da família há dois anos. Em La Paz, ela conhece as ñatitas bolivianas (crânios humanos que fazem a ponte entre os mundos dos vivos e dos mortos). E em Tóquio ela se depara com a cerimônia do kotsuage, na qual parentes utilizam palitinhos para coletar os ossos de seus entes queridos das cinzas da cremação.
Narrando cada ritual de maneira respeitosa ao mesmo tempo em que insere contornos históricos e também pessoais ao texto, Caitlin investiga a história funerária no mundo, apresentando soluções inusitadas e inicia a discussão: existe jeito certo de se despedir das pessoas que você ama? O que parece um tabu para nós pode ser transformador para quem fica.
Acima de tudo, Para Toda a Eternidade é uma lição de empatia, acolhimento e solidariedade. Uma volta ao mundo de uma perspectiva inusitada — mas enriquecedora na mesma medida. Temos muito a aprender com a morte.
O livro chega aos leitores brasileiros pela coleção DarkLove, a linha especial da DarkSide Books para autoras de vozes poderosas e leitores com corações valentes. Ele faz parte da Dark Experiencie e vai acompanhado de um livro de anotações para você listar desejos, sentimentos e sonhos que transformam a vida de todos nós, além de um incrível marcador. Tudo exclusivo para compras realizadas no site oficial da Caveira.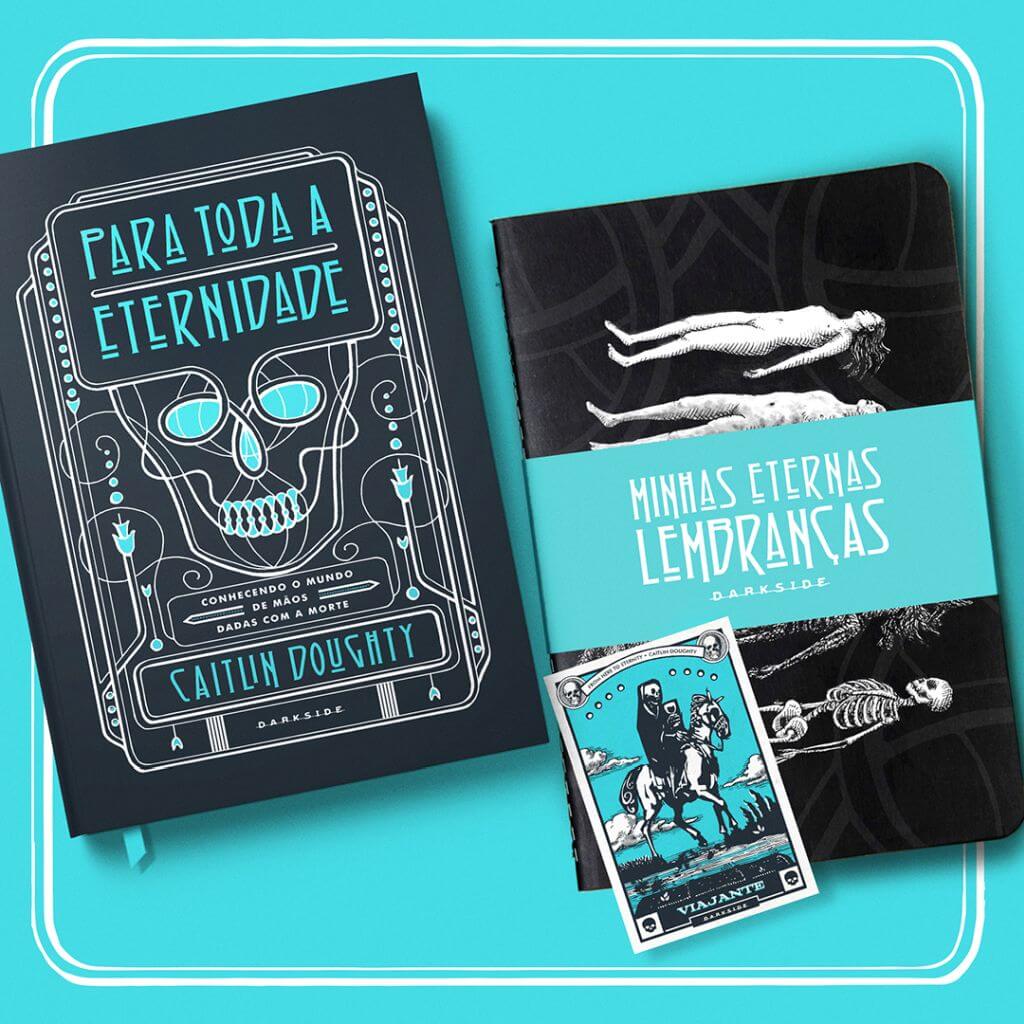 Acredite: depois de ler Para Toda a Eternidade, você vai pensar bastante em como quer partir desta para a melhor.
Caitlin Doughty é agente funerária, escritora e mantém um canal no YouTube onde fala com bom humor sobre a morte e as práticas da indústria funerária. É criadora da web série Ask a Mortician, fundadora do grupo The Order of the Good Death (que une profissionais, acadêmicos e artistas para falar sobre a mortalidade) e também autora de Confissões do Crematório, publicado pela DarkSide Books em 2016. O ilustrador Landis Blair nasceu em 1983 em Illinois, Estados Unidos. Publicou a graphic novel The Hunting Accident: A True Story of Crime, escrita por David Carlson, além de várias histórias curtas, como The Envious Siblings, Anemone Anomaly, The Progressive Problem, Moonboy, entre outras.
DYLAN THURAS, AUTORA DE ATLAS OBSCURA:
"Para Toda a Eternidade consegue ser, ao mesmo tempo, um 'guia de viagem' muito divertido e um livro tocante que fala sobre o que a morte significa para nós."
THE NEW YORKER:
"Caitlin Doughty narra as práticas fúnebres com ternura, com a fascinação de uma especialista e com um respeito não sentimental pelo luto."
THE MAIL:
"Fascinante, instigante e, quem diria?, por vezes divertido. Coloque-o na sua lista de leituras."
VICE:
"Caitlin Doughty encontra, na relação de outras culturas com a morte, a humanidade que parece estar faltando na nossa."
Ficha Técnica
Título | Para Toda a Eternidade
Autora | Caitlin Doughty
Tradutora | Regiane Winarski
Editora | DarkSide®
Edição | 1a
Idioma | Português
Especificações | 224 páginas, capa dura (Limited Edition)
Dimensões | 14 x 21 cm
ISBN | 978-85-9454-170-3