Stephen King escreveu mais de sessenta livros, vendeu mais de 300 milhões de exemplares em todo o mundo e coleciona quase 60 prêmios por suas obras. Um autor com um legado incomparável, o homem do Maine inspirou grandes nomes do terror contemporâneo e se infiltrou no inconsciente de todos nós. E não foi diferente com os autores de Antologia Dark, talentos nacionais que transformaram suas loucas obsessões em palavras assustadoras e cativantes, seguindo o rastro sombrio do mestre para dar vida a criações próprias.
Conversamos com alguns dos escritores desta antologia inspirada na obra de Stephen King, para entender de que forma o mestre os influenciou a escreverem suas histórias. Confira a seguir um pouco sobre estes autores e seus contos poderosos:
Antônio Tibau – "O Terceiro Testamento"
Antônio Tibau é escritor e roteirista. Adora livros dos anos 1980, e das histórias de King é fã de A Zona Morta, Misery: Louca Obsessão, O Iluminado, O Cemitério, e Carrie, A Estranha, It: A coisa e, em especial, Christine e Cujo. Está junto com a Caveira desde o início, traduzindo alguns livros como A Trilogia Star Wars, Prince of Thorns, e produzindo material extra para O Colecionador, Donnie Darko, Black Sabbath – a Biografia e O Massacre da Serra Elétrica – Arquivos Sangrentos. É também responsável pelo roteiro da futura série de terror sobrenatural Os Esquecidos, produzida pela HBO com a O2 Filmes. Você o encontra na rede social @tibau71.
Darkside: Quais histórias do mestre Stephen King serviram de inspiração para o seu conto, "O Terceiro Testamento"?
Antônio Tibau: O Terceiro Testamento é inspirado em A Zona Morta, romance de 1979, o primeiro a mencionar Castle Rock, a cidade fictícia favorita do mestre. O livro ganhou uma adaptação muito elogiada de David Cronenberg (Scanners, A Mosca, Gêmeos: Mórbida Semelhança) em 1983, com Christopher Walken. Além do livro de King, busquei inspiração em Freud e na Bíblia. Uma curiosidade, alguns personagens de A Zona Morta são citados no romance de King sobre o cão raivoso, Cujo.
Cláudia Lemes – "Creed"
Cláudia é escritora de Santos, São Paulo, apaixonada por livros e filmes de terror desde criancinha. Com seis livros publicados e participação em dezenas de outros projetos literários, Lemes comenta que suas histórias preferidas do mestre King são aquelas que abordam o horror humano – violência doméstica, abuso, tortura, assassinatos – e exploram as ações de pessoas quando levadas a situações extremas, como Jogo Perigoso, Rose Madder, Misery, Trocas Macabras, O Gigante no Volante e Carrie, por exemplo. Você encontra todos os trabalhos da autora na Amazon, e em breve seu mais recente thriller chegará às livrarias também. Além disso, pode encontrá-la falando sobre serial killers no canal do YouTube Serial Chicks, no seu site oficial e no Instagram.
LEIA TAMBÉM: CLÁUDIA LEMES: "ESCREVER SEM CORAGEM DE SE ENVOLVER NÃO VALE A PENA"
Darkside: Quais histórias do mestre Stephen King serviram de inspiração para o seu conto, "Creed"?
Cláudia Lemes: Quando recebi o convite do Cesar Bravo para criar uma história para Antologia Dark, eu nem tirei um momento para refletir. Já cheguei falando que queria basear a minha em O Cemitério, e suspirei de alívio quando ele falou "é seu". Eu só li 25 livros do mestre, o que seria um volume monstruoso se estivéssemos tratando de outro autor, mas no caso do King não representa nem 1/3 de sua obra. Diversos livros do mestre ocupam lugares especiais no meu coração de leitora, mas nenhum mexeu com os meus medos de maneira tão visceral quando O Cemitério.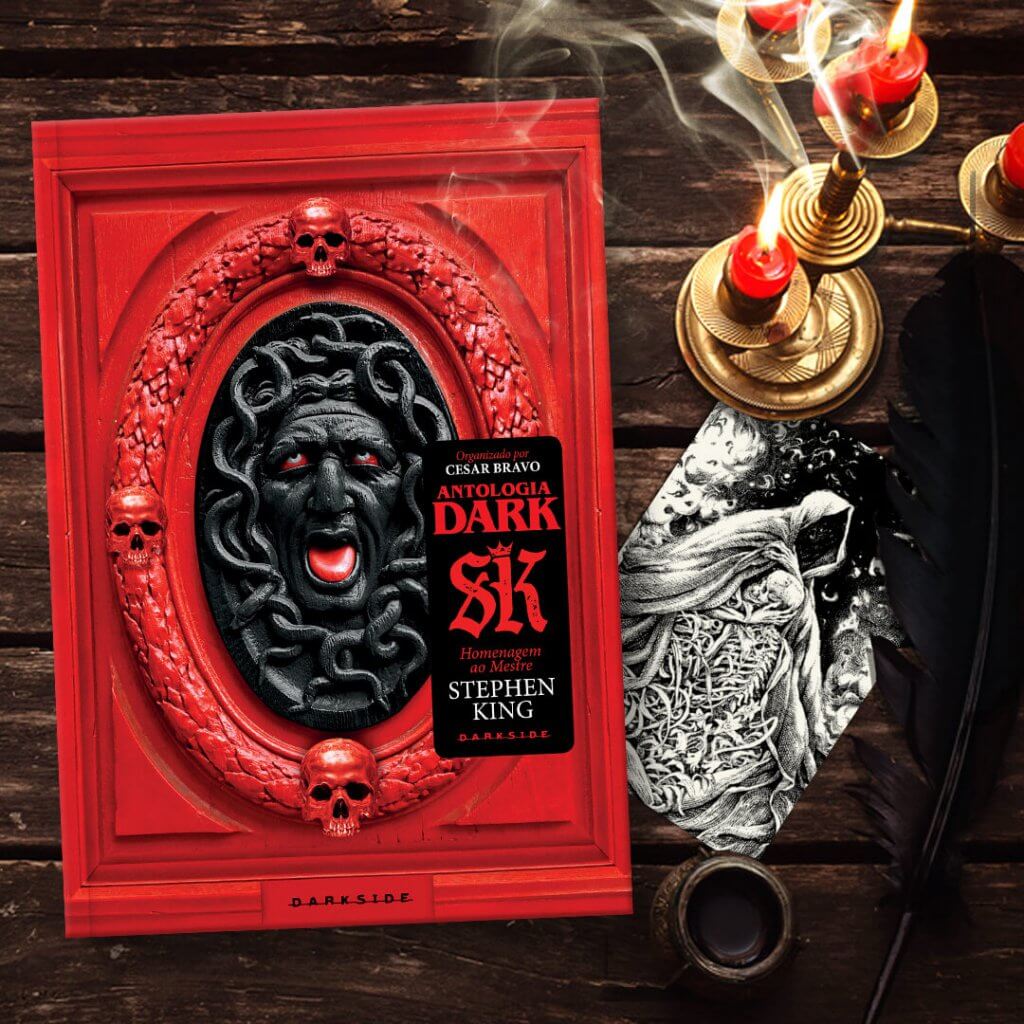 Fernando Toste – "O Visitante"
Fernando Toste nasceu no Rio de Janeiro, já foi crítico de cinema e atualmente é roteirista, contribuindo para o longa-metragem e série A Divisão (2019), além da adaptação da graphic novel Samurai Shirô, de Danilo Beyruth, que deve estrear em 2021 nos cinemas. Como fã assumido da obra monumental de Stephen King, o escritor comenta que O Cemitério, Misery e Sombras da Noite são as histórias que mais admira do autor, e também tem muito apreço por suas novelas, em especial O Nevoeiro e Elevation. Mas se tivesse que escolher apenas um, sua preferências ficaria com Sobre a Escrita, um dos seus livros de cabeceira e possivelmente o melhor de seu gênero. Você encontra o autor no Twitter, em @fernandovtoste. 
Darkside: Quais histórias do mestre Stephen King serviram de inspiração para o seu conto, "O Visitante"?
Fernando Toste: A primeira inspiração para o conto foi o romance A Metade Sombria (lançado anteriormente como A Metade Negra), um livro de transição na obra do King que assinala sua recém-conquistada sobriedade após um período de luta contra o alcoolismo e a dependência química. Particularmente, enxergo um corte significativo entre a fase anterior e a que se seguiu à publicação desse romance, quando o autor assumiu um estilo mais calculado e paradoxalmente mais arriscado, afastando-se da escrita quase xamânica de O Cemitério ou The Tommyknockers, ao mesmo tempo em que desbravava novas e surpreendentes paisagens. Além de A Metade Sombria, consigo enxergar também, aqui e ali, ecos de romances como Duma Key e Saco de Ossos, especialmente no modo como King, nesses livros, se debruça sobre o próprio processo criativo, tomando emprestado elementos do próprio gênero para representar suas musas – e sua relação fascinante, por vezes tormentosa, com elas.
Ilana Casoy – "O Amanhã de Ontem"
Ilana Casoy é criminóloga e escritora. Dedicou-se a estudar perfis psicológicos de criminosos, especialmente de serial killers e foi a primeira autora nacional da DarkSide® Books, madrinha da linha Crime Scene. Publicou os livros Arquivos Serial Killers: Made in Brazil, Arquivos Serial Killers: Louco ou Cruel?, Casos de Família, além de Bom Dia, Verônica em parceria com Raphael Montes, que em breve ganhará adaptação pela Netflix e já tem a sequência, Boa Tarde, Verônica, confirmada. Colaborou na série escrita por Gloria Perez e dirigida por Mauro Mendonça Filho, Dupla Identidade (2014), exibida pela Rede Globo. Da obra de King, é fã de À Espera de um Milagre, por trabalhar o tema do confinamento, e Novembro de 63, pela criação de realidades paralelas e viagens no tempo. Você a encontra nas redes sociais @ilanacasoy e @icasoy.
Darkside: Quais histórias do mestre Stephen King serviram de inspiração para o seu conto, "O Amanhã de Ontem"?
Ilana Casoy: Foi inspirado em O Jogo Perigoso, porque King trabalhou muito bem os recursos psicológicos da personagem principal, fazendo uso de flashbacks e delírios. O suspense é milimetricamente controlado em um quarto de casal, fazendo qualquer sombra ganhar vida, culminando em um final assustador. Também recebe influência da trilogia Mr. Mercedes, em que King consegue trabalhar o lado mais complexo do ser humano, criando personagens que somos capazes de odiar ou amar, em apenas uma virada de página. O assassino do Mercedes é muito bem construído, principalmente quando decide embaralhar a sanidade de Bill Hodges, o personagem principal. King ainda foi capaz de renovar o gênero policial, levantando discussões sobre racismo, preconceito e situações familiares conflitantes.