Josie Schuller é uma esposa dedicada, uma mãe amorosa e… uma assassina de aluguel. Ela é capaz de equilibrar os deveres de uma típica dona de casa norte-americana dos anos 1960 com uma porção de assassinatos a sangue-frio, até que um pequeno deslize faz com que seu chefe ameace aposentá-la de vez.
Com texto afiado de Joëlle Jones em parceria com Jamie S. Rich, e ilustrações incríveis da própria Jones. Lady Killer é o mais novo lançamento da DarkSide Graphic Novel, e perfeito para quem caiu de amores por Lady Killers: Assassinas em Série, o livro assombrosamente espetacular de Tori Telfer, com perfis de mulheres reais que cometeram assassinatos em série e aterrorizaram sociedades. Telfer inclusive é responsável pela Introdução exclusiva à edição brasileira da graphic novel.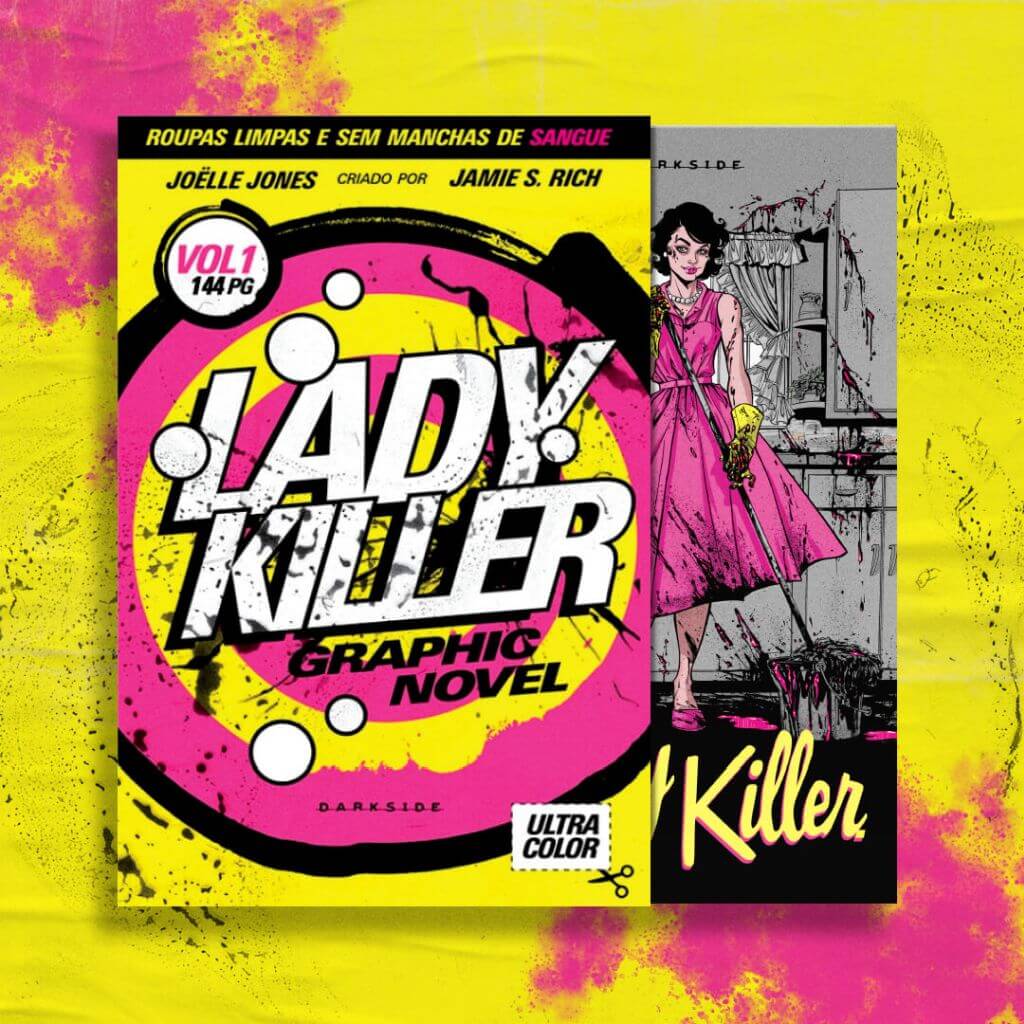 Lady Killer começa com uma cena impactante: Josie, se apresentando como uma revendedora da Avon, entra disfarçada na casa de uma mulher — sua mais nova vítima — apenas para deixá-la sangrando no chão da cozinha. O quadrinho apresenta uma heroína independente e corajosa que vive em um dos momentos mais transformadores da história norte-americana: a segunda onda do feminismo, um período de atividade em prol dos direitos das mulheres que começou nos Estados Unidos e se espalhou por diversos outros países — e fomentou discussões importantíssimas como a conscientização do uso de métodos anticoncepcionais, e o combate à violência física e ao assédio sexual tanto no lar quanto no ambiente de trabalho.
Lady Killer mescla ação, morbidez, sangue e humor com maestria, e seus diálogos ironizam muito do que se pensava sobre as mulheres na época, dentro e fora de casa. Ninguém faz ideia de que Josie leva uma vida dupla: seus vizinhos acham que ela é um doce de pessoa. E ela é. Exceto quando está em uma missão. O Sonho Americano de Josie e sua família está em perigo, mas será que isso é um problema tão grande assim?
A arte de Joëlle Jones é um assombro à parte, carregada de uma paleta de cores clássica, respingos e traços fortes. Seu estilo é perfeito para as cenas de ação e também para o slice of life em que vemos Josie cuidando das filhas com seus vestidos acinturados e saltos altos.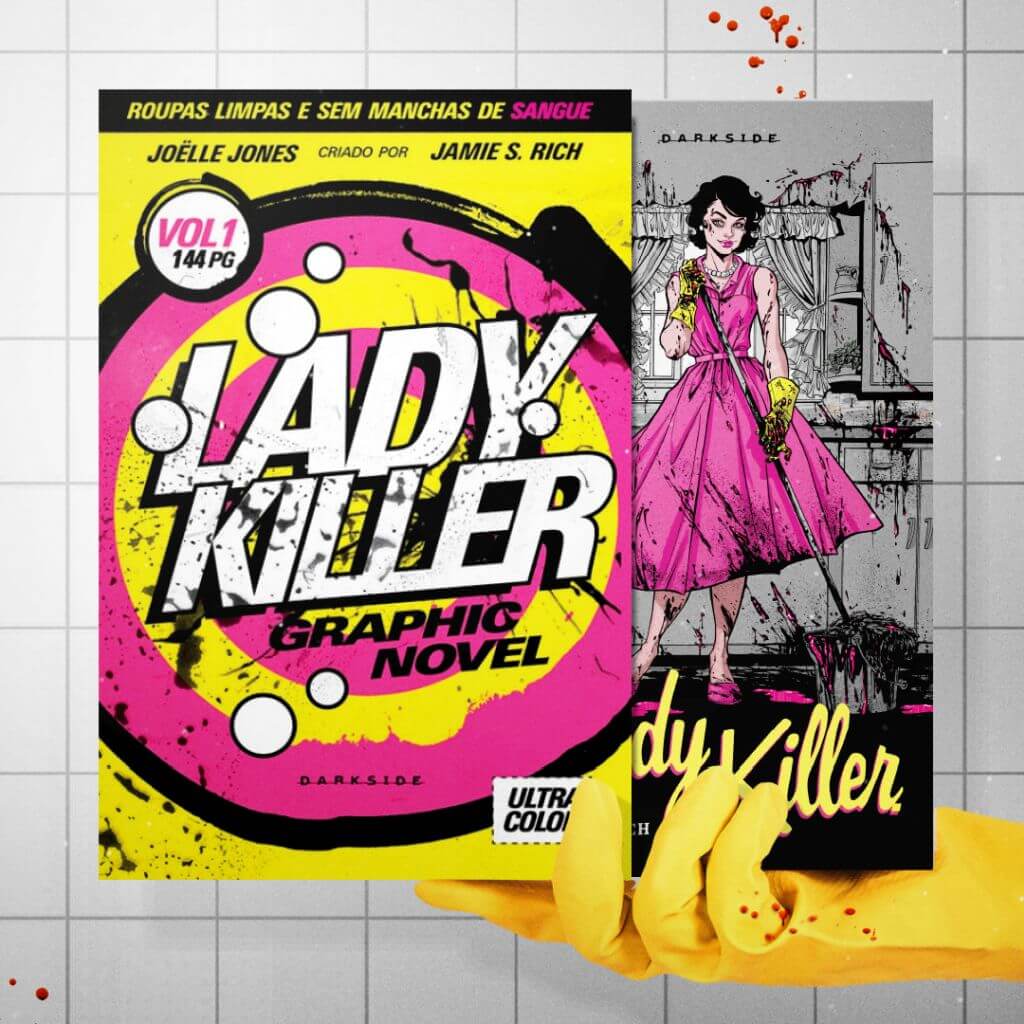 A HQ chega para os leitores brasileiros em uma edição matadora, com capa dura e o tratamento especial que você já conhece. Os leitores da DarkSide Books já se perderam nos becos escuros de Berlim com Atômica, tiveram pesadelos com Floresta dos Medos e conjuraram um espírito traiçoeiro em Francis… e agora é hora de acompanhar Josie em uma história de espionagem, sobrevivência e muito girl power. Tudo isso enquanto ela cuida de suas duas filhas gêmeas, lida com uma sogra bisbilhoteira e faz malabarismos com uma missão que deu errado.
Lugar de mulher é nos quadrinhos. Como brinca a autora: não cruze o caminho dela. Joëlle Jones é quadrinista e atualmente trabalha e reside em Los Angeles, nos Estados Unidos, e já contribuiu com uma grande variedade de projetos; só na DC Comics, ela tem no currículo personagens eternos como Mulher-Gato, Batman e Supergirl. Jones já emprestou seu talento para a marca Prada e projetos da Marvel, Vertigo e The New York Times, além de ter sido indicada para o Eisner Award, considerado o Oscar dos quadrinhos.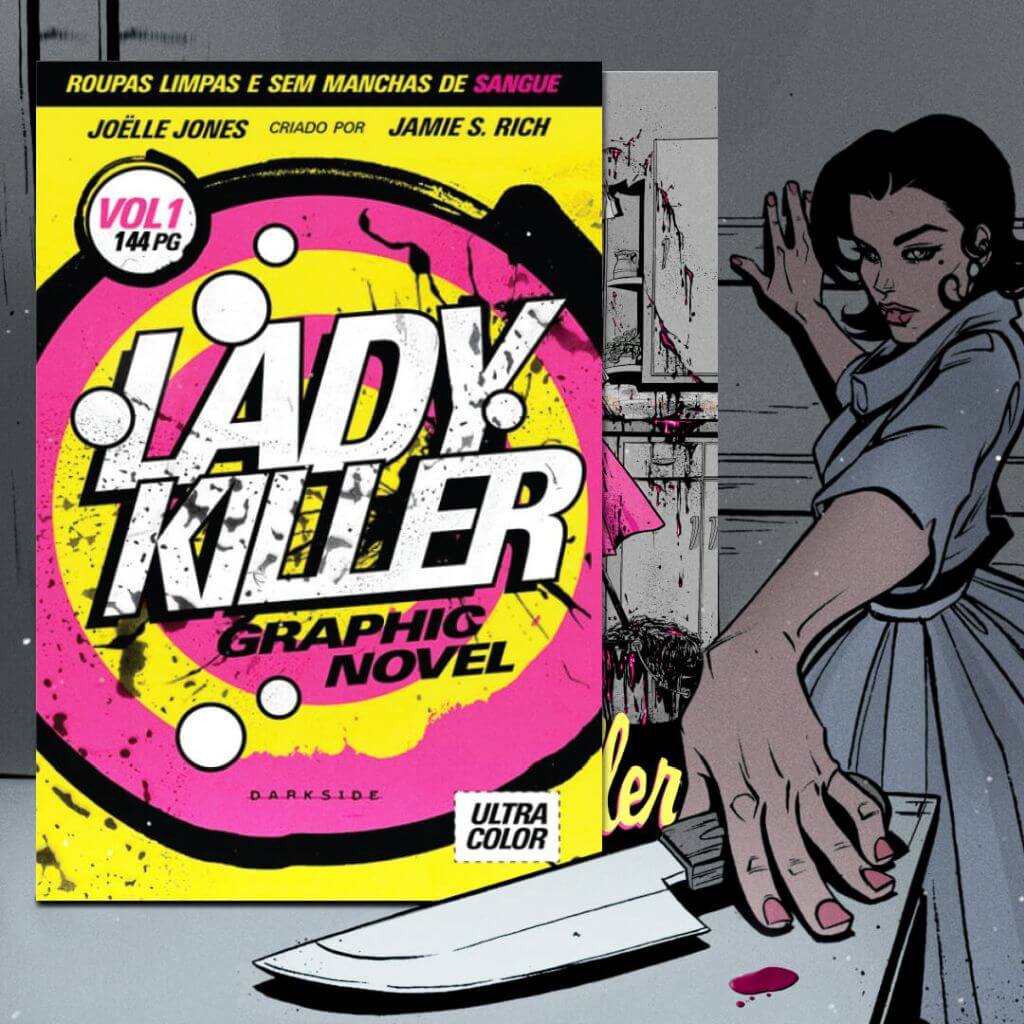 Jamie S. Rich é escritor e editor. Recebeu um Eisner Award em 2017 como membro da equipe editorial da antologia Love is Love, mas é mais conhecido por suas colaborações com Joëlle Jones nas graphic novels Lady Killer, 12 Reasons Why I Love Her e You Have Killed Me. Atualmente, é o editor responsável por Batman, Mulher-Maravilha e Lanterna Verde na DC Comics.
TORI TELFER , AUTORA DE LADY KILLERS: ASSASSINAS EM SÉRIE
"A mistura do visual encantador dos anos 1950 com a violência slasher é, ao mesmo tempo, adorável e chocante."
COMICS ALLIANCE
"A arte de Joëlle Jones realmente se sobressai neste quadrinho, é evidente que este é um projeto que veio de seu coração."
FANGORIA
"Tanto um gore de manchar as páginas como uma observação mordaz da sociedade norte-americana, resultando em um trabalho balanceado para os fãs de horror e de thrillers policiais perspicazes."
Ficha Técnica
Título | Lady Killer: Graphic Novel
Autores | Joëlle Jones e Jamie S. Rich
Tradutora | Raquel Moritz
Editora | DarkSide®
Edição | 1a
Idioma | Português
Especificações | 144 páginas, capa dura (Limited Edition)
Dimensões | 17 x 26 cm
ISBN | 978-85-9454-172-7