Stranger Things é uma das séries de maior sucesso dos últimos anos e adorada pelos leitores da DarkSide Books. Produção original da Netflix, a série é ambientada nos anos 1980 e a primeira temporada explora o desaparecimento do garoto de 12 anos Will Byers (Noah Schnapp), em novembro de 1983 na pequena cidade de Hawkins, estado de Indiana. Desesperada Joyce (Winona Ryder), mãe de Will, tenta encontrá-lo ao lado do xerife Jim Hopper, que começa a investigar o caso. Dustin, Mike e Lucas, amigos de Will e personagens centrais da série, também saem em busca do garoto e encontram Eleven, uma garota psicocinética e que diz saber onde Will se encontra. Já a segunda temporada, também revela momentos tensos e emocionantes da trama, que aumentaram ainda mais a expectativa para os novos rumos que os personagens devem tomar a partir da nova temporada, que estreia em julho

Mas isso tudo você já sabe.

Enquanto os novos episódios não estreiam, a Netflix em parceria com a Nike lançou uma coleção de tênis e roupas inspiradas na série. Lançada nesta quinta-feira, a coleção conta moletons e camisetas inspiradas na escola Hawkins High, além do mascote do time estudantil, Tiger. Os tênis da marca em parceria com a Netflix também remetem à atmosfera oitentista, reeditando três modelos icônicos com o logo da série: o Cortez, o Blazer e o Air Tailwind '79.

Séries como Stranger Things, Orange Is The New Black, House of Cards entre outras, originais da plataforma de streaming, se tornaram verdadeiros fenômenos da cultura pop desde seus lançamentos, conquistando prêmios e se popularizando tanto quanto as séries produzidos pelos canais fechados e explorando um mundo de oportunidades muito além da TV.

Confira os produtos que vieram parar nosso mundo, inspirados em Stranger Things:

Nike em Hawkins High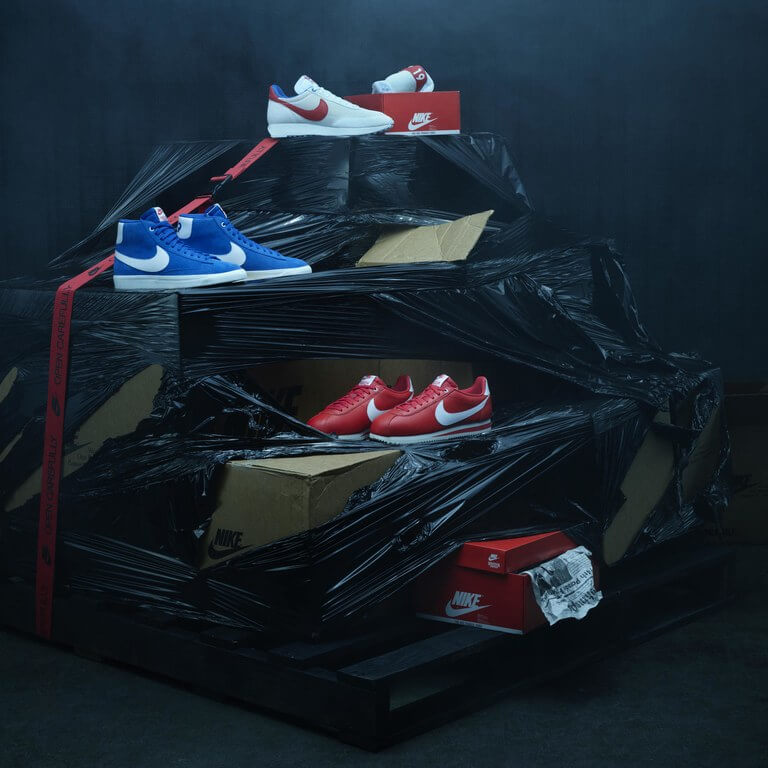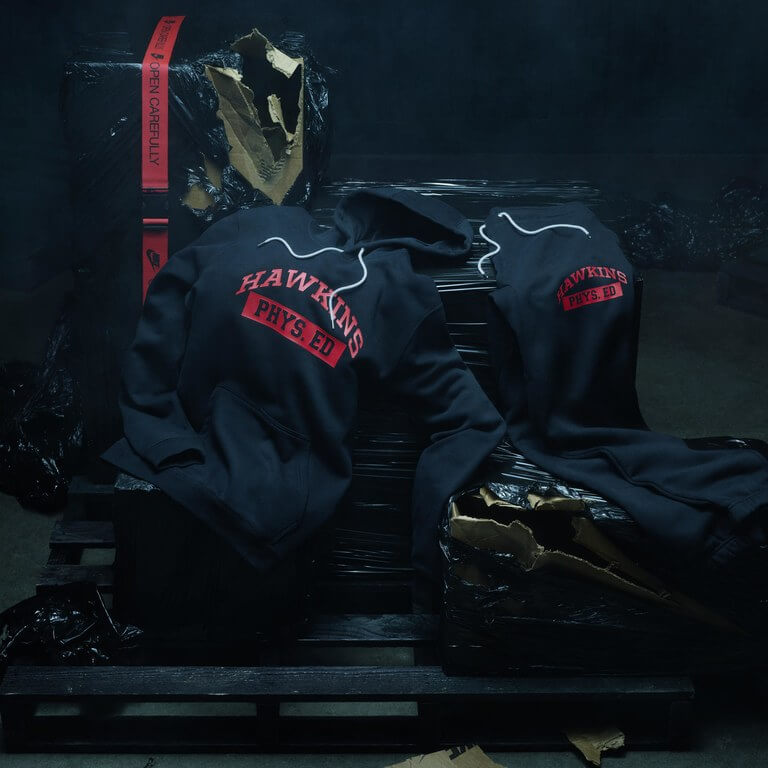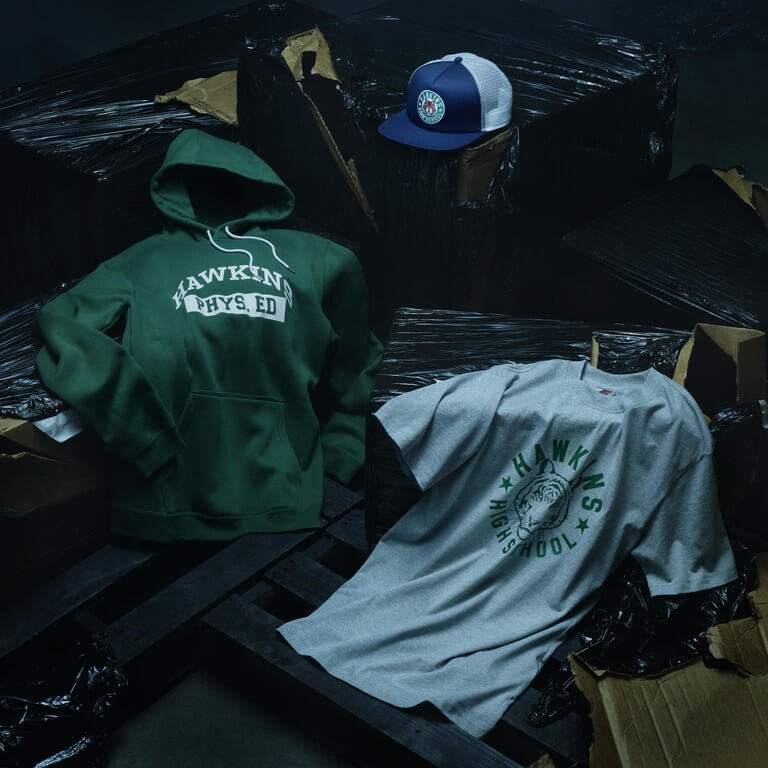 Em sua mais recente parceria, a Netflix apostou na Nike para desenvolver roupas e tênis inspirados na série. A primeira parte da coleção já revelou camisetas, moletons e tênis que nos levam diretamente para os nostálgicos anos 1980, época em que Stranger Things é ambientada.
Um hambúrguer do Mundo Invertido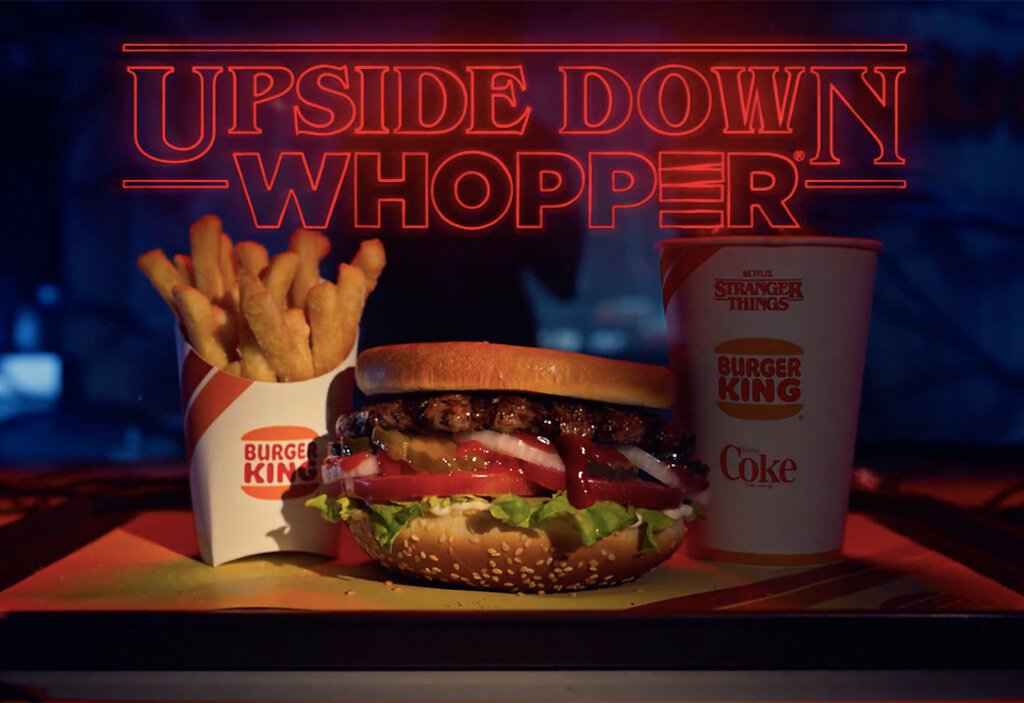 A rede de fast food Burguer King também entrou para o Mundo Invertido de Stranger Things e, para divulgar a nova temporada, lançou um sanduíche que começou a ser vendido no dia 21 de junho em dez cidades dos Estados Unidos. Ao comprar o Whopper UpSide Down, o cliente também recebe sachês de catchup personalizados e pode comprar camisetas exclusivas.
Stranger Things versão Monopoly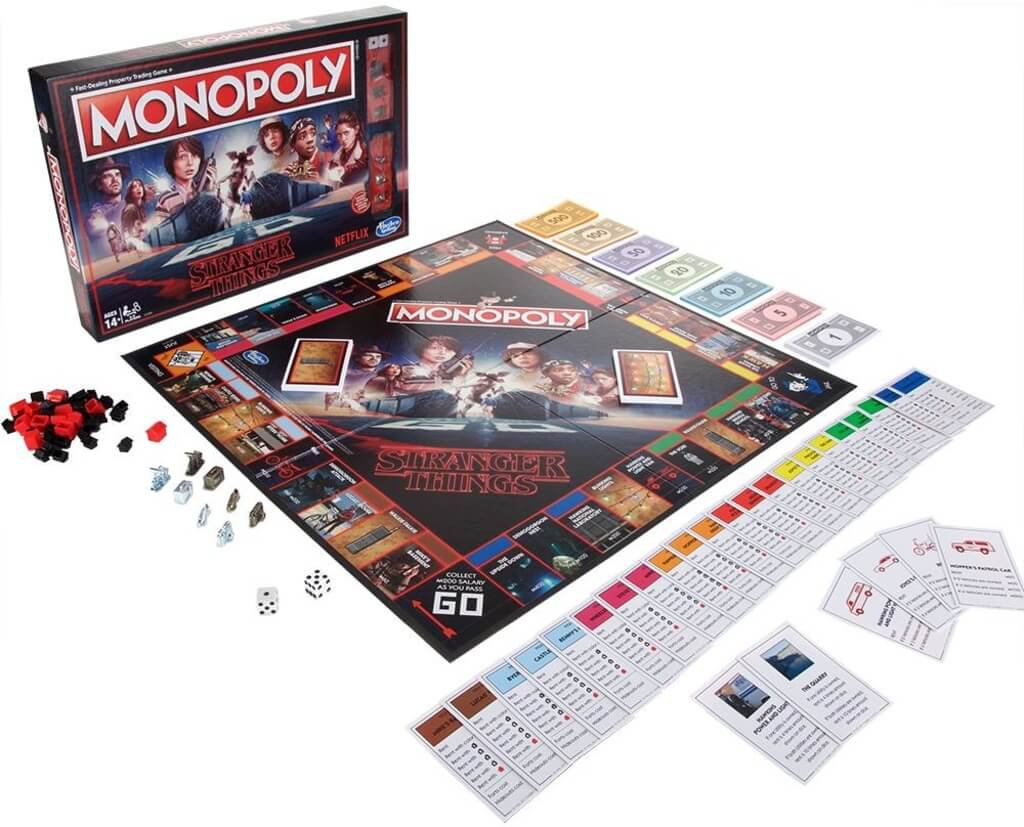 Baseado na versão americana do famoso jogo Banco Imobiliário, Stranger Things Monopoly se desenrola a partir dos acontecimentos da primeira temporada da série, mas entre uma jogada e outra pode surgir uma surpresa nada agradável: uma visitinha do Demogorgon.
Dungeons & Dragons, pela Hasbro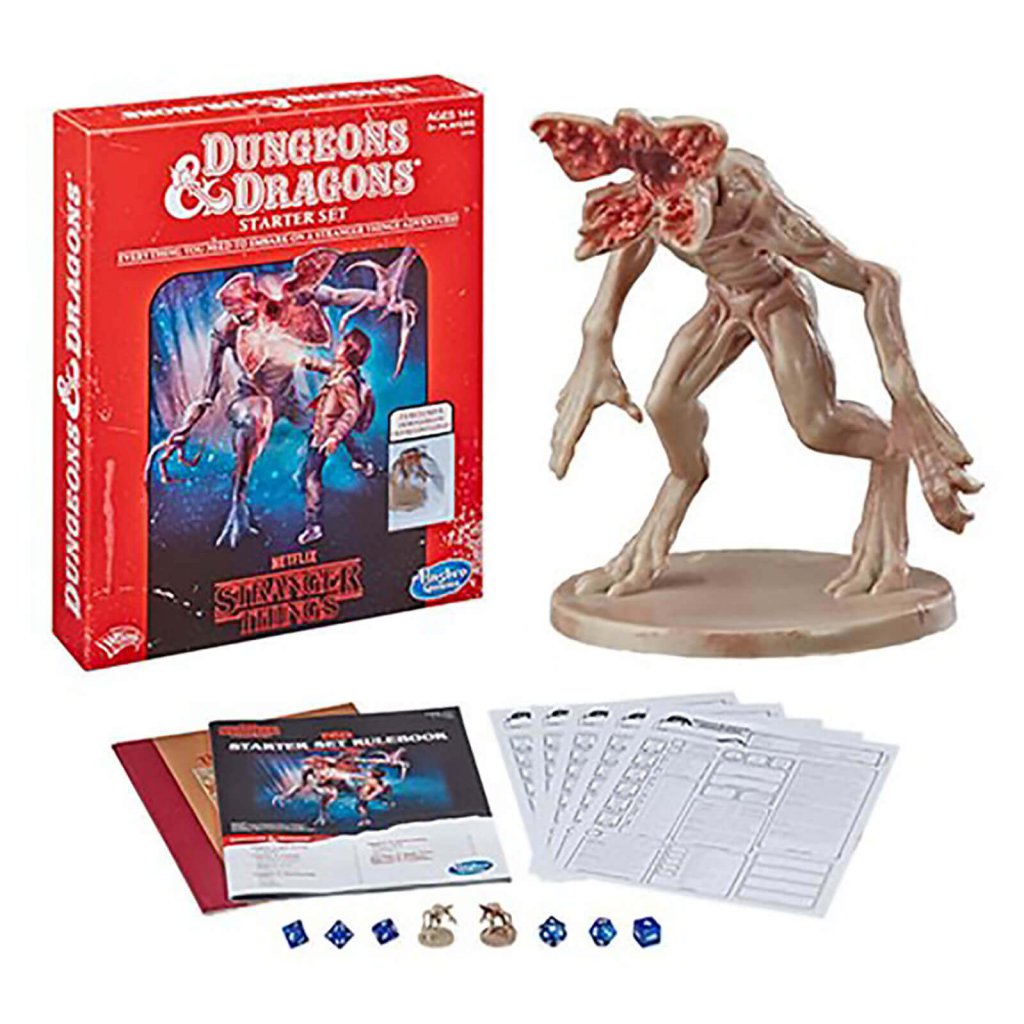 A Hasbro também relançou o famoso jogo Dungeons & Dragons, jogado durante a primeira temporada da série. A quinta edição do jogo é uma réplica única do famoso D&D, lançado em 1983, exatamente igual ao jogo que aparece na série.
Tabuleiro Ouija de Stranger Things

Com base nas famosas tábuas Ouija, usadas para se comunicar com espíritos do Outro Lado, a Hasbro lançou o um jogo de tabuleiro com as já clássicas letras da parede da personagem Joyce, quando ela se comunicava com seu filho Will que havia ficado preso no mundo invertido.
Eggo Waffle Card Game, o jogo de cards da Eleven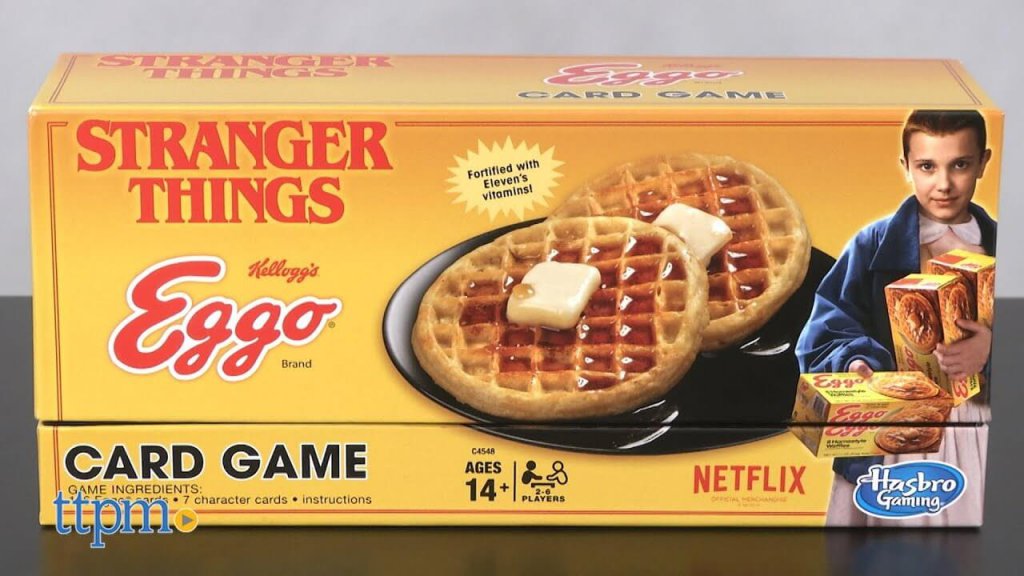 Baseado na comida preferida da personagem Eleven (Millie Bobby Brown), o jogo Eggo Waffle Card Game, também desenvolvido pela Hasbro, se assemelha com o jogo Uno e é possível usar vários personagens da série. As cartas punitivas, é claro, levam o jogador diretamente para o Mundo Invertido.
Coca-Cola relançando New Coke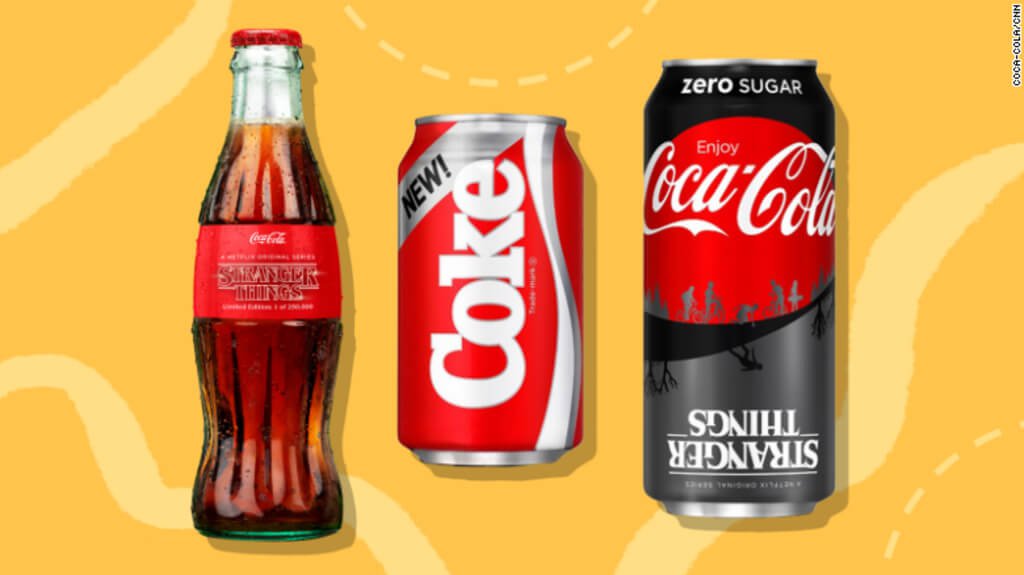 A terceira temporada da série que estreia no dia 4 de julho é ambientada no verão de 1985, exatamente o ano de lançamento da New Coke, que não foi um sucesso de vendas na época para a fabricante Coca-Cola. Pouco mais de 500 mil latas serão comercializadas apenas nos Estados Unidos – vending machines temáticas da série serão colocadas nas principais capitais dos Estados Unidos. O anúncio do retorno da New Coke versão Stranger Things aconteceu no dia 21, pelas redes sociais da Coca-Cola.
Funkos Stranger Things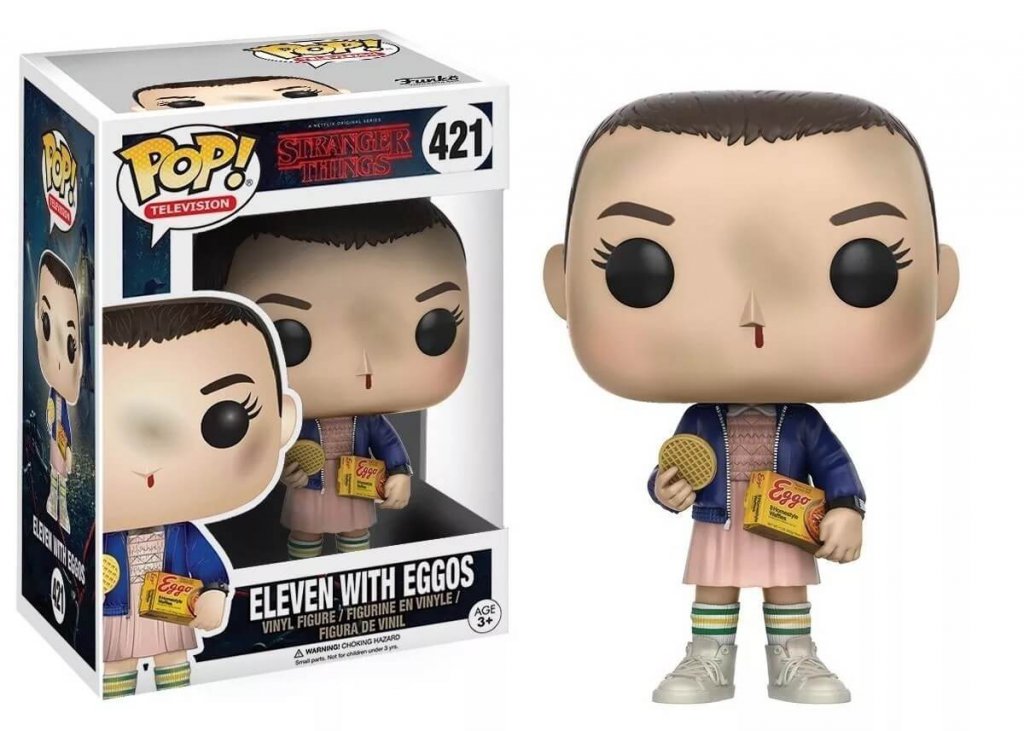 Assim como tudo que faz sucesso na cultura pop, na TV e nos cinemas, a marca Funko lançou seus clássicos bonequinhos da série Stranger Things, incluindo action figure e até chaveiros da série. Eleven, Will, Dustin, Mike e Lucas e, claro, o Demogorgon estão entre os escolhidos pela Funko – algumas versões especiais também foram lançadas pela marca. Os fãs apaixonados pelos bonequinhos cabeçudos e pela série certamente já garantiram os seus.
O Mundo Invertido da LEGO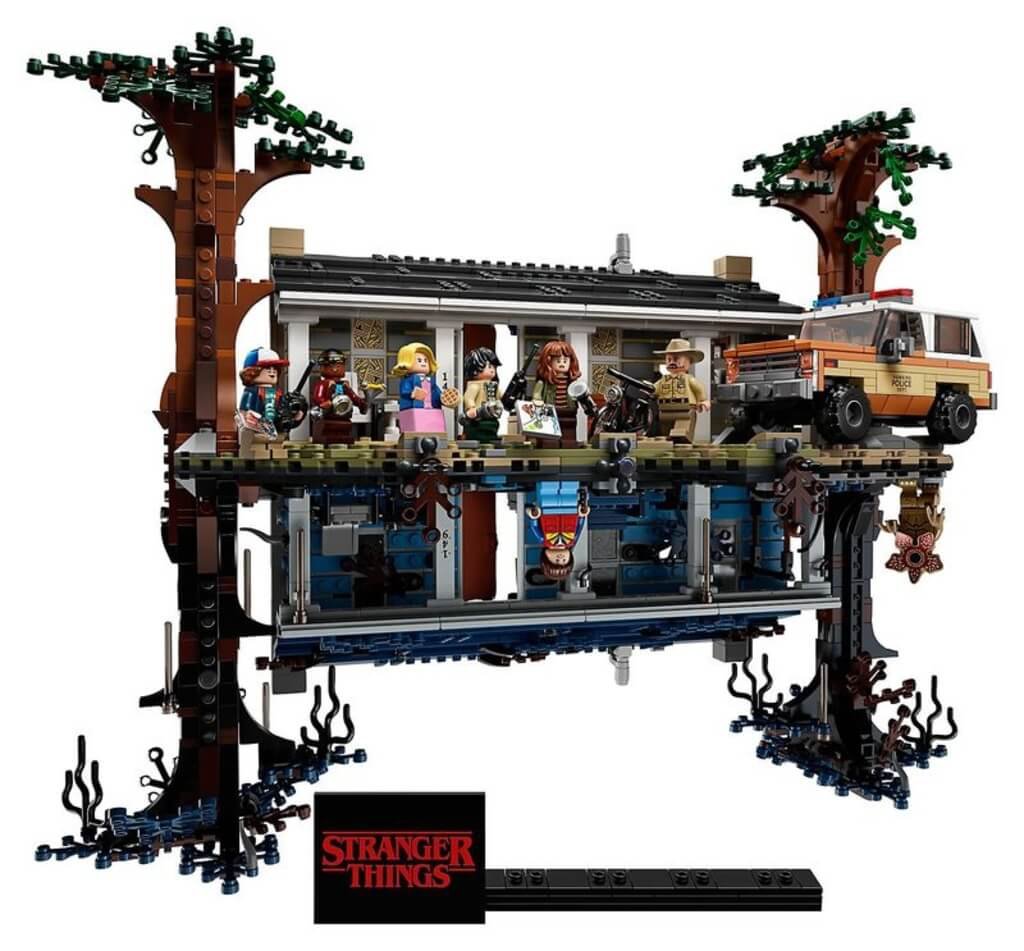 E uma das principais empresas de brinquedos do mundo, a dinamarquesa LEGO também não ficou de fora da onda de produtos inspirados na série. A empresa lançou seus famosos blocos de montar na versão da série da Netflix, chamado de The Upside Down. Com quase 2300 peças e vendido a 200 dólares nos Estados Unidos, o mais novo produto da marca de brinquedos reproduz fielmente a casa dos Byers na parte de cima, enquanto a parte de baixo revela o Mundo Invertido. Um verdadeiro passaporte para a nostalgia dos anos 1980, os blocos reproduzem o carro do xerife Hopper e conta com minifigures de quase todos os personagens principais da primeira temporada, incluindo Joyce Byers, o xerife Hooper e as crianças Will, Lucas, Mike, Dustin e Eleven.
A Netflix divulgou uma nova prévia da tão aguardada terceira temporada de Stranger Things; confira abaixo:
Assista ao trailer da terceira temporada de Stranger Things: