Em edição completa e de colecionador da DarkSide® Books, Tokyo Ghost é uma obra de sci-fi cyberpunk produzida por renomados artistas da nona arte. Matt Hollingsworth, Sean Murphy e Rick Remender, que já trabalharam com as principais editoras e títulos do mundo dos quadrinhos, entregam uma obra violenta, épica e que explora temas diversos ao longo da história, com referências que vão de William Gibson a Hayao Miyazak.
Matt Hollingsworth, o colorista da graphic novel, se formou na Kubert School, escola criada pelo grande Joe Kubert especialmente para quadrinistas, e trabalha na área há quase 30 anos. Ele já deixou suas pinceladas em obras como Wytches (também lançada pela DarkSide® Books no Brasil), Preacher e Eternals. Em 1997 ganhou o Eisner Award (o Oscar da indústria dos quadrinhos) como colorista, pelo conjunto de obras publicadas no ano, entre elas a clássica Morte: O Preço da Vida, com a adorada personagem do universo de Sandman. Atualmente, ele entrega sua arte para a Marvel, além de eventualmente trabalhar como artista de efeitos visuais para o cinema.
O roteirista Rick Remender tem um currículo variado e de peso, envolvendo frentes artísticas como cinema, quadrinhos e vídeo-games. No cinema, ele participou da produção de filmes como O Gigante de Ferro e Anastasia. Remender é ainda co-criador da série Deadly Class, que conta com duas temporadas.
Já na área dos games, ele assina (ao lado dos grandes Warren Ellis e Antony Johnston) o roteiro do renomado jogo de sci-fi/terror Dead Space. No setor de quadrinhos, Rick tem uma prolífica carreira de sucesso e já escreveu histórias para os Fabulosos Vingadores, Capitão América, Justiceiro, X-Force e Venom, além ter de obras autorais, como Fear Agent, Low, Black Science e Deadly Class.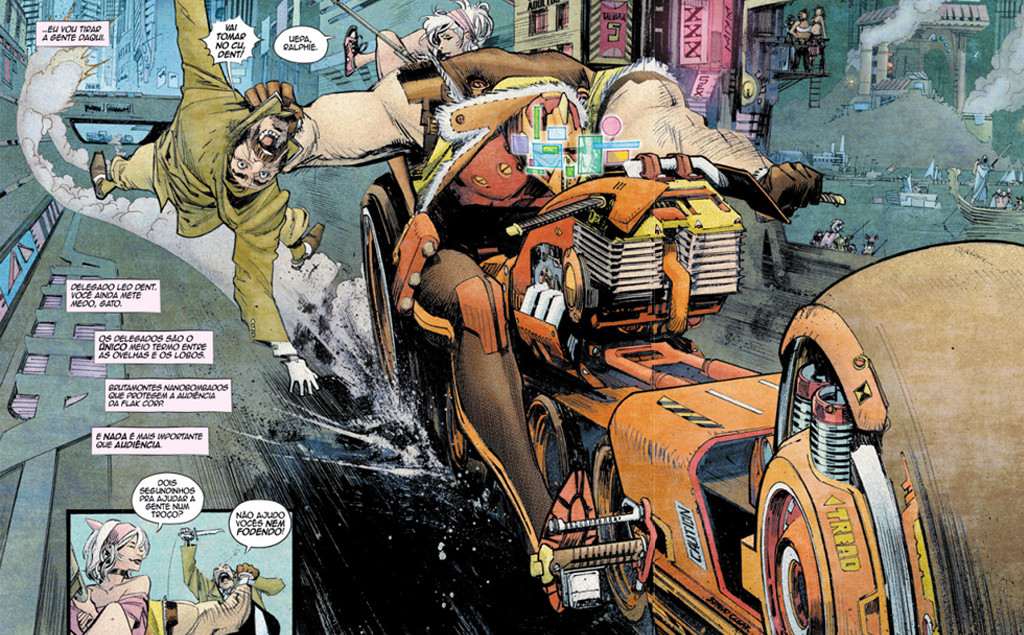 Por fim, temos Sean Murphy. Formado pela Massachusetts College of Art e pela Savannah College of Art and Design, Murphy começou a trabalhar com um título de Star Wars assim que se graduou. Logo em seguida, criou a elogiada série em quadrinhos Batman/Espantalho: Ano Um, pela DC Comics. Em 2005, Sean teve um trabalho autoral seu, Off Road, premiado pela American Library Association, na categoria "Melhor Obra para Jovens Adultos." Sean Murphy teve uma passagem rápida por Hellblazer, onde ilustrou uma história de Jason Aaron, e em seguida trabalhou com ninguém menos que Grant Morrison em Joe, O Bárbaro. Seu trabalho mais conhecido é o autoral Punk Rock Jesus, que ele escreve e desenha.
LEIA TAMBÉM: DARKSIDE BOOKS E IMAGE COMICS: UM PACTO PELAS MELHORES GRAPHIC NOVEL
Em uma entrevista à Image Comics, Murphy disse que se inspirou esteticamente em Blade Runner e em uma mistura de obras de sci-fi dos anos 70 e 80 para criar a arte de Tokyo Ghost, além de um estilo inspirado na arte oriental – algo semelhante ao que Frank Miller fez em Ronin. Ainda na mesma entrevista, o desenhista diz que orientou Matt Hollingsworth para se limitar a uma paleta de 3 cores, por não querer algo extremamente colorido, e conta que Matt se inspirou em antigas técnicas de pinturas japonesas para colorir a obra.
Com um trio assim, que trabalha por décadas lado a lado com os maiores nomes dos quadrinhos (estamos falando aqui de Garth Ennis, Neil Gaiman, Grant Morrison e Warren Ellis, entre muitos outros), podemos ter uma ideia do que esperar de Tokyo Ghost.