A vida e a obra da poeta Maya Angelou estão sendo transformadas em uma peça teatral que deve estrear na Broadway em 2021. A produção conta com o apoio do filho de Angelou, Guy Johnson. Phenomenal Woman: An Evening With Maya Angelou será um monólogo a partir dos escritos da poeta, junto com "algumas reflexões privadas que nunca antes foram tornadas públicas.", de acordo com um comunicado divulgado pelos produtores.

"Minha mãe viveu uma vida extraordinária", disse Johnson ao Deadline. "Ela nos mostrou o que é viver com paixão. E o que ela mais queria era justiça para todos os seres humanos e liberdade para todos serem felizes. Esperamos capturar sua alegria de viver. Vamos incluir alguns detalhes particulares sobre a vida dela que serão uma revelação para o público. Tenho o prazer de trabalhar com essa equipe para dar vida à sua história e mal posso esperar que o público a conheça.", finalizou.

LEIA TAMBÉM: OITO FILMES PARA CRIANÇAS SEM MEDO

Os produtores David Michael Rich, que trabalhou com Angelou durante 11 anos, e J. Todd Harris esperam que Phenomenal Woman seja recebido para uma encenação na Broadway, em 2021. Angelou, autora de A Vida Não Me Assusta, publicado pela marca Caveirinha, da DarkSide Books, é autora de dezenas de livros, foi responsável por produções de teatro, TV e cinema, além de ter atuado em alguns filmes. Maya Angelou nasceu Marguerite Ann Johnson, em 1928, no Missouri. Com a infância marcada por abusos, Angelou cresceu durante a Grande Depressão dos anos 1930 e sentiu na pele a violência racista do Sul dos Estados Unidos.

Traumatizada com o abuso sofrido na infância, ela ficou cinco anos sem falar. Mas ainda teria muito a dizer e, décadas depois, a força de suas palavras se perpetuariam na história da literatura. Maya Angelou trabalhou como garçonete, cantora e dançarina antes de se tornar escritora e uma das vozes mais importantes dos movimentos de direitos civis dos anos 1960. Amiga de Malcom X e Martin Luther King, Angelou sabia como poucos conciliar os pontos de vista divergentes dos dois.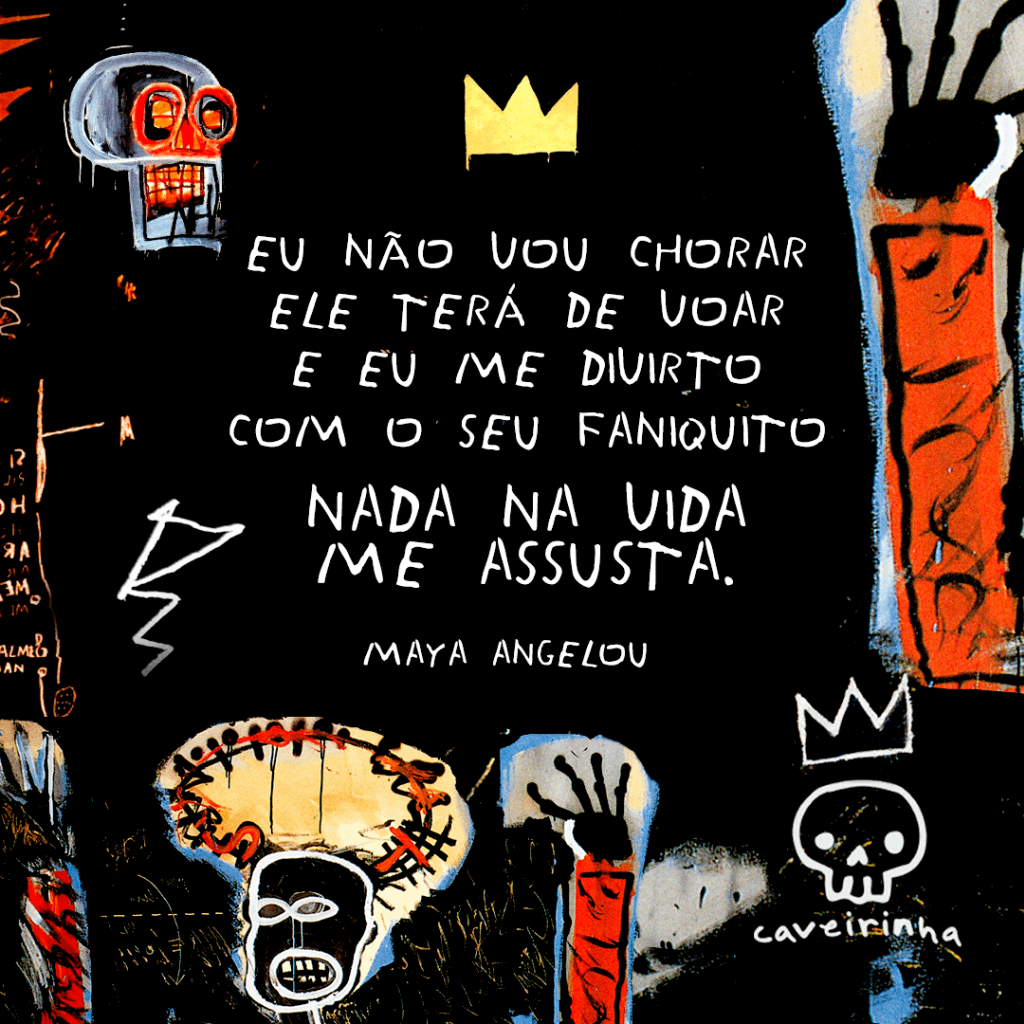 Em 1978, a poeta escreveu os versos: "Trazendo os dons dos meus antepassados / Eu sou o sonho e a esperança dos escravos / Eu me levanto / Eu me levanto / Eu me levanto". E o poema And I Still Rise (Ainda Assim Me Levanto) se tornou um dos símbolos da luta contra o racismo.
Maya Angelou também dirigiu documentários sobre blues, foi professora da Universidade da Carolina do Norte por mais de trinta anos, e recebeu homenagens em vida dos presidentes Bill Clinton e Barack Obama. Maya nos deixou em 2014, mas sua voz destemida ecoa até hoje. Em 2016, o documentário Maya Angelou, e Ainda Resisto, disponível na Netflix, reuniu imagens raras e apresentou a notável trajetória da poeta e ativista, narrado por ela mesma.