Além de se fantasiar, decorar as casas com abóboras e ver várias crianças pedindo doces, uma das tradições mais legais do Halloween é esperar pelo Especial de Halloween de Os Simpsons. Neste ano o famoso Treehouse of Horror chega a sua 30ª edição, não coincidentemente no episódio de número 666 da série.
Normalmente o episódio apresenta mais de um segmento assustador envolvendo a família amarela de Springfield. As histórias costumam se basear em filmes, séries de TV, lendas urbanas e, é claro, na literatura. Para este ano a Fox já adiantou que as paródias ficarão em torno do filme de Guillermo Del Toro A Forma da Água e a série da Netflix Stranger Things, que ganha um livro especial da DarkSide® para os fãs agora em outubro: o Stranger Fans.

LEIA TAMBÉM: COMO O CLÁSSICO CABO DO MEDO FOI PARAR EM OS SIMPSONS
A seguir, listamos 10 livros e contos que já foram "homenageados" no Especial de Halloween de Os Simpsons:
1. O Corvo – Edgar Allan Poe
O primeiro Especial de Halloween já mostrou que o tom destes episódios seria bem diferente do humor típico da série. Transmitido em 1990, o primeiro Treehouse of Horror trouxe um perturbador segmento de O Corvo, com Homer sendo atormentado por uma ave com a cabeça de Bart. A narração em inglês fica por conta de ninguém menos que James Earl Jones, que empresta a voz a Darth Vader de Star Wars e ao Mufasa de O Rei Leão. O conto O Corvo está em Edgar Allan Poe: Medo Clássico Vol. 1, da DarkSide® Books.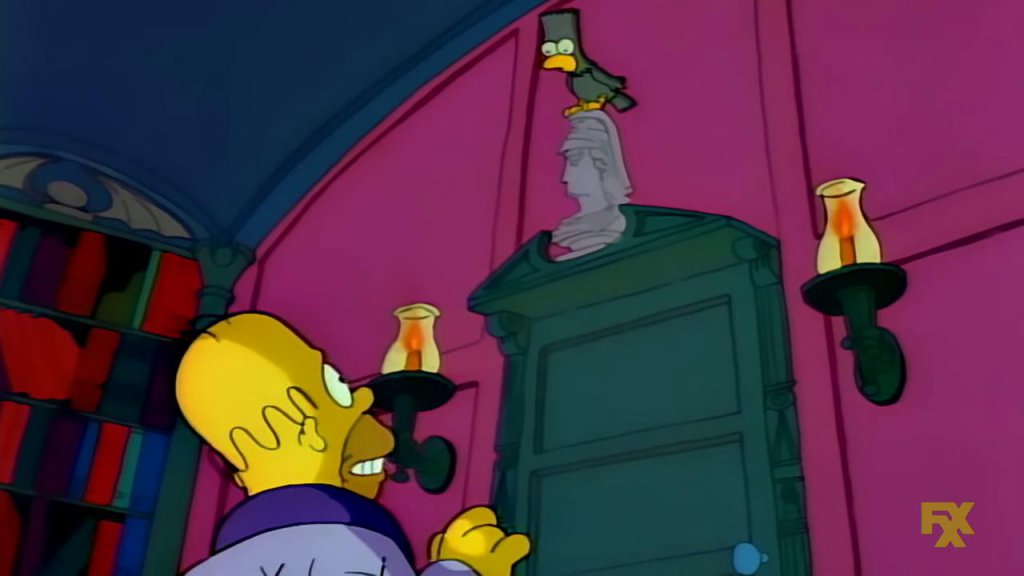 2. Drácula – Bram Stoker
Um dos maiores clássicos da literatura de terror foi parar em uma das primeiras edições do especial, ainda em 1993. Nesta divertida paródia, o Sr. Burns convida os Simpsons para sua mansão e dá claros sinais de que é o icônico vampiro de Bram Stoker. Drácula possui duas versões publicadas pela DarkSide® Books: First Edition e Dark Edition.

3. O Iluminado – Stephen King
Considerado por muitos o melhor segmento de Dia das Bruxas, na quinta edição do Treehouse of Horror o protagonista Homer, assim como o personagem Jack Torrance, parece que vai perder o controle a qualquer momento, só que no desenho o motivo é a falta de cerveja. Seu acesso incontrolável com um machado não é apenas uma homenagem à adaptação de Stanley Kubrick, mas uma das sequências mais tensas para esta série de comédia.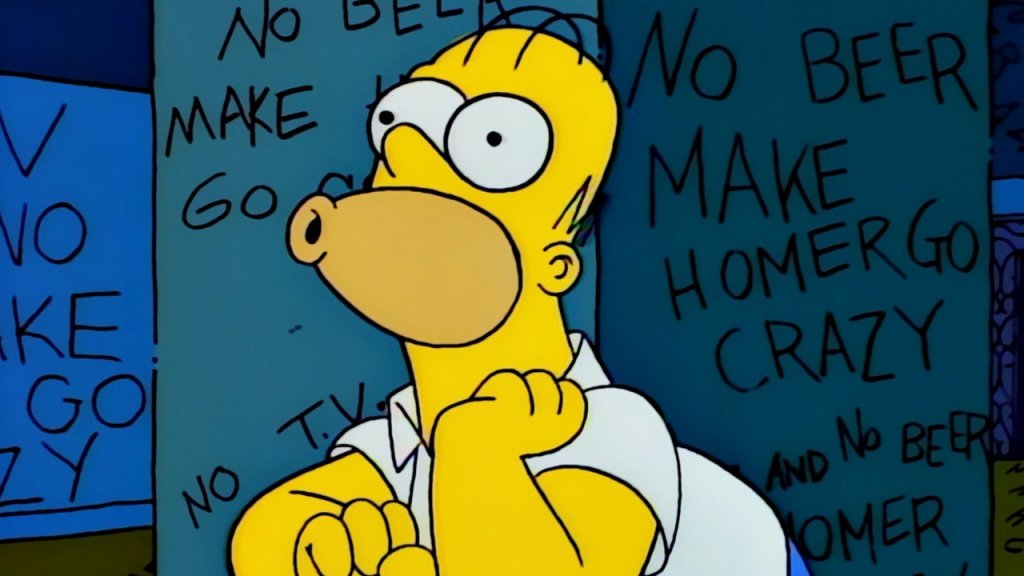 4. A Hora do Pesadelo – Thommy Hutson
Desde este episódio você nunca mais conseguirá olhar para o zelador Willie da mesma forma. No segmento Nightmare on Evergreen Terrace ele é transformado no monstro Freddy Krueger, o que faz muito sentido já que em todos os outros episódios ele parece carregar um grande ressentimento das crianças da Escola Primária de Springfield. O livro A Hora do Pesadelo foi publicado no Brasil pela DarkSide® Books.

5. Coraline – Neil Gaiman
Transmitido em 2017, este Especial de Halloween se utilizou da técnica de animação stop motion para fazer uma homenagem ao filme adaptado de Coraline. Além de isso dar um ar um tanto mágico e ao mesmo tempo sombrio à história, o segmento ainda se beneficia da dublagem do próprio Neil Gaiman para o gato Bola de Neve no original em inglês.

6. Laranja Mecânica – Anthony Burgess
O livro que ficou famoso nos cinemas pela adaptação de Stanley Kubrick também foi parar no Especial de Halloween de Os Simpsons em 2014. No áudio original é muito bem aplicada a forma com que o autor brinca com a língua inglesa. Para os fãs que assistem na versão dublada em português ainda é possível aproveitar as inúmeras referências visuais do filme.

7. A Zona Morta – Stephen King
Mais um livro de Stephen King foi parar nos Especiais de Halloween. Neste episódio há algumas sequências bem assustadoras, como a visão de Ned Flanders atirando em Homer repetidas vezes. Aliás, o título em inglês é um ótimo jogo de palavras com o original: The Dead Zone vira The Ned Zone. O segmento foi exibido em 2004.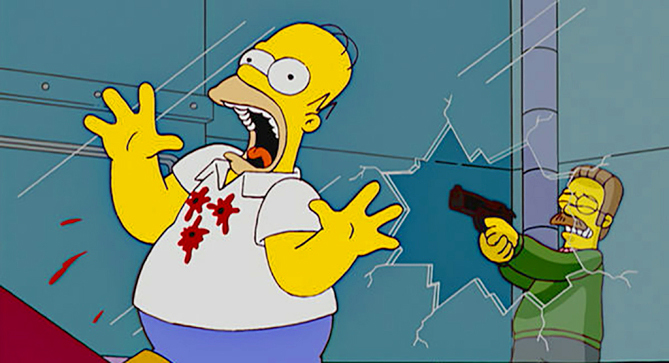 8. O Exorcista – William Peter Blatty
Apesar de ter entrado para o episódio quase como uma promo da série da Fox O Exorcista, o segmento que foi transmitido em 2017 ainda tem muitos pontos aproveitáveis com uma Maggie possuída por demônios. A história The Exor-sis ainda traz a ótima indagação "se você não pode confiar uma criança a um padre católico, em quem você pode confiar?", trazendo o tipo de humor ácido que faz de Os Simpsons uma série tão querida pelo público.
E se você se interessa por esse tipo de história assustadora sobre casos de possessão reais, a DarkSide tem o livro EXORCISMO, do jornalista Thomas B. Allen, que narra em detalhes os fatos que aconteceram com Robert Mannheim em 1949, um jovem norte-americano de 14 anos que gostava de brincar com sua tábua ouija, presente que ganhou de uma tia que achava ser possível se comunicar com os mortos.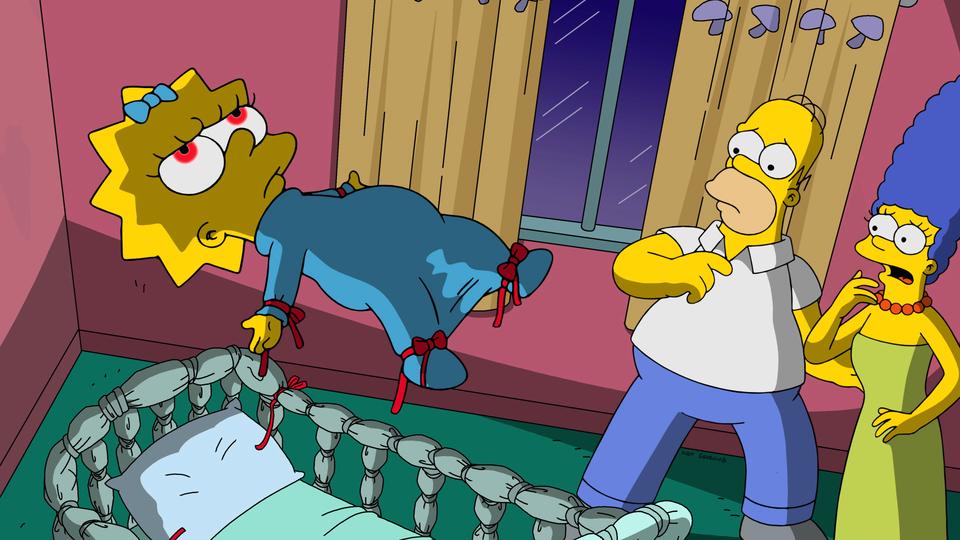 9. Jumanji – Chris Van Allsburg
Apesar da história dispersar para uma sátira de jogos de tabuleiro em geral, o segmento War and Pieces, que foi ao ar em 2010, começa com o tão querido livro (e filme) Jumanji. O horror fica por conta das gigantescas peças do jogo. Jumanji foi publicado pelo nosso selo Caveirinha da DarkSide®.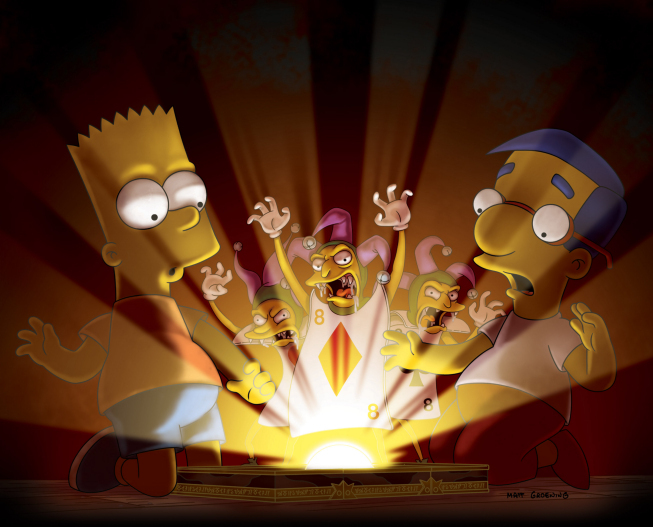 10. Frankenstein – Mary Shelley
O clássico de Mary Shelley demorou um pouco para chegar a um especial, mas em 2003 isso aconteceu. Uma pena que a história de Frankenstein não tenha sido tão bem aproveitada, já que o segmento foca mais do que o necessário na história do Professor Frink, um personagem para o qual a maioria dos fãs não liga muito. Melhor ficar com o clássico publicado pela DarkSide®.