Maio é definitivamente o mês mais geek de todos. Veja só: no dia 4 celebramos o Star Wars Day (May the Fourth be With You); no dia 14 comemoramos o aniversário do lendário George Lucas; e ainda temos o dia 25 que, além de marcar as estreias dos primeiros filmes da saga Star Wars nos cinemas, é conhecido também como Dia da Toalha por causa da série de ficção científica, O Guia do Mochileiro das Galáxias.
LEIA TAMBÉM: DIA DO ORGULHO NERD? NÃO, HOJE É O DIA DA TOALHA
Para exaltarmos então todo o nosso orgulho nerd e amor pela cultura geek, preparamos uma lista com 5 tesouros que todo fã da DarkSide precisa ter em sua coleção. Conheça as narrativas que viajam pelas galáxias até caírem em nosso planeta:
STAR WARS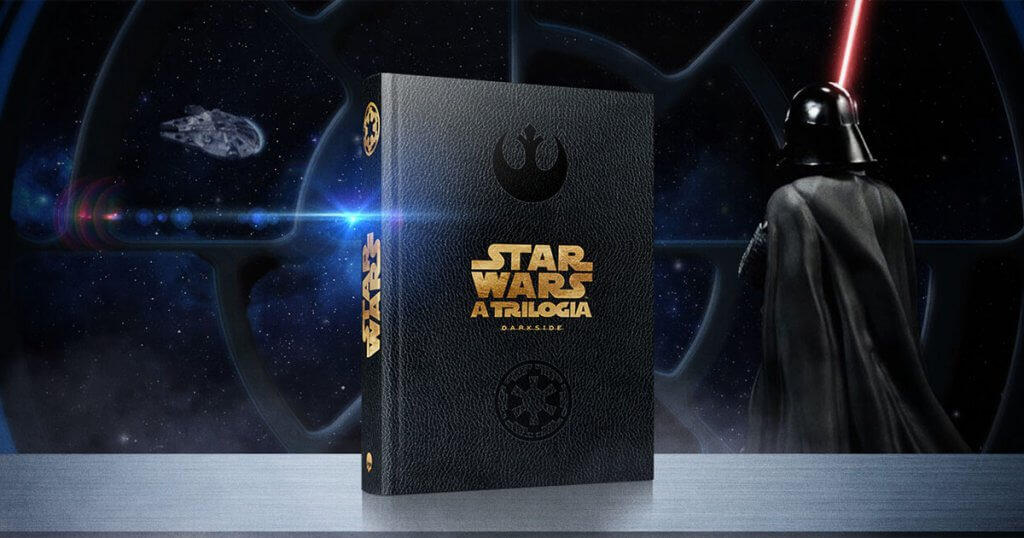 É impossível falar de leituras geeks e não citar a saga mais amada das galáxias. Muito além de um fenômeno do cinema, Star Wars ditou regras na ficção científica, inspirou milhares de pessoas com a filosofia Jedi, nos levou até mundos incríveis e apresentou os personagens mais cativantes que poderiam existir no espaço.
Em Star Wars: A Trilogia, George Lucas escreve o Episódio IV – Uma Nova Esperança, com participação de Alan Dean Foster, a partir de uma adaptação do roteiro original do longa. O Episódio V – O Império Contra-Ataca, escrito por Donald F. Glut, é um dos mais adorados da saga e coloca Luke diante de lados opostos da Força. Já o Episódio VI – O Retorno de Jedi foi escrito por James Kahn. E preparar esse capítulo final da trilogia foi um grande desafio para George Lucas, já que o roteiro apresentava muitas histórias abertas e era preciso deixar tudo muito bem amarrado para os próximos filmes.
A LONGA VIAGEM A UM PEQUENO PLANETA HOSTIL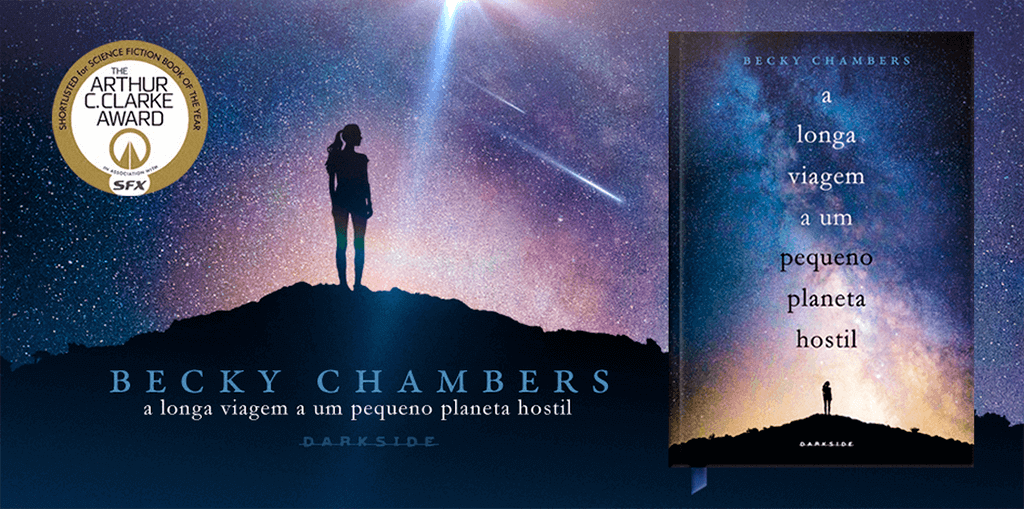 Todo leitor geek que se preze tem verdadeiro fascínio por ler sobre outros planetas e galáxias. Se você tiver coragem de desbravar os mistérios do Universo, embarque nessa jornada com a DarkSide no livro A Longa Viagem a um Pequeno Planeta Hostil, de Becky Chambers. Ele é um marco recente da ficção científica, que conquistou a crítica especializada e os mais exigentes fãs do gênero, sendo indicado para prêmios respeitados, como o Arthur C. Clarke Award e o Hugo Award.
No livro, os elementos essenciais a qualquer narrativa sci-fi estão muito bem representados, como a precisão científica e suas possíveis implicações políticas. O gatilho principal é a construção de um túnel espacial que permitirá ao pequeno planeta do título participar de uma aliança galáctica.
UMA DOBRA NO TEMPO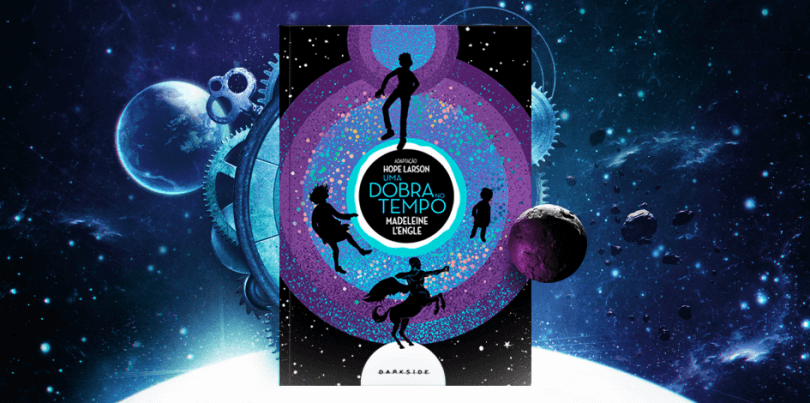 Um clássico de ficção científica que atravessou o tempo. Há mais de 50 anos, as palavras de Madeleine L'Engle encantam gerações de leitores e inspiram escritores a quebrarem as barreiras terrestres para explorar novos mundos. Em Uma Dobra no Tempo, o pai de Meg e Charles Wallace, um exímio físico, está desaparecido há dois anos. A aventura começa quando, em uma noite de tempestade, eles recebem a visita de uma senhora peculiar que foi tirada de sua rota enquanto viajava pelo tempo. Juntos, eles partem pelo universo em busca de qualquer indício do paradeiro do dr. Murry.
Uma Dobra no Tempo é aquele tipo de livro que tem lugar cativo no coração dos leitores e, pela DarkSide, essa viagem chega em formato de uma graphic novel reimaginada pela talentosa ilustradora Hope Larson.
O HOMEM QUE CAIU NA TERRA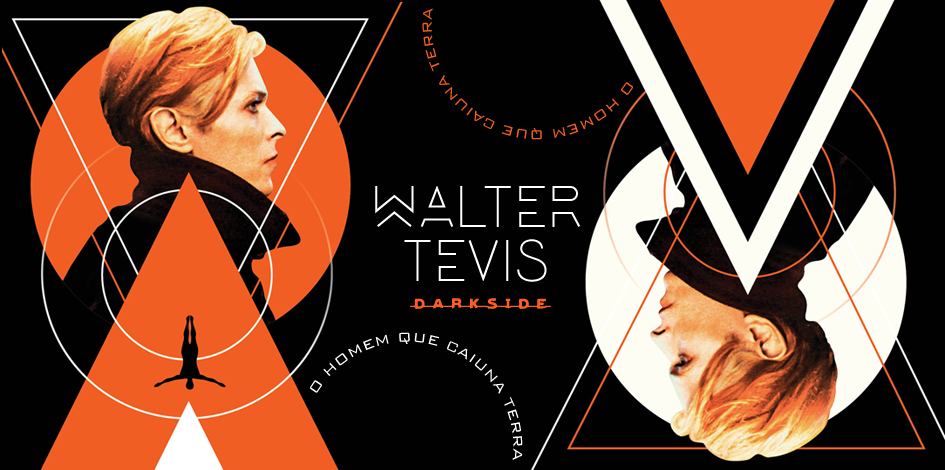 Um verdadeiro clássico da literatura e uma das mais refinadas, sutis e delicadas ficções científicas já escritas. Publicado originalmente em 1963, ganhou reconhecimento em todo o planeta com a adaptação para o cinema dirigida por Nicolas Roeg em 1976. O filme também marcou a estreia de David Bowie no cinema encarnando o protagonista alienígena: um ser andrógino, impúbere, alto para os padrões terráqueos, delicado, magro, polido e que tenta se adaptar à vida terrestre para sobreviver entre os humanos.
O Homem que Caiu na Terra é escrito com vigor e com uma prosa carregada de tensão poética. Walter Tevis produziu uma das ficções científicas mais realistas sobre um alienígena que vai absorvendo o dia a dia, o jeito e os vícios humanos aos poucos.
STRANGER FANS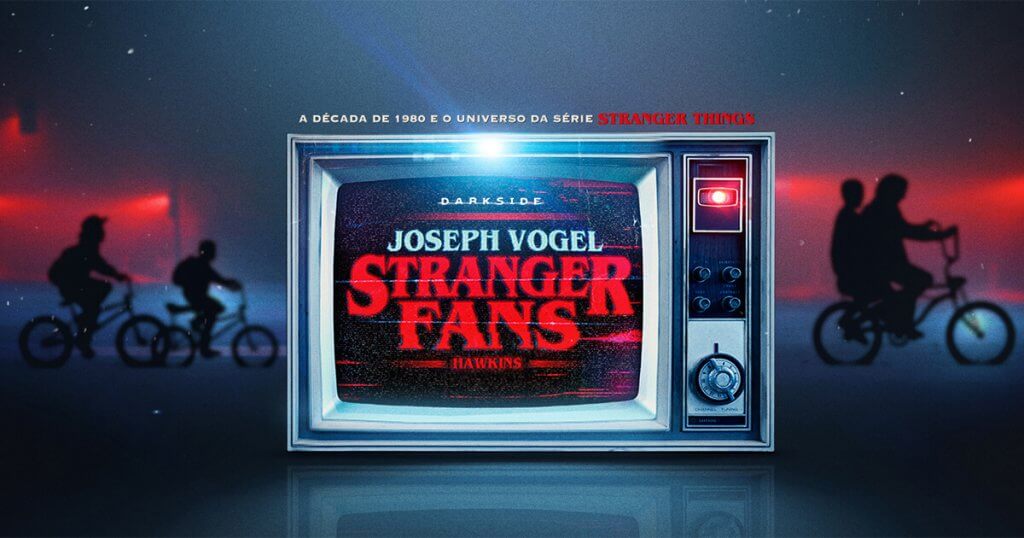 Já que chegamos ao planeta Terra, a última dica é de uma leitura que apresenta referências de uma das décadas mais inspiradoras para a cultura geek: os anos 1980. Stranger Fans — A década de 80 no universo da série Stranger Things é um livro completo que documenta quão imersa a série da Netflix está na cultura dessa época, desde sua trilha sonora até seus personagens, tecnologias e bicicletas.
Falando de fã para fã, o autor Joseph Vogel mergulha nos detalhes que tornaram essa década um terreno tão fértil para as ideias dos criadores de Stranger Things. Entre as muitas curiosidades desvendadas por Vogel estão os videogames na casa de fliperamas Palace Arcade e como eles transformaram a cultura jovem nos anos 1980, os paralelos com ET: O Extraterrestre, o contexto por trás de Dungeons & Dragons, como surgiram as caixinhas de leite com anúncios de crianças desaparecidas, os filmes e livros mais importantes para a série e muitas outras coisas que todo fã vai adorar saber.
LEIA TAMBÉM: CONHEÇA ALGUNS DOS ARTISTAS POR TRÁS DA EDIÇÃO DE STRANGER FANS
Curtiram a lista, darksiders? Então comentem aqui qual o seu livro geek preferido da Caveira.