No dia em que o emblemático show dos Beatles no telhado da Apple Records, em Londres, completa 50 anos, a banda anunciou nas redes sociais que o cineasta Peter Jackson irá dirigir um novo documentário sobre as gravações do álbum Let It Be, de 1970. A notícia foi divulgada em primeira mão pela Variety e será uma parceria entre a WingNut Films Ltd. de Jackson e a Apple Corps Ltd.
No Instagram dos Beatles, o anúncio animou os fãs da banda. Ainda de acordo com a publicação, o documentário será baseado em 55 horas de filmagens inéditas, feitas entre os dias 2 e 31 de janeiro de 1969. O álbum de estúdio Let It Be venceu Grammy de melhor trilha sonora em 1971, além da canção homônima ter vencido o Oscar de melhor música original um ano antes, ambas pelo filme de mesmo nome, lançado em 1970.
Peter Jackson comentou a oportunidade: "As 55 horas de vídeos que temos e 140 horas de áudio trarão uma experiência única que os fãs de Beatles sempre sonharam. É como uma máquina do tempo que nos transportará para 1969, para que nós possamos sentar em estúdio para assistir estes quatro amigos fazendo música juntos". A banda acabaria em novembro daquele mesmo ano.
LEIA TAMBÉM: COMO YELLOW SUBMARINE FOI PARAR NOS CINEMAS
O cineasta conhecido por seu trabalho trilogia O Senhor dos Anéis garantiu que se trata de um "incrível tesouro histórico". "Assistir John, Paul, George e Ringo trabalhando juntos, criando músicas clássicas do zero, não é apenas fascinante, é engraçado, edificante e surpreendentemente íntimo. Estou muito feliz e honrado por ter recebido este trabalho. Fazer o filme será pura alegria", concluiu.
A Apple Records confirmou à Variety que, após o lançamento do longa, o filme antigo será relançado em versão restaurada. Não há data confirmada, mas tudo indica uma estreia para 2020, quando o álbum Let It Be completa 50 anos de lançamento.
Para comemorar o aniversário de 50 anos de estreia do filme Yellow Submarine, um clássico da animação, a DarkSide Books trouxe para o Brasil a história de Pepperland em quadrinhos cheios de cores e música: The Beatles: Yellow Submarine, feita por Bill Morrison, um dos desenhistas de Os Simpsons e editor da revista Mad.
Conheça a história do lendário show no telhado da Apple Records
Há 50 anos, no dia 30 de janeiro de 1969, os Beatles faziam sua última aparição pública no telhado da Apple Records, a gravadora dos rapazes em Londres. O show marcaria para sempre a carreira e o fim da banda que, naquela época, já havia conquistado milhões fãs ao redor do mundo e marcado pra sempre a história da música.
O show durou cerca de 40 minutos e contou com clássicos como Don't Let Me Down, I've Got a Feeling, One After 909 e Get Back. Ironicamente, a vontade de estar tocando junto por parte dos próprios músicos já havia "subido no telhado" há algum tempo. Boatos relatam que a banda não era mais unida e já pensava em encerrar suas atividades — antes do show no telhado, em 1969, a última apresentação dos Beatles havia acontecido em 1966.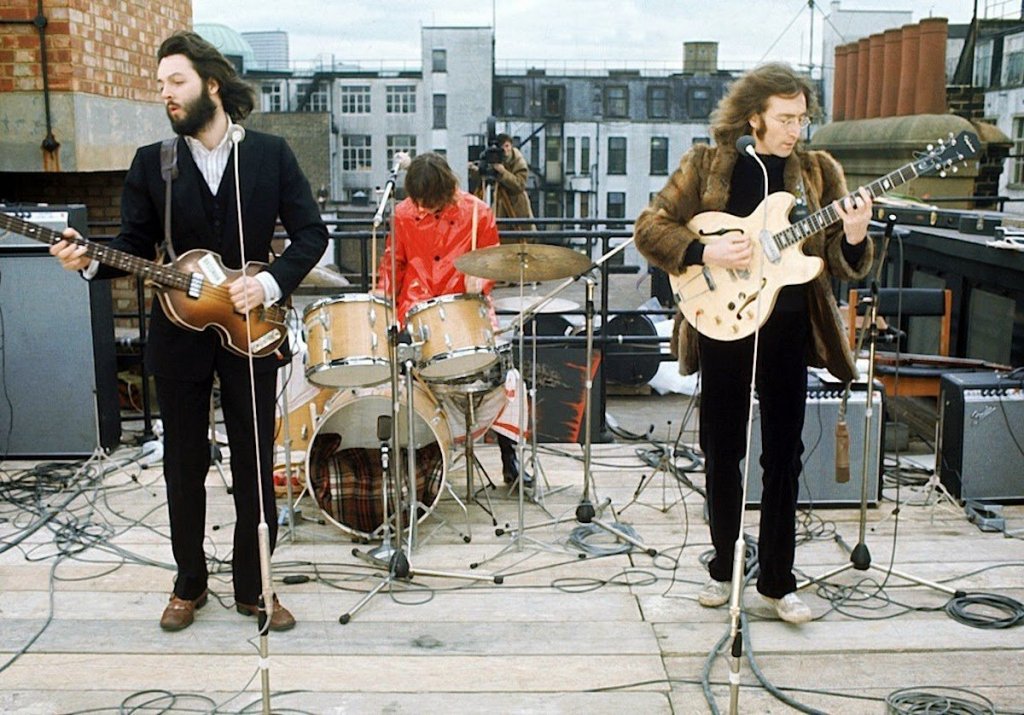 A banda ainda gravaria mais um álbum de estúdio. Abbey Road foi lançado em setembro de 1969. O quarteto acabou oficialmente em novembro de 1969 — sem fazer um show de despedida para os fãs.
O show no telhado aconteceu de surpresa durante uma tarde fria no centro comercial de Londres, onde ficava a gravadora. Ringo Starr conta que teriam que transportar todos os equipamentos para que o show acontecesse em outro lugar, a banda optou por subir no telhado da gravadora.
Em pouco tempo a notícia de que os Beatles estavam tocando no telhado da Apple Records se espalhou por Londres e a rua da gravadora precisou ser fechada devido a quantidade de fãs que tentavam observar a banda, que estava cinco andares acima da multidão.
A polícia londrina avaliou que o show dos Beatles estava causando problemas para o trânsito e entrou no prédio da gravadora para encerrar a apresentação. No vídeo da música Don't Let Me Down, é possível observar dois oficiais conversando com funcionários da gravadora enquanto John Lennon continua cantando.
Em 2009, Paul McCartney repetiu uma experiência do show no telhado da Apple Records ao tocar de surpresa no teto do Ed Sullivan Theater, em Manhattan, para um quadro especial do programa de TV Late Show, da CBS, comandado por David Letterman.
Dessa vez, a notícia se espalhou ainda mais rápido e milhares de fãs lotaram as imediações do local para ver Sir Paul McCartney cantar.