Por Cesar Bravo
Stephen King é um monstro da literatura de horror, mas quase sempre ele irá sussurrar suas pragas bem de mansinho, ao pé do ouvido, enquanto te leva para um passeio. E você, obviamente, vai caminhar com o homem e se interessar por tudo o que ele tem a dizer. Foi assim que seguimos o Rei pelo deserto solitário da escrita, até que tivemos a chance de homenagear esse grande Mestre do Horror no lançamento poderoso, Antologia Dark, publicado pela DarkSide® Books.
Para a escolha dos autores que fariam parte desse projeto 100% nacional, em primeiro lugar selecionamos escritores por seu carinho e dedicação com o gênero horror, e principalmente por sua relação íntima com a obra de Stephen King. Em um segundo momento, começamos a procurar por vozes carregadas de verdade, vozes como a de Ferréz e Marco de Castro, outros monstros da escrita. Lançamos os olhos ao cinema, e encontramos criadores magistrais, que nem sempre tem a oportunidade de figurar em uma coletânea literária, como em Antologia Dark. Também convocamos novos autores que nutrem uma paixão extrema pelo horror e por Stephen King. No final, tínhamos conosco um time que mesmo em meu sonho mais otimista não esperava reunir.
Os temas ficaram a critério dos autores, e cada um escolheu uma obra do mestre com a qual se relacionava profundamente. O resultado foi um livro sincero do começo ao fim. O leitor não encontrará algo que não seja verdadeiro nas páginas de Antologia Dark, nada que não tenha nascido da fatia mais escura de nossos corações assombrados.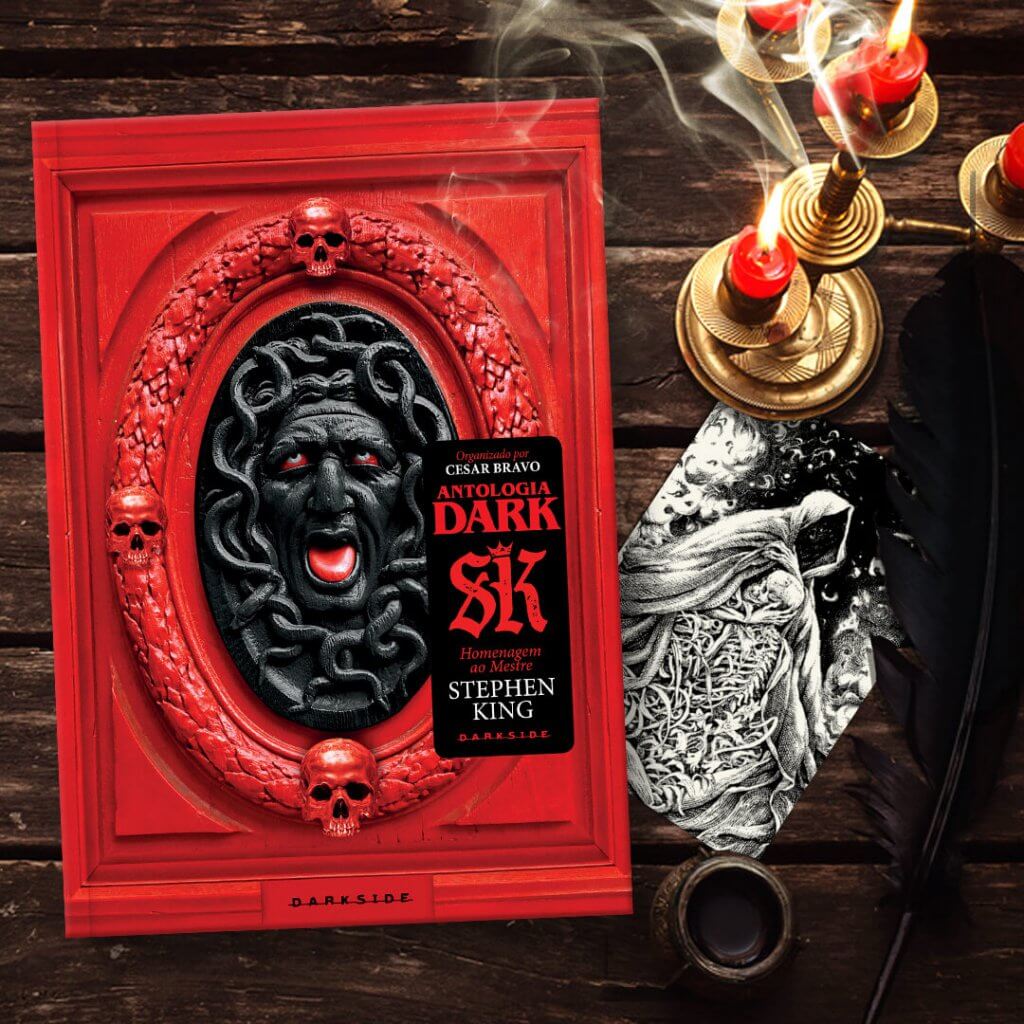 LEIA TAMBÉM: ANTOLOGIA DARK: UMA HOMENAGEM A STEPHEN KING
Com mentes tão distintas, o livro também transita por diferentes formas de horror. Nas páginas de Antologia Dark vamos do horror corporal ao introspectivo, e aqui e ali usaremos um tempero policial, o horror real das nossas cidades. Também teremos telecinesia, monstros e o sobrenatural! O leitor vai encontrar um livro de horror completo, um mergulho em experiências individuais e também coletivas. Todos os textos homenageiam parte do universo de Stephen King, desde clássicos como "Carrie", até produções menos badaladas, como é o caso de "Blockade Billy", que só recentemente foi publicado no Brasil.
E agora, deixo a palavras com os Iluminados pela Escuridão que assinam essa obra, para comentarem sobre sua relação com o King e sobre seus contos.
Vitor Abdala
"Stephen King é o ídolo de onze em cada dez autores que se propõem a escrever terror. Comigo não é diferente. Tenho quase todos os 70 livros do mestre, muitos são primeiras edições americanas. Então não é difícil imaginar como fiquei extasiado com o convite para participar desta antologia, ainda mais por ser publicada pela DarkSide. O conto, baseado na novela Blockade Billy, traz um jornalista que é convidado para uma entrevista coletiva, por um jogador acusado de homicídio. E as coisas só ficam mais estranhas a cada minuto que passa."
Alexandre Callari
"Quando criança, assisti ao filme Bala de Prata e simplesmente adorei. Minha mãe tinha o livro no qual o longa fora baseado, chamado aqui de A Hora do Lobisomem, e ele era consideravelmente mais fino do que os outros livros de King que ela possuía, assim, aquele pareceu um bom ponto de partida para um garoto de dez anos de idade começar a ler a obra do escritor favorito dela. Talvez eu tenha lido algum conto antes, não me lembro com certeza, mas aquele foi seguramente o primeiro romance. Daquele momento em diante, fui fisgado!"
Tibau
"E se o herói fosse na verdade um louco perigoso? A premissa do meu conto, O Terceiro Testamento, é colocar em dúvida as certezas que levam o protagonista de A Zona Morta (1979) a cometer um crime para salvar a humanidade. Inspirado em Stephen King, em Freud e na Bíblia."
Claudia Lemes
"Ser criança nos anos 80 me deu a oportunidade de assistir filmes de horror com naturalidade, e mesmo assim, Cemitério Maldito me aterrorizou. O fascínio pelo filme me levou a ler o livro na adolescência, e mais quatro vezes ao longo dos anos. A cada leitura, e principalmente, depois de virar mãe, o livro abalou minha psique. Escrever sobre ele foi abraçar meus medos. Foi como voltar para casa."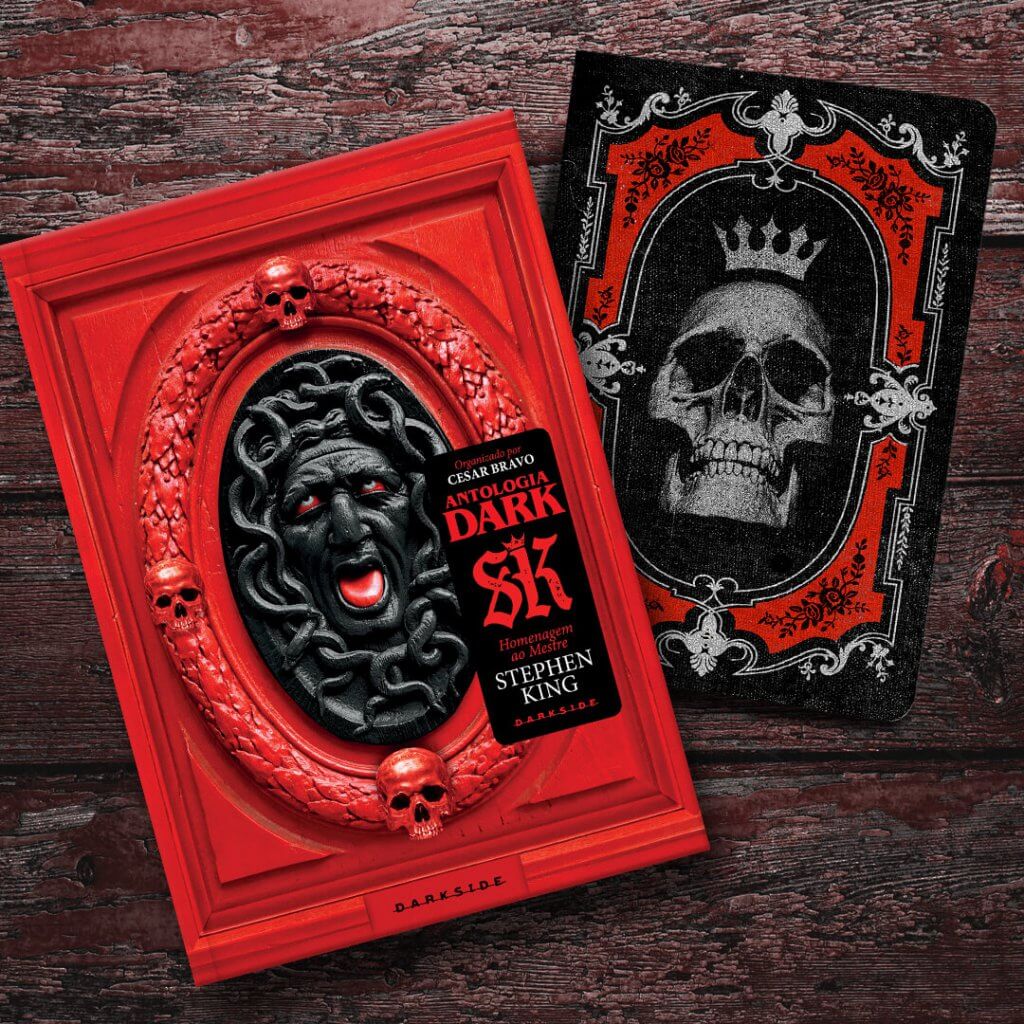 Cesar Bravo
"No conto The Body (adaptado para as telas como "Conta Comigo"), existe uma cena onde os quatro meninos estão na floresta, então ouvem esse grito horrível, que jamais obteve uma explicação. Minha história nasceu da união desse grito com a curiosidade sobre quem era o menino morto na linha do trem. Quanto a King, não fosse por ele eu possivelmente não teria encontrado um caminho na escrita."
Everaldo Rodrigues
"Quando recebi o convite para a antologia, não podia escolher outra história que não fosse A Torre Negra. Ela foi meu primeiro contato com a obra do King, minha porta de entrada para seu mundo de horror e fantasia, e permanece no meu coração, girando eternamente, como ka. Foi muito bom poder fazer essa pequena homenagem ao universo do Mestre."
Soraya Abuchaim
"Saco de Ossos é um dos livros da minha vida. Eu o li a primeira vez há décadas e a história me assombra desde então, assim como o fantasma de Sara Laughs. É um livro que eu gosto de revisitar vez ou outra e que exerce uma magia tão grande em mim que me sinto tragada para as águas escuras do lado Dark Score. Tudo nessa história me desperta medo, sentimento e nostalgia, e quando me recordo de cada palavra (muitas já sei de cor), meu coração dispara. Eu não poderia ter escolhido um livro diferente."
Fernando Toste
"Acho que todo mundo se identifica com a ideia de poder enterrar e esquecer sua metade sombria. Quis aproveitar a oportunidade para revisitar um romance algo distante do cânone de Mr. King, mas fascinante na maneira como expõe questões pessoais e revela alguns dos impulsos e técnicas criativas que fazem de sua literatura um vasto manancial de inspiração. O que procurei fazer foi tentar retribuir o gesto, humildemente, visando um diálogo aberto com outros leitores fiéis."
Ilana Casoy
"Minha primeira memória, em 1963, aos três anos de idade, foi o Boris Casoy, meu tio jornalista, entrar na casa da minha avó em pleno almoço, anunciando atordoado para meu pai: Júlio, o Kennedy foi assassinado! Eu não sabia quem era, nem o que significava "ser assassinado", mas senti que era gravíssimo! A escolha da minha "inspiração" para esse conto faz todo sentido, Freud explica. E viajar no tempo? Esse é o grande mistério da vida que eu gostaria de desvendar!"
Marco de Castro
"Carrie foi o primeiro livro do Stephen King que eu li. Na época, tinha treze anos de idade e fiquei bem impressionado com a história. Para mim, é uma das melhores histórias sobre bullying e fanatismo religioso já escritas. Produzir um conto inspirado em Carrie foi um desafio e tanto. E espero que os leitores gostem do resultado e se identifiquem com a minha Carrie, que se chama Cárem, é aluna de escola pública e mora em uma comunidade pobre da periferia de São Paulo."
André Pereira
"Minhas memórias do Stephen King vão estar sempre ligadas às fitas que alugava na locadora quando criança. As capas de VHS foram minha introdução aos livros. E lembro a primeira vez que vi "Chamas da Vingança" ("Firestarter"), com a imagem icônica da Drew Barrymore com o fundo pegando fogo. Quando li o livro, nunca consegui dissociar a atriz da personagem. Que nem não consigo ver a Eleven de "Stranger Things" sem pensar na Charlie."
Cesar Bravo
Bravo publicou suas primeiras obras de forma independente, e em pouco tempo ganhou reconhecimento dos leitores e da imprensa especializada. É autor e coautor de contos, romances, enredos, roteiros e blogs. Pela DarkSide®, o autor já publicou Ultra Carnem, VHS: Verdadeiras Histórias de Sangue, traduziu o poema narrativo de Stephen King, The Dark Man: O Homem que Habita a Escuridão, e é o organizador da Antologia Dark.