Mary E. Pearson é uma premiada escritora do sul da Califórnia, conhecida no Brasil pelo universo de Crônicas de Amor e Ódio, composto pelos livros The Kiss of Deception, The Heart Of Betrayal, The Beauty Of Darkness, Crônicas de Morrighan: A Origem do Amor, Dance of Thieves e Vow of Thieves. Mary é formada em artes pela Long Beach State University, e possui mestrado pela San Diego State University. Já aventurou-se em trabalhar como artista por um tempo, até receber o maior desafio que a vida poderia lhe proporcionar: ser mãe. Atualmente, é autora em tempo integral e topou responder algumas perguntas enviadas pelos darksiders, fãs da autora, nas redes da Caveira. Confira a entrevista:
Darksiders: Como você descobriu que queria ser escritora?
Mary E. Pearson: Quando eu era criança, gostava muito de ler. No início, as histórias que lia dominavam o meu mundo e eu me imaginava como um personagem delas. Mais tarde, na escola, comecei a me destacar na escrita e recebia elogios motivadores de meus professores quanto aos meus textos. Eu sabia que adorava escrever, mas não sabia que alguém como eu — uma garota muito comum de um mundo muito comum — poderia realmente ser uma escritora. Eu nunca tinha conhecido um escritor, para não mencionar que a maioria dos escritores eram homens ou já haviam morrido. E então, quando eu era adolescente, li um livro que adorei chamado The Outsiders, de uma jovem autora que estava viva, a S.E. Hinton! Isso me fez acreditar que talvez eu também pudesse ser uma escritora.
D: Quando decidiu que queria escrever, quais foram os primeiros passos em sua carreira? Motivações e dificuldades.
M: Provavelmente, o maior passo foi realmente escrever um livro em vez de apenas pensar em escrever um livro. Levei anos para fazer isso. Escrevi muitos contos e poesia, mas acho que meu coração sempre esteve na ficção mais longa e em romances. Assim que me comprometi a terminar um, li vários livros sobre a arte da escrita. Todo escritor tem pontos fortes e fracos e não há fim para a incrível riqueza de conhecimento que é compartilhada por outros escritores. Ainda sou viciada em livros artesanais e tenho uma grande biblioteca de livros para me ajudar a melhorar meu trabalho. Os escritores não nascem, eles são feitos com muito trabalho, estudo e, principalmente, perseverança.
Ser publicado exige perseverança. Eu acumulei centenas de rejeições, mas continuei aprendendo com elas, revisando meus manuscritos e os submetendo, e finalmente consegui vender meu primeiro manuscrito. Mas manter-se publicado pode ser igualmente difícil, então estudar arte, experimentar e se desafiar a se aprofundar fazem parte da jornada da escrita.
D: Você teve uma carreira adicional além de escrever?
M: Eu me formei como Bacharel em Belas Artes em Ilustração, e trabalhei por um tempo depois que me formei como ilustradora freelancer e designer gráfico. Depois disso, fui uma dona de casa por vários anos, dirigi minha própria padaria doméstica, fui sócia em outro negócio de alimentos e me tornei professora antes de finalmente largar o emprego e me comprometer a escrever um romance completo. Mas nenhuma dessas carreiras anteriores foi desperdiçada. Eles me prepararam de várias maneiras para perseverar na carreira de meu coração.
LEIA TAMBÉM: A FORÇA DE PERSONAGENS FEMININAS ESCRITAS POR MULHERES INSPIRADORAS
D: Qual livro foi o mais difícil de escrever?
M: Qualquer livro que estou escrevendo no momento sempre parece o mais difícil! Mas, em retrospecto, eu diria que The Beauty Of Darkness foi a mais difícil, pois eu tinha mil páginas de "bagagem" dos livros anteriores, também conhecidas como fios de história, que tive de reunir, ao mesmo tempo em que impulsionava a história atual. Eram muitas informações para equilibrar e às vezes eu achava que minha cabeça ia explodir! Sem mencionar meu apego emocional a esses personagens. Foi incrivelmente difícil me despedir deles.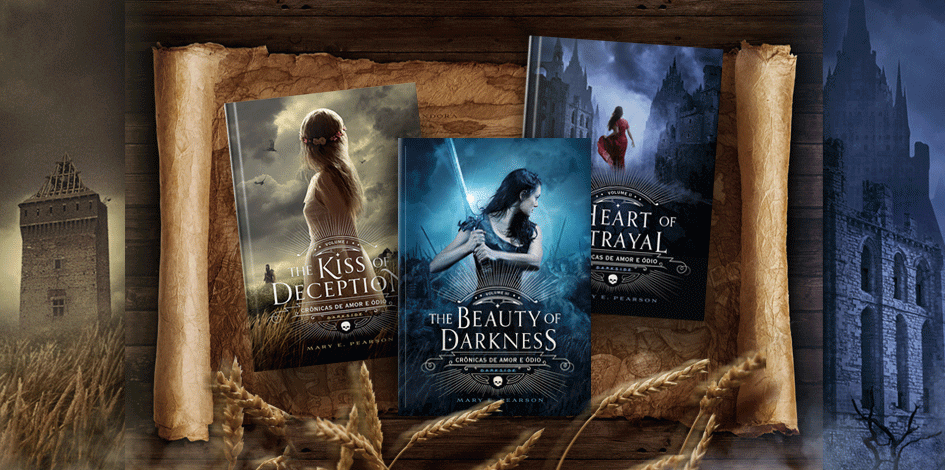 D: Como você escreve as características, qualidades ou defeitos, de seus personagens?
M: Começo com uma ideia de seus objetivos externos e necessidades internas das quais eles podem nem estar cientes, mas a partir daí eles crescem organicamente à medida que os conheço, seus objetivos, necessidades e falhas. Os personagens florescem e se transformam conforme eu descubro mais de suas trajetórias, que geralmente são detalhes dolorosos, arrependimentos e segredos.
D: Você acredita que o mercado literário, principalmente no gênero fantasia, dificulta a publicação de livros escritos por mulheres?
M: Livros de qualquer gênero são difíceis de serem publicados. Já escrevi livros contemporâneos, de ficção científica e de fantasia, e tenho muitos amigos que fizeram o mesmo em mais gêneros, e todos podem ser muito difíceis de entrar. Quando comecei, tinha muitos amigos escritores que nunca conseguiam superar a barreira da publicação, e não por falta de grande talento ou esforço.
Dito isso, quando comecei a escrever, as escritoras eram as que mais perdiam com relação a resenhas, estrelas, prêmios, investimento de marketing e reconhecimento geral. As vozes, as experiências e as perspectivas femininas não carregavam a mesma seriedade da contraparte masculina. Um livro com uma personagem feminina na capa já foi classificado como ficção feminina apenas para leitoras do sexo feminino, enquanto as histórias com personagens masculinos eram para todos os leitores. Fico feliz em dizer que, devido à educação e conscientização, isso mudou muito, mas a voz feminina ainda tem muito que ganhar.