A febre dançante de Florence + The Machine chegará ao Brasil. Foi divulgado nessa segunda-feira (30/01) o line-up da edição de 2023 do festival MITA – Music is the Answer. Ele será realizado em dois fins de semana consecutivos nas cidades do Rio de Janeiro e São Paulo. A banda de Florence Welch é a atração principal dos dias 28 de maio (RJ) e 4 de junho (SP).
LEIA TAMBÉM: FLORENCE E ISABELLA: QUEM SÃO AS FUNDADORAS DA BANDA FLORENCE + THE MACHINE
Além dela, também irão se apresentar Lana del Rey, HAIM, Flume, The Mars Volta NX Zero, Natiruts, entre outras atrações nacionais e internacionais. No Rio de Janeiro, o MITA será realizado no Jockey Clube nos dias 27 e 28 de maio, e em São Paulo no Novo Anhangabaú em 3 e 4 de junho de 2023.
Como o festival terá dois dias de duração nas duas capitais, é importante ficar atento aos artistas que irão se apresentar em cada um dos dias: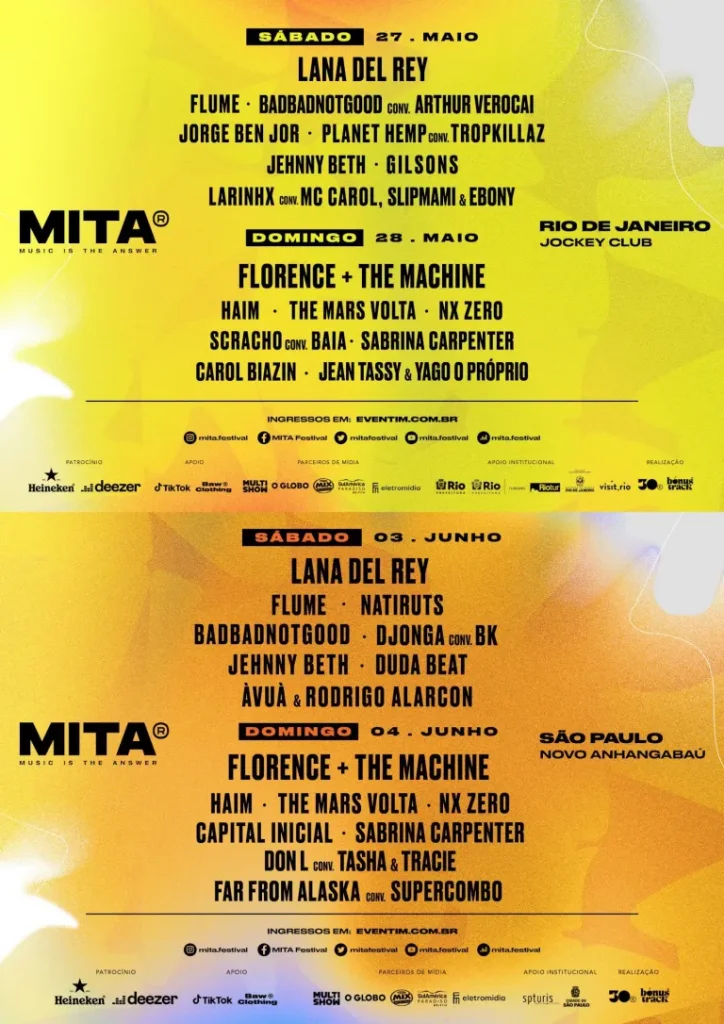 A venda dos ingressos será realizada a partir de 1º de fevereiro no site da Eventim. No primeiro lote, os ingressos para um dia de evento são:
Pista: R$ 350 (meia-entrada), R$ 395 (ingresso social) e R$ 700 (inteira).
Pista Premium: R$ 750 (meia-entrada), R$ 825 (ingresso social) e R$ 1.500 (inteira).
Ainda não foram divulgadas informações sobre ingressos válidos para os dois dias de evento.
Florence + The Machine no Brasil
Trazendo para o Brasil a turnê Dance Fever, que divulga o álbum de mesmo nome da banda lançado em 2022, a sacerdotisa suprema do pop promete enfeitiçar os fãs com os hits recentes "King" e "Free", além de canções clássicas do repertório, como "Dog days are over" e "Ship to wreck".
Iniciada em abril de 2022, a turnê já deu o que falar, causando um pequeno terremoto na Alemanha e precisando ser interrompida após Florence Welch quebrar o pé no palco, em novembro do ano passado. A banda voltou aos palcos no último dia 28 de janeiro, em Londres.
LEIA TAMBÉM: SHOW DE FLORENCE + THE MACHINE CAUSA TERREMOTO NA ALEMANHA
Essa é a terceira vez que Florence + The Machine vem se apresentar no Brasil. O último show da banda por aqui aconteceu em março de 2016, quando também se apresentou em São Paulo e no Rio de Janeiro. Antes disso, ela passou por aqui no Rock in Rio de 2013 e em 2012, para o Summer Soul Festival nas cidades de São Paulo, Rio de Janeiro e Florianópolis.
Segundo o site da banda, os shows no MITA são os únicos confirmados no Brasil e em toda a América Latina neste ano. Mas fica tranquilo que se a Caveira souber de mais alguma oportunidade de ver esse verdadeiro coven em ação vem correndo contar.
Por aqui já colocamos a playlist no repeat e puxamos o nosso exemplar de Inútil Magia para ir entrando no clima e chegar no show com todas as letras decoradinhas.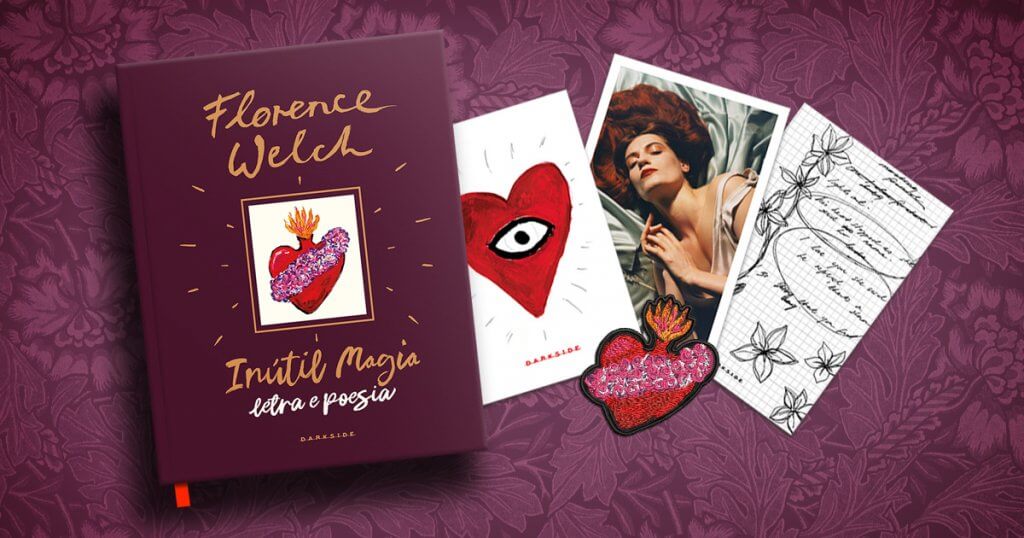 LEIA TAMBÉM: 6 TRILHAS SONORAS DE FLORENCE + THE MACHINE PARA FILMES E SÉRIES