Dois anos após o lançamento de Jumanji: Bem-Vindo à Selva, reboot do clássico da Sessão da Tarde, de 1995, a Sony divulgou o trailer do novo capítulo dessa aventura estrelada por Dwayne Johnson, Karen Gillian, Jack Black, Kevin Hart e Nick Jonas. O trailer Jumanji: The Next Level (ainda sem título em português), divulgado nesta segunda-feira, mostra novos desafios e uma trama que dificulta a vida dos personagens principais.

Além do elenco original, a sequência do reboot também ganha dois atores do alto escalão de Hollywood: Danny DeVito e Danny Glover, que interpretam personagens mais velhos que acabam entrando no mundo dos games. A atriz asiática e rapper Awkwafina também integra o elenco da continuação da franquia. Nos Estados Unidos, Jumanji: The Next Level tem previsão de estreia no dia 13 de dezembro deste ano, enquanto no Brasil ainda não há data definida.
LEIA TAMBÉM: CHRIS VAN ALLSBURG: "O EXTRAORDINÁRIO NO CONTEXTO COMUM É FASCINANTE PARA MIM
O reboot lançado em 2017 acabou tendo um lucro de bilheteria muito além do esperado pela Sony – é a 45ª bilheteria de todos os tempos, o que levou os produtores a apostarem na sequência da franquia. Só nos Estados Unidos e Canadá, o filme arrecadou US$ 404,5 milhões, ocupando a quarta posição entre as maiores bilheterias daquele ano e se tornou a segunda produção de maior receita da história da Columbia Pictures e da Sony, ficando atrás de Skyfall, lançado em 2012. A história de Jumanji (1995) com Robin Williams, no papel de Alan Parrish, é inspirada no livro de Chris Van Allsburg. A jornada fantástica escrita e ilustrada por Van Allsburg conta a história de Peter e Judy, que encontraram um misterioso jogo de tabuleiro cujas instruções avisam: a partida deve ir até o final ou durará para sempre.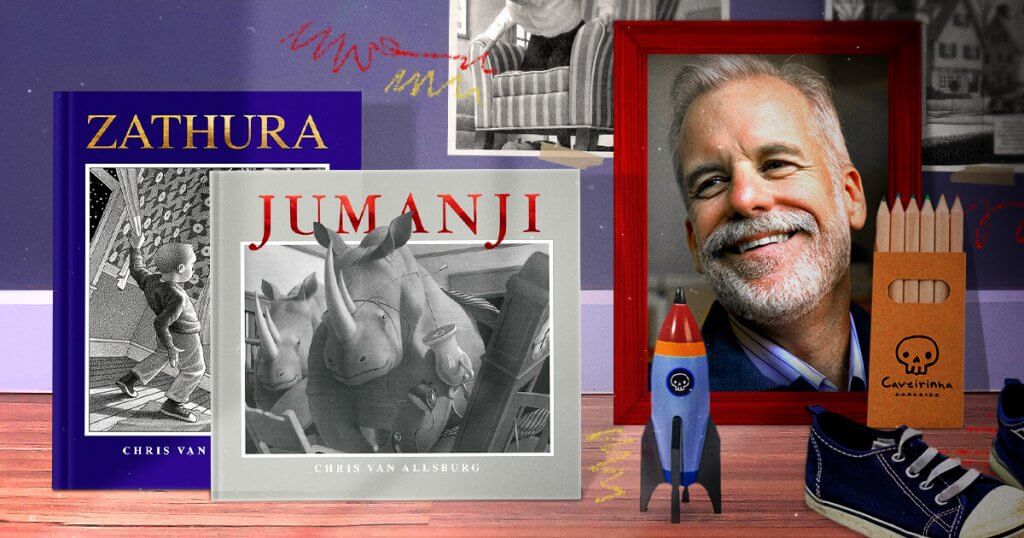 Daí pra frente, a fantasia entra em ação e ficou eternizada nas tardes diante da TV com Jumanji (1995), onde um jogo aparentemente simples se torna realidade e leva os meninos para a aventura mais espantosa de suas vidas. Jumanji é considerada uma das obras de literatura infantil mais importantes de todos os tempos e Van Allsburg é ganhador de duas Medalhas Caldecott, uma por Jumanji e outra por O Expresso Polar, além de uma Menção Honrosa do Caldecott por The Garden of Abdul Gasazi. Ele já escreveu e ilustrou diversos livros infantis e ganhou a Medalha Regina pelo conjunto da obra na literatura infantil. Pela DarkSide Books, Jumanji e sua continuação, Zathura, ganharam edições tão extraordinárias quanto essa franquia cheia de ação e fazem parte do selo Caveirinha.

O reboot de Jumanji trouxe um adicional para a história de Van Allsburg. Na trama, os jogadores são transportados para dentro da ação, no mundo dos games. Tudo começa com um jogo de tabuleiro encontrado na praia que acaba indo parar dentro da casa de Alex Vreeke. O tabuleiro se transforma em um cartucho de videogame, mas, assim que ligado, suga seus jogadores para dentro do estranho mundo de Jumanji.

Jumanji: Bem-Vindo à Selva foi dirigido por Jake Kasdan e a sequência será do mesmo diretor.
Assista ao trailer de Jumanji: The Next Level, divulgado nesta segunda-feira, pela Sony: