A ideia da personagem principal da HQ Lady Killer, da quadrinista Joëlle Jones em parceria com Jamie S. Rich, surgiu enquanto ela criava paródias das clássicas propagandas dos anos 1950, mas no lugar de eletrodomésticos e produtos para casa, as ladys da época vendiam armas, arsênico entre outros objetos fatais. Na época, Jones decidiu fazer uma série de desenhos encapsulados com essas imagens. Com trabalhos na DC Comics, Prada e projetos na Marvel, Vertigo e The New York Times, ela não conseguiu se dedicar ao desenvolvimento da história naquele momento, mas sabia que não poderia perder as ideias originais. "Eu amo as propagandas daquela época, então eu pensei que seria divertido encapsular o que eu queria fazer na história de Lady Killer com esses anúncios. Eu trabalhava neles no meu tempo livre e foi ótimo. Então foi a história que inspirou os anúncios", diz a quadrinista em entrevista ao site BrokenFrontier.

No entanto, uma mudança no enredo da vida de Jones a uniu a Rich e, dessa parceria, finalmente surgiu uma HQ afiada, irônica e de traço marcante no mercado editorial americano. Lady Killer vem fazendo muito sucesso, inclusive com uma indicação ao Eisner Awards, em 2016. No Brasil, a DarkSide Books lançou neste mês a história da peculiar dona de casa dos anos 1950, Josie Schuller, pela marca DarkSide Graphic Novel — e não se deixe enganar, Schuller pode até limpar o chão, mas é porque ele está todo ensanguentado.

Confira a entrevista completa:
Como você disse, a história veio primeiro e a criação dos anúncios depois. Os prints desses anúncios chamaram muito a atenção na época, retratando mulheres como assassinas brutais. Como foi criar a história de Josie Schuller? E como foi a aceitação do público?
Joëlle: É, se não fizéssemos nada com esses anúncios ainda seriam artes legais que eu fiz com uma história que estava atormentando minha cabeça. E as pessoas responderam de alguma forma, o que foi uma surpresa, mas me deu confiança para continuar trabalhando nisso.
Jamie: Naquele mesmo ano Joelle foi convidada da San Diego (Comic-Con) e estava vendendo essas prints. Foi muito divertido porque eu consegui observar algumas das reações. E é muito apropriado para o que tem acontecido nesses tempos. Um cara passou e disse "Cadê as prints do cara matando a garota?". Isso aconteceu mais de uma vez. Ligue a TV! Você vai achar uma história de um marido matando a esposa.
Joëlle: É, eu fui chamada de odiadora de homens algumas vezes.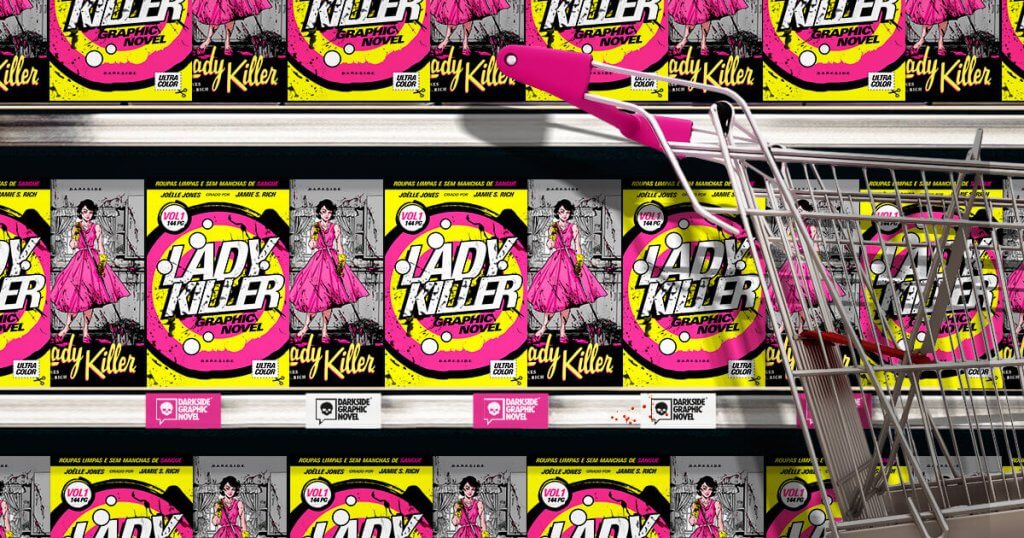 Quanto do conceito original mudou ao longo dos anos enquanto vocês dois continuavam trabalhando na história?
Joëlle: Eu diria que a abordagem mudou. Eu acho que no começo era mais comédia. Não acho que era tão sombrio. Josie mudou bastante. Ela não é mais pateta e boba como ela já foi. Eu acho que originalmente ela era mais como Goldie Hawn de Laugh-In. Ela mudou disso para se tornar alguém bem capaz.
Jamie: E nós conversámos sobre ela ser como a personagem Marilyn Monroe em How to Marry a Millionaire. Eu acho que um dos nossos conceitos originais é que ela seria bem sociável em público e bancar a garota boba. E agora que nós estamos realmente trabalhando nisso… Bem, no começo eu estava escrevendo muitos diálogos para a Josie, e quando Joëlle pegou o roteiro ela estava tipo "Fora, fora, fora". A maioria das falas que eu escrevi para Josie foram tiradas.
Lady Killer começa logo na ação. Ela tem a vida de família e filhos, mas ela também está trabalhando como assassina. Vocês vão contar como ela chegou nesse ponto?
Jamie: Quando a Joëlle começou a me falar sobre a ideia, ela tinha uma noção do começo muito clara, então nós íamos começar a partir daí. Mas uma vez que nós iniciamos o projeto e Joëlle começou a escrever os roteiros, vimos que era o caso de começarmos pelo meio. Bem, nós sempre soubemos que o primeiro caso seria no Kitty Kat Club, então isso ficou, porque a Joëlle gostava do uniforme.
Joëlle: Mas naturalmente as pessoas vão querer saber a história de origem, e eu acho que eventualmente, talvez no segundo arco, eu conte. Mas eu esperei tanto para poder fazer essa série que, quando eu finalmente tive a chance, eu não queria escrever a história de origem. Eu queria pular logo para a ação. Eu estava muito empolgada com isso.
A Laura Allred é sua colorista, certo? Como foi trabalhar com ela?
Joëlle: Quando nós a trouxemos, foi porque eu amava a noção que ela tinha de cor e eu queria ver ela fazer o que ela queria. Não tinha nada… Ah, eu só dei para ela minha primeira anotação de cor porque se passa em Seattle durante a Exposição Mundial, e nesse período o Space Needle estava laranja. Então essa foi minha única anotação para cor. Mas é só coisa de pesquisa, sabe. Eu fiz alguma pesquisa e essa coisa é dessa cor. Mas acabei dando um total de zero direcionamentos à ela.
Você não deu nenhuma anotação sobre os padrões da época ou os papéis de parede?
Joëlle: Não, mas o papel de parede deste primeiro volume é o carpete de O Iluminado. Eu não quis dizer isso para Laura porque eu não queria que tivesse as mesmas cores de O Iluminado. Mas é o mesmo padrão, que foi desenhado a mão. Todos no estúdio estavam "Você sabe que você pode fazer isso digitalmente". Mas eu não queria. Quero dizer, eu venho de um passado de Belas Artes, então quando eu termino uma página eu gosto que seja uma obra de arte que está completa, que alguém pode comprar e ficar, então não tem nada feito digitalmente.
Jamie: E eu estava: "Eu vou cobrir tudo isso de diálogo!".
LEIA TAMBÉM: Ilustradora de Geek Love e Lady Killers fala sobre suas inspirações
Você gosta de colocar muitos respingos de tinta no seu trabalho. Isso é para criar um certo clima?
Joëlle: Sim, eu estava esperando que notassem isso porque minha pintura é bem limpa e não há muitas linhas ásperas, não parece pronto se tudo estiver limpo e agradável. Eu gosto de usar os respingos porque isso traz uma dimensão, uma aridez que eu acho que é boa para a história.
Você faz alguma mudança no seu estilo de arte dependendo se Josie está em casa com as crianças ou em uma missão?
Joëlle: Bem, eu não uso tantos "ângulos de câmera" quando ela está em casa. Eu mantenho tudo muito estático e uniforme. Então eu experimento ângulos de câmera e visões mais ambiciosos quando ela está fazendo o trabalho dela. Espero que isso dê a essas cenas um tom diferente, quer o leitor perceba ou não.
Há também a figura do marido de Josie Schuller. Como criar um personagem que será casado com uma assassina e como não deixá-lo do tamanho correto diante da esposa na história?
Joëlle: Eu amo o marido. Ele recebe algumas críticas das pessoas, mas eu o adoro. Eu acho que ele é alegremente inconsciente, mas ele é um homem de seu tempo. Ele tem gostos simples. Ele quer uma cerveja e assistir TV. A única coisa que eu não quero mexer na série é que ela ama sua família. É a única coisa que ela mantém sagrada. Ele é um cara legal e eles se amam, embora ela esteja em um papel subjugado na época. Eu acho que ter essa base sólida com toda a escuridão meio que ilumina e dá ao leitor algo seguro para poder voltar. Minhas partes favoritas de escrever são quando ele está dando conselhos para Josie ou quando ele está dizendo a ela como fazer as coisas. Isso acaba comigo, porque ela é bem capaz, mas ela é apenas obediente e o escuta.
Jamie: Ele sempre foi destinado a ser o pai cômico dos anos 50, onde ele está fazendo seu trabalho e ele acha que está fornecendo tudo para a sua família, enquanto isso ele não tem idéia do quanto sua esposa faz o dia todo para manter a família no caminho certo.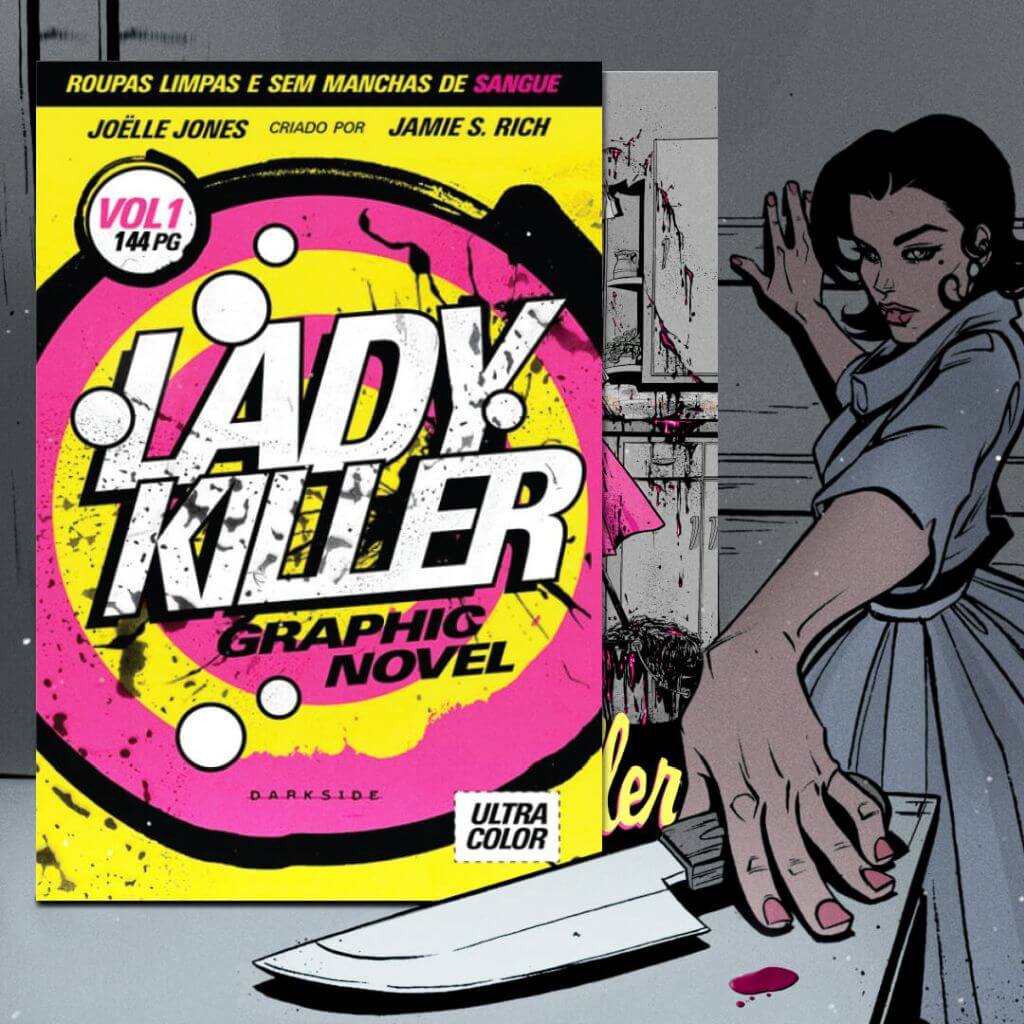 Ela não é muito de se esgueirar nas sombras, cortando a garganta de alguém em silêncio e depois desaparecendo na noite – esses momentos são sempre bem elaborados na HQ. Isso é porque você queria desenhar muita ação?
Joëlle: Eu gosto de grandes cenas elaboradas de luta. Eu cresci lendo quadrinhos e com um monte de quadrinhos de super-heróis e sempre me pegava reparando muito nas cenas de luta. Quando assisto filmes, se é uma boa cena de luta, eu fico fascinada. Há emoção ligada aos movimentos de todos e as coisas estão acontecendo. Eu queria esse sentimento nas cenas de luta de Lady Killer. Gosto disso porque há muito menos diálogo para eu escrever e eu gosto de contar histórias através da linguagem corporal.
Jamie: Nós não dissemos isso oficialmente ainda, mas podemos falar sobre a regra "nada de armas de fogo"?
Joëlle: Sim, nós podemos. Eu não quero que ela lute com armas de fogo. Eu gosto da ideia de que ela é habilidosa e apenas mataria pessoas com algo que ela encontrasse. Ela é uma mulher engenhosa e à frente de seu tempo. Armas de fogo são muito fáceis e é mais divertido para mim, especialmente, ter ideias para descobrir como ela vai matar sua próxima vítima. Te força a ser mais criativo.
Sabemos que você está trabalhando com Jamie, mas é a sua primeira vez escrevendo em um trabalho. Como está indo até agora?
Joëlle: Se você me perguntasse ontem eu diria que está indo mal. Mas hoje está bom. A maioria dos escritores com quem eu falo são convencidos, então eu assumi que fosse fácil. Para mim, o desafio é quando eu sei exatamente o que eu quero desenhar, mas ainda tenho que escrever tudo para que meu editor e Jamie entendam o que estou tentando fazer. Sou apenas eu colocando no papel e dizendo: "É isso que eu quero desenhar, gente. Apenas deixe-me desenhar! E Jamie, por favor, faça-os soar como se não fossem bobos." Eu sei que vale a pena, a longo prazo, porque recebo muitos conselhos editoriais realmente bons e estou tentando fazer Jamie entender o que estou querendo fazer. Mas enquanto escrevemos, é exaustivo, essa é a parte cansativa. Há sempre muita pressão para conseguir amarrar tudo e encerar o arco da história sem deixar muitas coisas no ar.

Traduzido e adaptado do site BrokenFrontier.