A infância é um período de descobertas, em que a imaginação corre solta. Em suas mentes, as crianças dão contornos de fantasia até mesmo aos aspectos mais monótonos e indigestos de sua realidade e, assim, transformam sua vida em aventura. Francis "Francie" Brady, o protagonista de BUTCHER BOY: INFÂNCIA SANGRENTA, tem essa imaginação poderosa que pode temperar a vida de uma criança, mas também algo a mais. Por trás de uma presumida fachada de inocência, se esconde um coração que pulsa com violência, revolta e indignação.
Neste perturbador romance, o escritor irlandês Patrick McCabe nos oferece uma reflexão sobre o poder insidioso do ambiente na construção da ética infantil. Submetido à uma situação opressiva devido a sua classe social, sua condição familiar e sua religião, o jovem Francie prova que as crianças, definitivamente, não ficam imunes ao mundo no qual estão inseridas. Assim como clássicos sobre a maldade infantil O Senhor das Moscas, de William Golding, Menina Má, de William March, e Fábrica de Vespas, de Iain Banks, BUTCHER BOY: INFÂNCIA SANGRENTA nos leva para um universo onde a crueldade e a sociopatia não são prerrogativas dos adultos.
LEIA TAMBÉM: COMO MENINA MÁ INFLUENCIOU O CINEMA E A CULTURA POP
BUTCHER BOY: INFÂNCIA SANGRENTA é um retrato panorâmico na história desse menino que acabou trabalhando no açougue abatendo porcos. O que seriam traquinagens e peças pregadas por crianças levadas aumentam o tom da falta de empatia quando executadas por Francis Brady.
Patrick McCabe entende a importância de dar voz aos excluídos, como o seu protagonista. Narrado em primeira pessoa pelo próprio Francie, o romance é um retrato panorâmico da vida, dos pensamentos e dos atos desse menino. Desprovido de empatia, mas não de humor, o fluxo de pensamentos de Francie guia o leitor pela Irlanda dos anos 1960, costurando passado e presente em uma trama que se constrói junto da personalidade do seu narrador.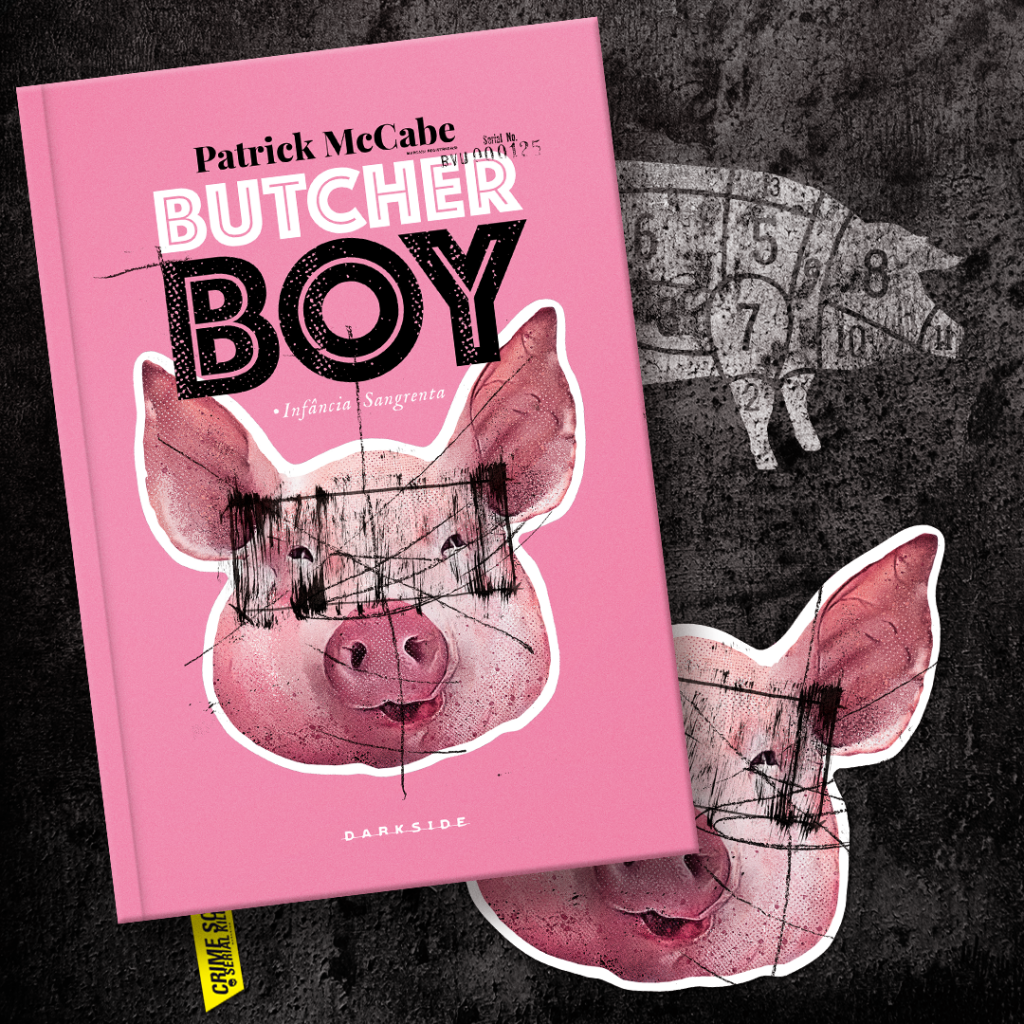 Adaptado para o cinema pelo cineasta Neil Jordan, o filme de 1998 recebeu no Brasil o título de Nó na Garganta. A edição DarkSide® Books traz também uma análise do contexto histórico do romance, assinada pelo pesquisador de literatura Luiz Gasparelli.
Com poderosa reconstrução de época, aliadas a uma prosa que emula o sotaque do personagem, BUTCHER BOY é um livro pungente, sangrento, divertido e aterrador. Ele nos lembra que os sonhos de infância também podem ser pesadelos aterrorizantes. Como sabemos, os verdadeiros demônios moram dentro de nós.
PATRICK MCCABE nasceu em 1955 em Clones, no Condado de Monaghan, na Irlanda. Suas tramas sombrias e irreverentes lhe renderam prêmios e elogios ao longo da carreira. BUTCHER BOY: INFÂNCIA SANGRENTA ganhou o Irish Times Irish Literature Prize for Fiction e foi indicado para o Booker Prize for Fiction. Também é autor de The Dead School, Breakfast on Pluto, Emerald Germs of Ireland, Winterwood e The Adventures of Shay Mouse. Ele vive em Sligo, na Irlanda, com a esposa e duas filhas.
"UM FLUXO DE CONSCIÊNCIA IMPLACÁVEL E OTIMISTA. O ACLAMADO TERCEIRO ROMANCE DE MCCABE (…) TRILHA O CAMINHO DA DEMÊNCIA COM NOTÁVEL SEGURANÇA."
— ENTERTAINMENT WEEKLY —
"UM POTENTE AMÁLGAMA DE COMÉDIA, HORROR E PATHOS… BUTCHER BOY É UM EXEMPLO FINO DE GÓTICO MODERNO… MCCABE APRESENTA UM ESTUDO DE DESARRANJO ESPIRITUAL QUE PRENDE O LEITOR."
— THE SUNDAY TIMES —
FICHA TÉCNICA
Título | Butcher Boy: Infância Sangrenta
Autor | Patrick McCabe
Tradutora | Laura Zúñiga
Editora | DarkSide® Books
Edição | 1ª
Idioma | Português
Especificações | 208 páginas, capa dura
Dimensões | 16 x 23 cm
ISBN | 978-65-5598-095-0