Em uma cidade esquecida no interior de Ohio, a esposa de Willard Russell está à beira da morte, não importa o quanto ele beba, reze ou faça sacrifícios e oferendas. Com o passar dos anos, seu filho Arvin, uma criança negligenciada, torna-se um homem frio e cruel. Em torno deles, circula um nefasto e peculiar grupo de moradores — um insano casal de assassinos em série, um pastor que come aranhas e um xerife corrupto —, todos entrelaçados numa viciante narrativa da mais corajosa e sombria lavra americana.
Donald Ray Pollock, o novo autor da DarkSide® Books, promete causar alvoroço nos corações mais frágeis com o lançamento O Mal Nosso de Cada Dia. Ele constrói, com maestria, uma trama hiper-violenta, ambientada no pós-Segunda Guerra, repleta de personagens desagradáveis em um cenário devastador, cruéis o suficiente para cometerem crimes com a casualidade de quem troca de roupa. Mas isso não é tudo. Há muito mais por trás das manchas de sangue, da avareza e da mesquinharia: o desespero e as limitações de uma cidade pequena, a frustração de seus habitantes, a síntese de quem não equilibra luz e sombra dentro de si.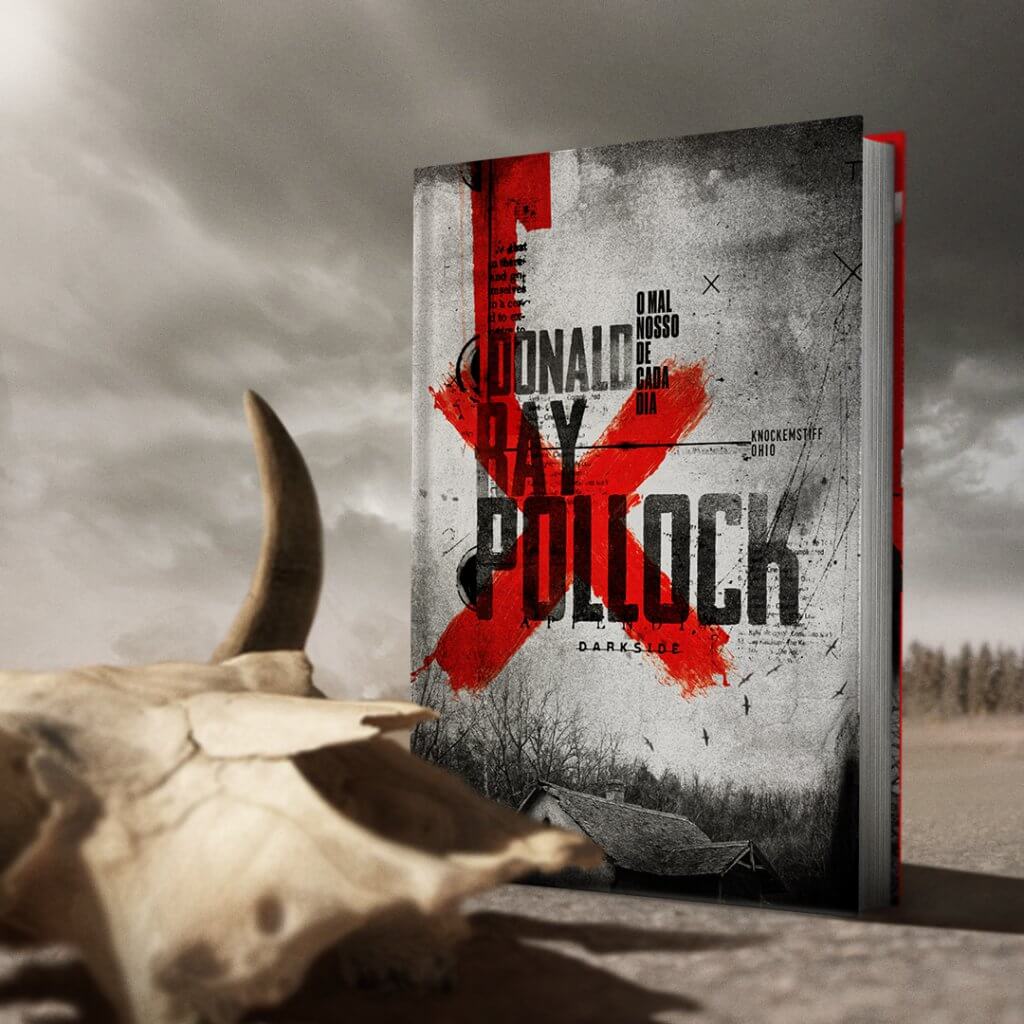 O autor elabora uma narrativa tensa e profundamente perturbadora em seu primeiro romance. Pollock se insere na linhagem dos grandes contadores de histórias da América, como John Steinbeck e seu realismo, William Faulkner e Flannery O' Connor e o magistral gótico sulista e Cormac McCarthy e seu visceral Onde os Velhos Não Têm Vez.
Uma produção original Netflix, a adaptação cinematográfica do livro — prevista para setembro de 2020 — conta com direção do brasileiro Antonio Campos (Afterschool e The Sinner), produção do ator Jake Gyllenhaal e um elenco cheio de estrelas de Hollywood, protagonizado por Sebastian Stan (Capitão América), Tom Holland (Homem-Aranha), Robert Pattinson (só lembramos de O Farol), Bill Skarsgard (It: A Coisa), Mia Wasikowska (Alice no País das Maravilhas) e Eliza Scanlen (Objetos Cortantes).

LEIA TAMBÉM: THE DEVIL ALL THE TIME: FILME DA NETFLIX GANHA DATA DE ESTREIA
Se você é apaixonado por histórias sombrias e sinistras, O Mal Nosso de Cada Dia é o som e a fúria da nova literatura. Feche os olhos e comece a rezar.
Donald Ray Pollock é escritor americano. Nascido em 1954 e criado em Knockemstiff, Ohio, Pollock viveu toda a sua vida adulta trabalhando como operário e motorista de caminhão. Aos 50 anos, matriculou-se na Faculdade de Inglês da Universidade Estadual de Ohio e começou a publicar seus escritos em revistas literárias, como a Epoch, Sou'wester, Granta, Tin House e pen America. Ganhador do pen/Robert Bingham Fellowship 2009, fez sua estreia na literatura em 2008 com a aclamada coletânea de contos Knockemstiff e em 2011 publicou seu primeiro romance, O Mal Nosso de Cada Dia. Seu segundo romance, The Heavenly Table, foi publicado em 2016. Saiba mais em donaldraypollock.net.
"Pollock traz graça e precisão à linguagem coloquial, e a honestidade cruel de seu olhar é assombrosa. […] Um talento poderoso em ação."
— KATHERINE DUNN, AUTORA DE GEEK LOVE —
"[Pollock] não põe uma palavra sequer fora do lugar neste atualíssimo gótico americano de fazer cair o queixo."
— ELLE —
"Um catálogo sistemático do horror e da hipocrisia que apodrecem na sombra escura do sonho americano."
— THE PORTLAND MERCURY —
"[O romance] sugere uma nova categoria de ficção — o grotesco literário. Caracterização sutil: presente. Frases bem lapidadas: presentes. Doses generosas de assassinato e caos: presentes, presentes."
— THE DAILY BEAST —
"Brutalmente criativo. […] Pollock sabe como mergulhar os leitores numa cena e retirá-los de lá sufocando."
— THE NEW YORK TIMES BOOK REVIEW —
Ficha Técnica
Título | O Mal Nosso de Cada Dia
Autor | Donald Ray Pollock
Tradutor | Paulo Raviere
Editora | DarkSide®
Edição | 1a
Idioma | Português
Especificações | 304 páginas, capa dura
Dimensões | 16 x 23 cm
ISBN | 978-85-9454-186-4