A Netflix divulgou recentemente a data de estreia de sua mais nova produção, The Devil All The Time, longa protagonizado por Tom Holland (Homem-Aranha). Segundo o serviço de streaming, o filme irá estrear no dia 16 de setembro de 2020.
O filme é produzido por Jake Gyllenhaal (Donnie Darko) e conta com grande elenco da nova geração de atores, como: Bill Skarsgård (It – A Coisa), Sebastian Stan (franquia Capitão América e Vingadores), Robert Pattinson (só lembramos de O Farol), Haley Bennett (A Garota no Trem), Mia Wasikowska (Alice no País das Maravilhas), Eliza Scanlen (Objetos Cortantes), entre outros.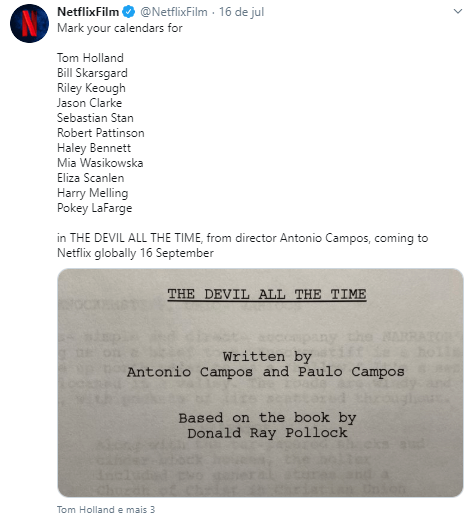 O longa é baseado no livro de Donald Ray Pollock, que recebe o nome em português de O Mal Nosso de Cada Dia, e será lançado em breve pela DarkSide Books®. A obra traz uma trama hiper-violenta, ambientada no pós-Segunda Guerra, repleta de personagens desagradáveis em um cenário devastador, cruéis o suficiente para cometerem crimes com a casualidade de quem troca de roupa. Mas isso não é tudo. Há muito mais por trás das manchas de sangue, da avareza e da mesquinharia: o desespero e as limitações de uma cidade pequena, a frustração de seus habitantes, a síntese de quem não equilibra luz e sombra dentro de si.
LEIA TAMBÉM: UM CLÁSSICO MODERNO: O PENSAMENTO DE IRVINE WELSH SOBRE PSICOPATA AMERICANO
O filme da Netflix é dirigido por Antonio Campos (Christine), que roteirizou a produção ao lado de Paulo Campos. Jake Gyllenhaal é um dos produtores, ao lado de Riva Marker (Beasts of No Nation) e Randall Poster (Carol).
Se você é apaixonado por histórias sombrias e sinistras, O Mal Nosso de Cada Dia é o som e a fúria da nova literatura. Feche os olhos e comece a rezar. Em breve, novidades do Outro Lado para os darksiders.