Thomas Olde Heuvelt, nasceu em 16 de abril de 1983, em Nijmegen, Holanda. Jovem escritor, ele vive em uma pacata cidade cercada por uma densa e sombria floresta. Os caminhos que ele precisa percorrer diariamente entre as folhas, moinhos e lagos o inspiraram a criar uma história macabra que, com sua originalidade e solidez, conseguiu tocar os corações assombrados dos mestres Stephen King, Joe Hill e George R.R. Martin.
Sempre apaixonado por livros, Heuvelt optou por estudar literatura inglesa e americana, curso que realizou na Radboud Universiteit Nijmegen e na Universidade de Ottawa, no Canadá, onde morou por meio ano. Em muitas entrevistas, o escritor já comentou que os heróis literários de sua infância foram Roald Dahl e Stephen King, que influenciaram a sua admiração pela ficção sombria e pelo terror. Mais tarde, ele descobriu também as obras de uma ampla gama de escritores contemporâneos, como Jonathan Safran Foer, Carlos Ruiz Zafón, Neil Gaiman e Yann Martel. Seu primeiro livro, De Onvoorziene (em holandês), foi escrito quando ele tinha apenas dezesseis anos, e publicado com uma pequena tiragem em 2002.
Em 2004, lançou a obra chamada PhantasAmnesia (em holandês), sua primeira pincelada no gênero do horror. Posteriormente, escreveu o conto The Boy Who Cast No Shadow, texto responsável por garantir múltiplos prêmios e indicações a Heuvelt, como o Paul Harland de melhor obra holandesa de ficção fantástica (2009 e 2012), e o Science Fiction & Fantasy Translation Awards, em 2012. A história também foi nomeada para o Prêmio Hugo de Melhor Noveleta em 2013. No ano seguinte, ele foi indicado ao World Fantasy Award com a obra The Ink Readers of Doi Saket (em holandês) e acabou vencendo o Hugo Fantasy Award em 2015 com o seu The Day the World Turned Upside Down.
No Brasil, Thomas Olde Heuvelt chegou pela DarkSide® Books com o seu romance de estreia, HEX, que foi traduzido para nove idiomas e publicado em catorze países, entre os quais EUA, França, China e Austrália. HEX se passa em uma cidadezinha chamada Black Spring, onde a assustadora bruxa Katherine aparece aleatoriamente para aterrorizar a vida dos moradores. Mas não pense que este é mais um livro clássico sobre bruxas, pois o terror aqui é contemporâneo. Mesmo com a atmosfera medieval da cidade, os cidadãos dela criaram um aplicativo e um site para registrar e divulgar as aparições da bruxa, algo perfeitamente plausível para os dias de hoje.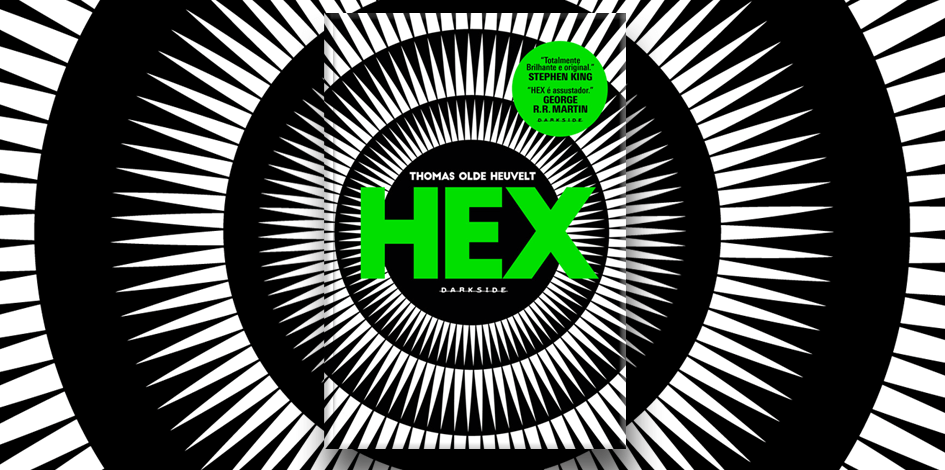 HEX chamou tanta atenção quando publicado que até o mestre do terror, Stephen King, twittou sobre o livro chamando-o de "algo brilhantemente original". Em entrevista ao blog Boca do Inferno, Heuvelt contou onde encontrou inspiração para a sua história macabra: "Principalmente com as histórias As Bruxas, de Roald Dahl, e A Bruxa de Blair. O primeiro me traumatizou quando criança, o segundo mexeu comigo quando adolescente. Desde então, eu quis escrever minha própria história de bruxa má."
Com costuras em seus olhos e correntes nos braços, Katherine aparece nos lugares mais improváveis quando bem entende, sussurrando a morte para quem chega perto o suficiente para ouvir. Assim como a Morte Vermelha, de Edgar Allan Poe, ela enfeitiçou a alma da cidade de forma que escapar não é uma opção: quem se afasta demais tem a mente invadida por pensamentos suicidas, e muitos não retornam para contar a história.
Apesar de se considerar um adorador de histórias sinistras e macabras, quando o assunto é a crença no sobrenatural, Thomas confessou em entrevista à VEJA não acreditar em tudo o que ouve por aí. Para ele, histórias de fantasmas e de possessões demoníacas parecem distantes demais de sua realidade, pois nunca compartilhou da mesma experiência (até hoje) e geralmente são originadas a partir de relatos indiretos. Ainda assim, o escritor acredita que o medo do desconhecido pode influenciar muito as pessoas. HEX, inclusive, levanta a questão de que a maldade humana muitas vezes pode ser instigada a partir desse medo.
LEIA TAMBÉM: 5 LIVROS DA DARKSIDE® PARA AMPLIAR O SEU ENTENDIMENTO SOBRE BRUXAS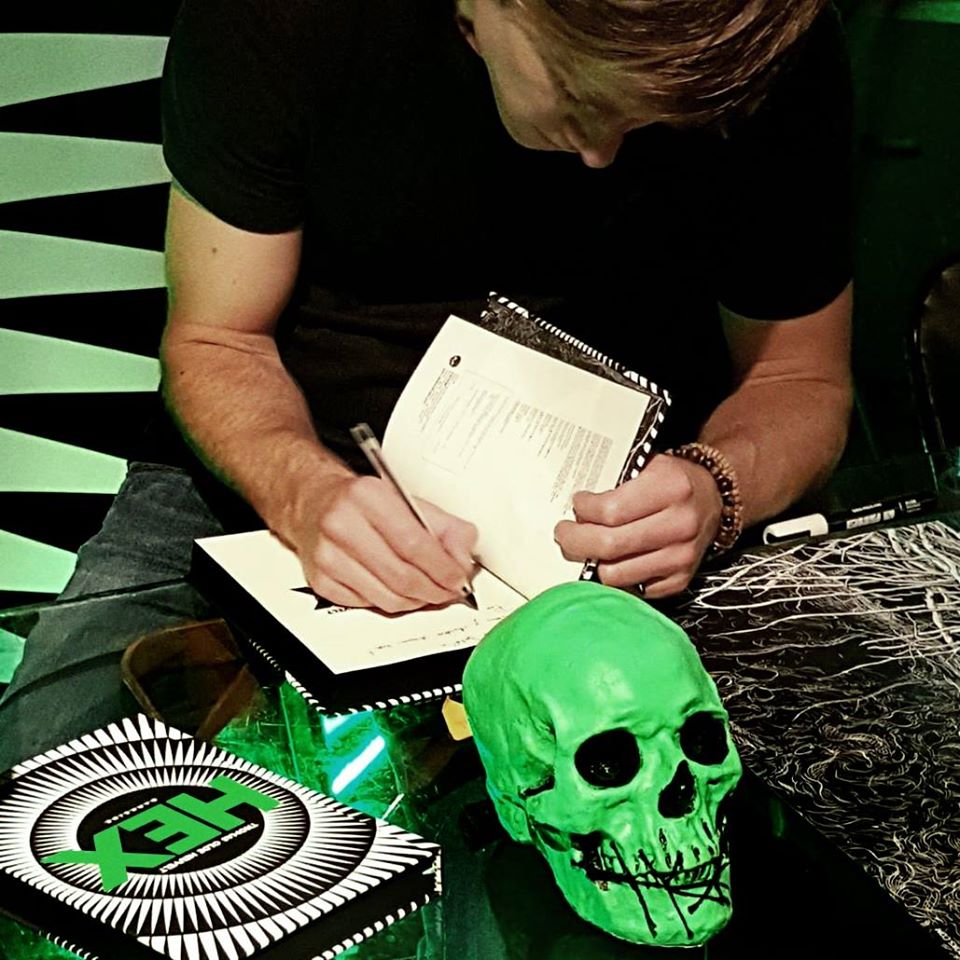 Thomas esteve no Brasil em 2018, na booktour promovida pela DarkSide, levando a maldição de Katherine por diversos estados do país. Você é fã de histórias sobrenaturais ou sobre bruxas? Então HEX é uma ótima opção de leitura.