Existem músicas que lançam verdadeiros feitiços em quem as ouve. Algumas com temas místicos, outras compostas e interpretadas por mulheres carregadas de misticismo, muitas destas composições podem ser ouvidas na playlist que a Caveira fez especialmente para celebrar a Coleção Magicae.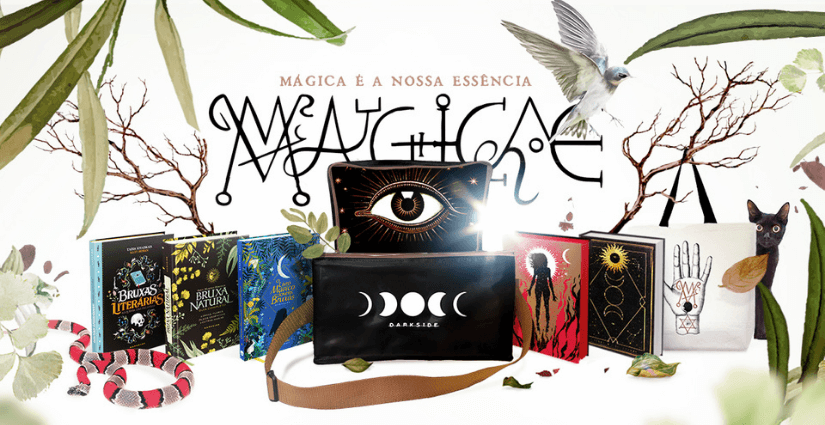 LEIA TAMBÉM: MAGICAE: A FORÇA ETERNA DAS BRUXAS
Por isso, prepare o altar e aumente o volume para partilhar a magia com todos nós através destas músicas e videoclipes bruxísticos:
1. "Shake it out", Florence + The Machine
And every demon wants his pound of flesh / But I like to keep some things to myself / I like to keep my issues drawn / It's always darkest before the dawn
(E cada demônio quer sua porção de carne / Mas eu gosto de manter algumas coisas para mim mesma / Eu gosto de manter as minhas questões escondidas / É sempre mais escuro antes do amanhecer)
2. "Willow", Taylor Swift
Life was a willow and it bent right to your wind (oh) / Head on the pillow, I could feel you sneaking in / As if you were a mythical thing
(A vida era um salgueiro que se curvou ao seu vendo (oh) / Com a cabeça no travesseiro eu pude sentir você chegando de fininho / Como se você fosse algo mítico)
3. "I put a spell on you", Nina Simone
I put a spell on you / 'Cause you're mine
You better stop the things you do / I ain't lyin' / No I ain't lyin'
(Eu lancei um feitiço em você / Porque você é meu
É melhor você parar com as coisas que faz / Não estou mentindo / Não, eu não estou mentindo)
4. "Frozen", Madonna
You only see what your eyes want to see / How can life be what you want it to be? / You're frozen / When your heart's not open
(Você só vê o que seus olhos querem ver / Como a vida pode ser só aquilo que você quer dela? / Você está congelado / Quando seu coração não está aberto)
5. "Seven Wonders", Fleetwood Mac
If I live to see the seven wonders / I'll make a path to the rainbow's end / I'll never live to match the beauty again / The rainbow's edge
(Se eu viver para ver as sete maravilhas / Eu farei um caminho até o fim do arco-íris / Eu nunca viverei para igualar tal beleza de novo / Do fim do arco-íris)
Curiosidade: Stevie Nicks cantou esta música em American Horror Story: Coven, a temporada dedicada a um coven de bruxas em Nova Orleans. As "sete maravilhas" seriam feitiços que bruxas precisariam cumprir para eleger sua "Suprema".
6. "Witch", The bird and the bee
Yes, I am a witch / And I have conjured you / For my bidding / And all my charms and all my accidents / Are all just instruments / To lock you up
(Sim, eu sou uma bruxa / E eu te invoquei / Para a minha oferta / E todos os meus encantos e todos os meus acidentes / São apenas instrumentos / Para te prender)
7. "Witch's rune", S.J. Tucker
Mother of the summer fields, / Goddess of the silver moon, / Join with us as power / builds! / Dance with us our witch's rune!
(Mãe dos campos de verão, / Deusa da lua de prata / Una-se a nós conforme o poder cresce! / Dance conosco a nossa runa das bruxas!")
8. "Ostara", Lisa Thiel
Praise to the Spring, Praise to all living things / Praise to the Maiden and the joy that she brings / Praise to the Earth let all her creatures now sing / Hope is renewed with the coming of the Spring
(Louvor à Primavera, Louvor a todos os seres vivos / Louvor à Dama e à alegria que ela traz / Louvor para que a Terra deixe todas suas criaturas cantarem agora / A esperança se renova com a chegada da Primavera)
9. "Reza", Maria Rita
Reza pra quem não crê, reza pra conquistar / Reza pra agradecer o dia que vai chegar / Reza é pra quem tem fé nas lendas que vêm de lá / Reza pra proteger tudo nesse lugar
10. "Wicked ones", Dorothy
This night ain't for the holy man with the holy plan / For the promised land / This night we got the evil hand / And the evil hand gonn' raise the dead
(Esta noite não é para o homem sagrado com o plano sagrado / Para a terra prometida / Esta noite temos a mão maligna / E a mão maligna vai levantar os mortos)
LEIA TAMBÉM: 10 BRUXAS PODEROSAS DA CULTURA POP