Em abril estreou na Netflix a nova série de animação The Midnight Gospel, desenho criado por Pendleton Ward (de Hora de Aventura) e Duncan Trussell, conhecido nos EUA por seu podcast The Duncan Trussell Family Hour. A animação de oito episódios foi inspirada no podcast de Trussell, no qual o apresentador — que também é roteirista e faz a voz do protagonista Clancy no desenho — entrevista pessoas sobre magia, meditação, ascensão espiritual, morte e diversos outros temas profundos.
Cada episódio de The Midnight Gospel contém aproximadamente 24 minutos e segue uma configuração semelhante: o personagem Clancy usa um simulador para se projetar em um novo universo, onde ele encontra um ser aleatório e o entrevista em seu Spacecast (podcast do espaço). Os diálogos da animação foram extraídos diretamente das conversas realizadas no podcast de Trussell, enquanto seus entrevistados são apresentados como personagens cativantes e carismáticos em formato de desenho. 
Um destes convidados é ninguém menos do que a nossa querida autora DarkLove, Caitlin Doughty. No sétimo episódio da série, chamado "Papo com a morte", Doughty — que na vida real é blogueira, escritora, youtuber e agente funerária — toma a forma da própria Morte e se encontra com Clancy por acaso, dentro da bolsa do personagem. Antes de realizar sua entrevista com o spacecaster, a Morte pede que Clancy a ajude a encontrar uma forma física, com a seguinte frase: "Descreva-me. Como a morte se parece para você?".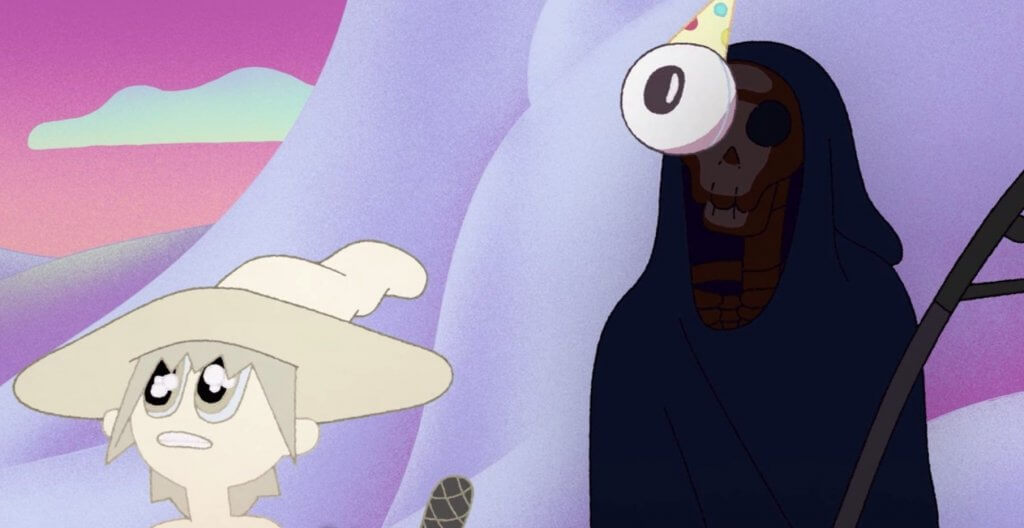 A partir daí, inicia-se um diálogo poderoso entre os personagens sobre as práticas da indústria funerária e as diferentes formas de se lidar com o luto, e tudo envolto por um universo bastante surreal que abusa da paleta de cores vibrantes e de imagens bizarras. Enquanto Clancy e a Morte dialogam com naturalidade sobre o tema, o protagonista descobre uma sala repleta de espelhos que refletem imagens de si próprio em momentos que lhe causaram arrependimento ou vergonha durante sua vida.  
LEIA TAMBÉM: PARA TODA A ETERNIDADE TE CONVIDA A VIAJAR DE MÃOS DADAS COM A MORTE
Grande defensora da quebra de tabu a respeito da morte, na vida real a agente funerária norte-americana possui diversos trabalhos sobre o assunto. Caitlin Doughty é escritora e mantém um canal no YouTube onde fala com bom humor sobre a morte e as práticas da indústria funerária. É também criadora da web série Ask a Mortician e fundadora do grupo The Order of the Good Death (que une profissionais, acadêmicos e artistas para falar sobre a mortalidade).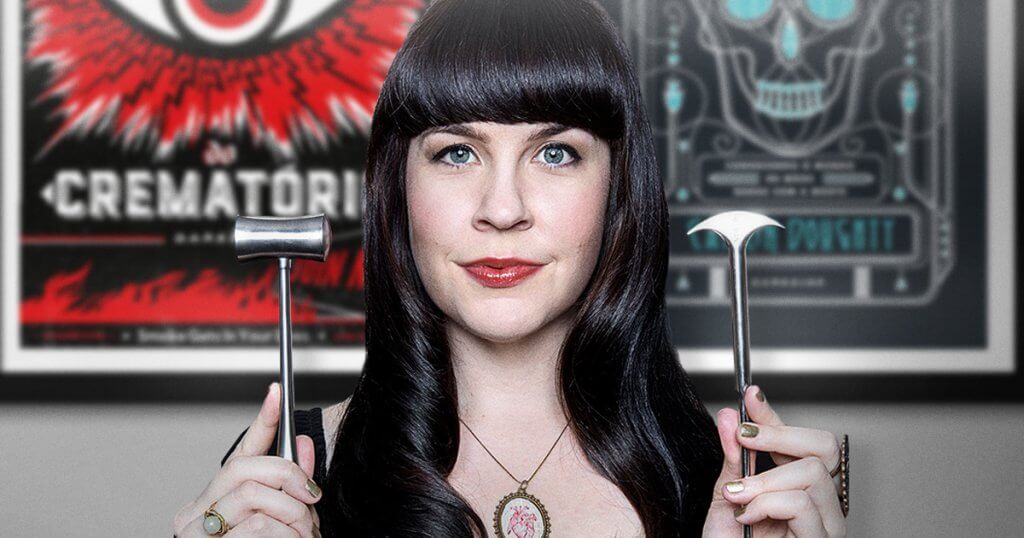 Pela DarkSide® Books, os darksiders conhecem a autora desde 2016, com Confissões do Crematório que reúne histórias reais do dia a dia de uma casa funerária, inúmeras curiosidades e fatos históricos, mitológicos e filosóficos; e mais recentemente com Para Toda a Eternidade, que é fruto de uma jornada global de Caitlin pelo mundo conhecendo como outras culturas lidam com o fim da vida. Saiba mais em caitlindoughty.com.
LEIA TAMBÉM: DOIS RITUAIS E FORMAS DIFERENTES DE LIDAR COM A MORTE