Distopias em que a sociedade é comandada por um ditador que dissemina o medo não são novidade no universo da fantasia. Porém, na terra de Zhal os próprios habitantes optaram por abrir mão de sua liberdade por medo e graças à paranoia difundida pelo Deus do Sussurro. Esté é o mundo concebido por Rick Remender em Seven to Eternity, uma graphic novel que teve seu primeiro volume lançado no Brasil pela DarkSide® Books.
LEIA TAMBÉM: SEVEN TO ETERNITY, UMA OBRA INSTIGANTE, CHEGA À DARKSIDE®
Em Seven to Eternity v.1: O Deus do Sussurro o leitor é apresentado ao universo improvável de Zhal, onde os habitantes parecem ter se acostumado ao medo constante provocado por um governo tirânico. Mas há ainda muitos rebeldes que se recusam a viver desta forma. A guerra se aproxima e isso coloca Adam, um cavaleiro do clã Osidis, em uma posição delicada, obrigando-o a tomar uma difícil decisão diante do conflito.
O roteirista Rick Remender – que também escreveu Tokyo Ghost – possui uma vasta experiência com quadrinhos fantásticos e passou uma década dedicado à criação de Seven to Eternity. Para conceber o mundo de Zhal, ele buscou não se deixar levar pelas tendências atuais da fantasia, como as sagas de Harry Potter e Game of Thrones.
Sua inspiração tem mais a ver com a ficção-científica O Incal, de Alejandro Jodorowsky e Moebius. Além disso, Remender afirma que Seven to Eternity também é uma homenagem à revista Heavy Metal Magazine.
Algumas influências de longa data também pipocaram na mente do roteirista enquanto ele estava imerso na concepção deste universo. As obras vistas e revistas por ele durante o processo envolveram Dune, O Senhor dos Anéis e, por diversão, algumas anotações do jogo de RPG Dungeons & Dragons escritas por ele quando estava na oitava série. Além disso, alguns filmes de faroeste também serviram de inspiração.
A importância das personagens para a descoberta do universo
Ao mesmo tempo em que desenvolvia o universo de Seven to Eternity, Rick Remender começou a trabalhar no seu herói, Adam. Ele foi essencial para solidificar e dar um caráter mais humano à história e à terra de Zhal. "A ideia foi criar um grande mundo com uma série de regras e limites que permitissem que explorássemos a nós mesmos. E daí isso foi reduzido a uma história bem pequena e bem humana", declarou Remender ao site de quadrinhos IGN ao se referir ao clã dos Osidis, que tinha sido excluído da civilização.
Para o roteirista, a redução desta dimensão foi importante para trabalhar melhor algo que nós temos que fazer todos os dias: comprometer-se. "Eu realmente gostei da ideia enquanto estava desenvolvendo o Adam, a história e as difíceis escolhas que ele precisa fazer. Eu me apaixonei pela noção de que se comprometer é uma parte tão completa de ser humano. Você se compromete com cada decisão que toma".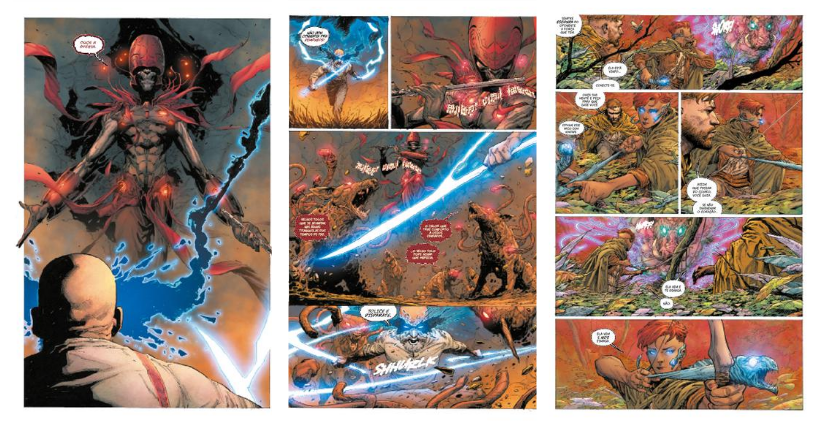 Os dilemas e os compromissos assumidos por Adam se tornaram a espinha dorsal da trama desenvolvida pelo roteirista. O fato de que nenhuma das escolhas impostas apresenta um caminho necessariamente bom ajuda a balizar aquilo com o que o personagem está disposto a se comprometer. Remender explica que estas escolhas são tão difíceis que até o leitor não terá certeza de que o protagonista tomou a decisão certa até que a história avance mais um pouco.
Outro personagem importante para a composição de Seven to Eternity é o seu antagonista: o Deus do Sussurro, que é um pouco diferente do que se espera de um vilão. Ele não é aquele deus monstruoso e assassino que deixa um rastro de destruição violenta por onde passa. Seu trunfo está nos dilemas que ele impõe aos seus inimigos. "O que é mais realista para o mundo em que vivemos e como as pessoas assumem o poder, manipulam e dominam? E é claro que é mais pela manipulação maquiavélica do que pela força bruta", defende o autor.
Um dos poderes do Deus do Sussurro consiste em ver os desejos das pessoas e saber aquilo que elas mais querem. Baseado nisso, ele faz uma proposta cuja recompensa é a concretização destes desejos. Se o indivíduo concordar, ele basicamente implanta uma larva na sua cabeça e esta pessoa se torna um dos servos dele. Ou seja, o vilão se baseia no livre-arbítrio de cada um.
Com este jeito maquiavélico de manipular e semear a discórdia, ele é capaz de dominar uma cidade inteira. "Este cara está apenas sentado em algum lugar controlando o mundo através de manipulações e mentiras", define Remender.
O trabalho visual de Jerome Opeña e Matt Hollingsworth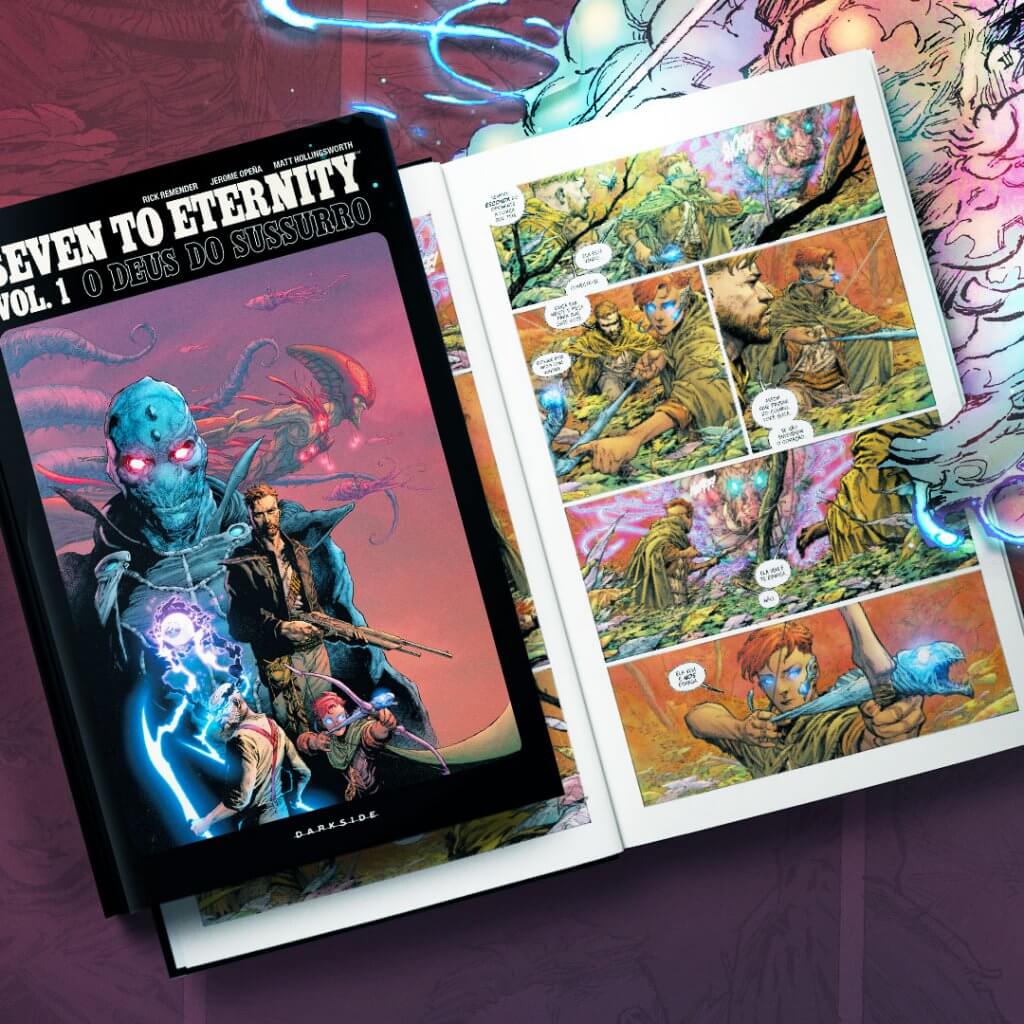 Para tornar o universo de Seven to Eternity em realidade, Rick Remender contou com a parceria dos ilustradores Jerome Opeña e Matt Hollingsworth. A princípio, a ideia de Rick e Jerome era fazer a HQ mais leve e em tons pastéis com inserções de hipercor. Com a adição de Matt ao time, o colorista teve liberdade para apresentar suas ideias. Matt também trabalhou na coloração de Tokyo Ghost e Wytches.
LEIA TAMBÉM: TOKYO GHOST: CONHEÇA OS ARTISTAS DE PESO POR TRÁS DA GRAPHIC NOVEL
Conforme Hollingsworth foi apresentando exemplos de suas ideias para a história, os dois se convenceram da genialidade do artista e lhe deram total liberdade criativa para colorir as páginas da história. "Matt é um participante envolvido no projeto. Ele não é apenas um pistoleiro contratado. Ele é um membro da equipe. E é por isso que você pode confiar nele para que ele faça o melhor trabalho possível ao colorir uma história em quadrinhos", declarou Rick.
Sobre o trabalho de Opeña, vale destacar que o design das personagens casa muito bem com o conceito criado por Remender e que sua atenção aos detalhes o tornam a estrela da HQ. Visualmente, ele define Zhal como uma mistura de A Torre Negra com Westeros de Game of Thrones e o Labirinto, de Jim Henson. O visual consegue ser encardido e bonito ao mesmo tempo. Cada ilustração tem uma textura visual que você quase consegue sentir.
Mais do que um convite à terra de Zhal e à imersão nos dilemas de seu protagonista, Seven to Eternity é uma daquelas obras que depois de ler você pode abrir novamente e ficar apenas admirando as imagens. Quase toda página é digna de ser emoldurada graças ao esforço coletivo de Remender, Opeña e Hollingsworth.