Nos anos noventa, toda locadora sediada no Brasil havia percebido que o horror era um grande negócio. Infelizmente, tal informação acabou esquecida por décadas pelos fomentadores da cultura brasileira, mas nesses anos dourados e tingidos de sangue havia horror em todas as gôndolas. Nos lançamentos, nos "mais alugados", havia horror entre os dramas, documentários e comédias. Havia horror nas bancas de jornais e na rede Globo. Agora, se o seu negócio era o horror que não chegava ao mainstream, só existia uma opção: uma boa videolocadora e um atendente de confiança. Uma parceirinha, um brotherzinho, muitas vezes o dono ou a dona do negócio que tinham a mesma paixão que você.
Outro detalhe sobre o horror e os grandes negócios, ele tinha um nome na frente: Stephen King.
LEIA TAMBÉM: AS MELHORES FACES DO REI DO HORROR
Algumas boas locadoras (e sim, a Firestar era uma delas) tinham uma prateleira inteira dedicada ao rei, e é aqui nosso ponto de partida para essa sexta-feira de "alugue três e só devolva na segunda", os filmes difíceis de encontrar de Stephen King.
Existe algo de encantador nas criações mais antigas do rei, e não são somente os personagens marcantes, a trama ou os atores ressuscitados que emprestaram seu talento aos diretores. King Old School ainda possuía uma alta dose de crítica social, uma dose letal de provocação e verdades indigestas que frequentemente exigiam uma análise mais aprofundada da obra. E o que poderia ser melhor que falar desse grande mestre? Falar de três deles, é claro. Stephen King, Robert Englund e Tobe Hooper.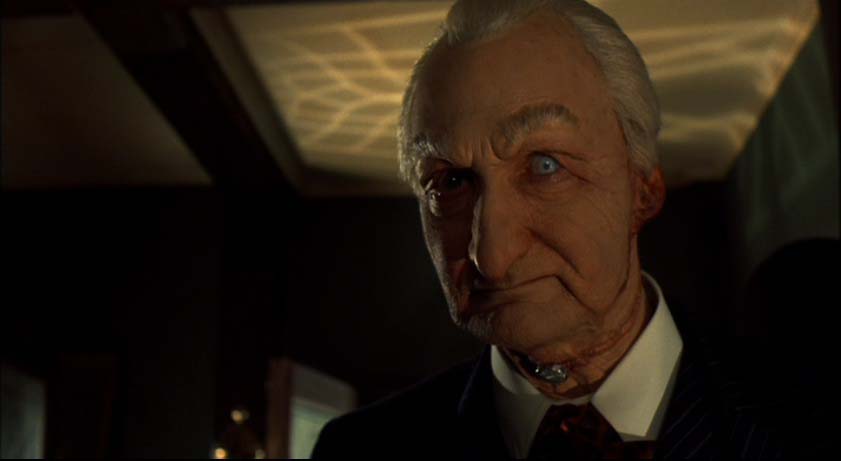 Em 1995 essas três mentes devastadoras se uniram para uma nova leitura do conto "A máquina de Passar Roupa", publicado por King em 1972 em uma coletânea de contos que ainda dorme em muitas cabeceiras (The Night Shift, Sombras da Noite aqui no Brasil). Mas por que, em nome do horror, eu deveria caçar esse filme? Eu explico em uma palavra: inusitado.
The Mangler (Mangler, O Grito de Terror — BR) começa com um acidente que poderia, sim, ocorrer em algumas montadoras de automóveis, mas o fato é que o local é uma lavanderia e ninguém tem um chassi chamado Christine. O assassino desse filme tão estranho quanto possível não é um carro envenenado que curte rock and roll como poderíamos esperar, ou uma paranormal que toma um banho de sangue de porco na sua formatura, não é nem mesmo um vampiro. The Mangler é uma máquina de dobrar lençóis.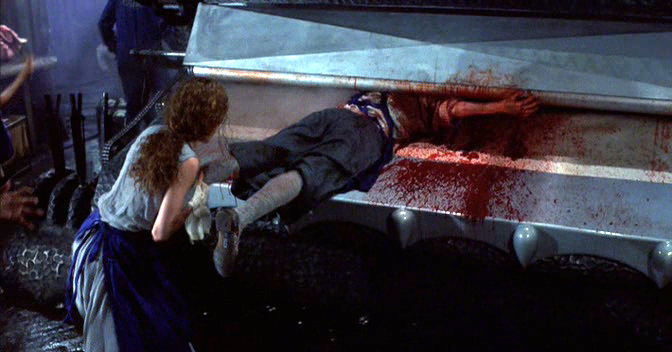 Na trama, nosso pesadelo preferido, Robert Englund, encarna um personagem terrivelmente icônico, William "Bill" Gartley, o dono da lavanderia que é uma espécie de tarado senil e rico que usa um aparelho de suporte nas pernas e tem uma traqueostomia. Os empréstimos de cinismo, humor nada convencional e insanidade que Robert fornece a Bill são por si só uma preciosidade, mas ainda temos toda essa caracterização que beira o absurdo. Outro personagem marcante (e esse oscila entre canalha e homem bom) é o encarregado da lavanderia, George Stanner. Interpretado por Demetre Phillips, ele é a lata do Stephen King com barba.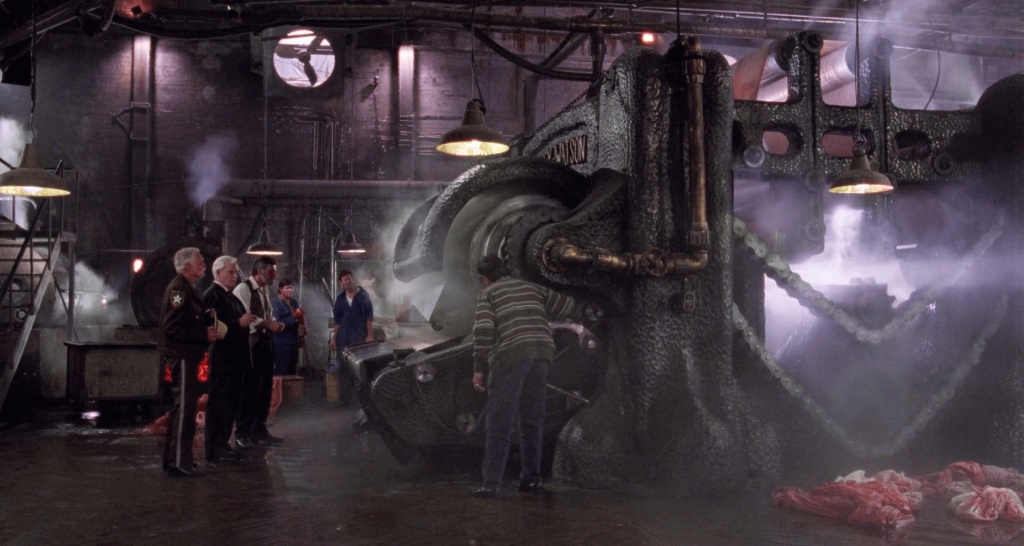 Falando novamente em King, algo bastante comum nos primeiros textos do autor, e que se manteve fiel nas mãos de Hooper, foi a exposição e crítica ao machismo, assédio e às relações de trabalho exploratórias. Stephen King é um homem do Maine, um trabalhador incansável, e Tobe Hooper é reconhecido como um dos cineastas de maior capacidade de crítica social no gênero horror. Com uma olhada mais aprofundada, notamos como "a máquina" é o verdadeiro vilão, como a indústria e os líderes fabris são, de fato, o alvo a ser atingido nesse filme. Outro ponto super interessante é a humanização e demonização das máquinas. Não bastasse "o triturador", nós também temos um frigorífico assassino, e se isso não for o bastante temos essa espécie de "transferência do mal" entre equipamentos. Sim, King mistura magia pesada com demonologia e bruxaria, e Tobe Hooper faz emergir um gore extremo que já não se vê mais por aqui.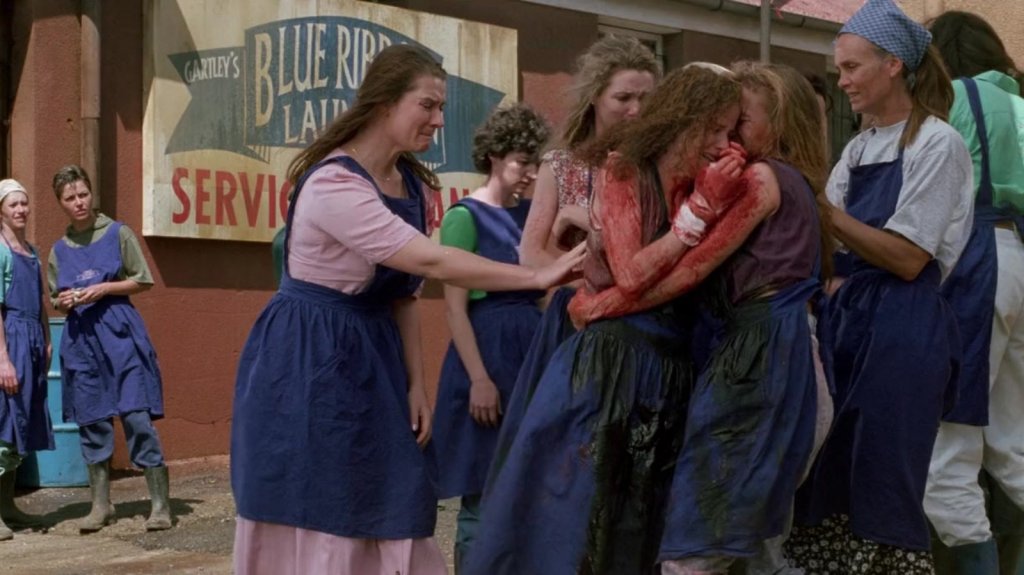 Apesar das críticas e avaliações nada generosas, revisitar ou ser apresentado a esse thriller sobrenatural é um privilégio, e certamente irá atender a todos aqueles que entendem que um filme é um produto de seu tempo, e que certas produções só conseguem receber o devido crédito décadas depois de seu lançamento. Temos alguns clichês aqui e ali, muitos exageros e passagens nada críveis, mas não estamos aqui para assistir a um telejornal, não é mesmo? O que faz a diferença nesse filme é outro detalhe, algo que a classe trabalhadora mais "pesada" entende imediatamente. As máquinas, as grandes e ancestrais máquinas com suas dezenas de quilos, engrenagens e correntes são monstros à espreita de um erro, de um pequeno descuido que terminará por saciar sua sede de sangue. Se você por acaso já operou algo perigoso em menor escala, que seja uma serra de qualquer tipo, um torno, ou mesmo uma tupia laminadora (usada em madeira) vai saber do que estou falando.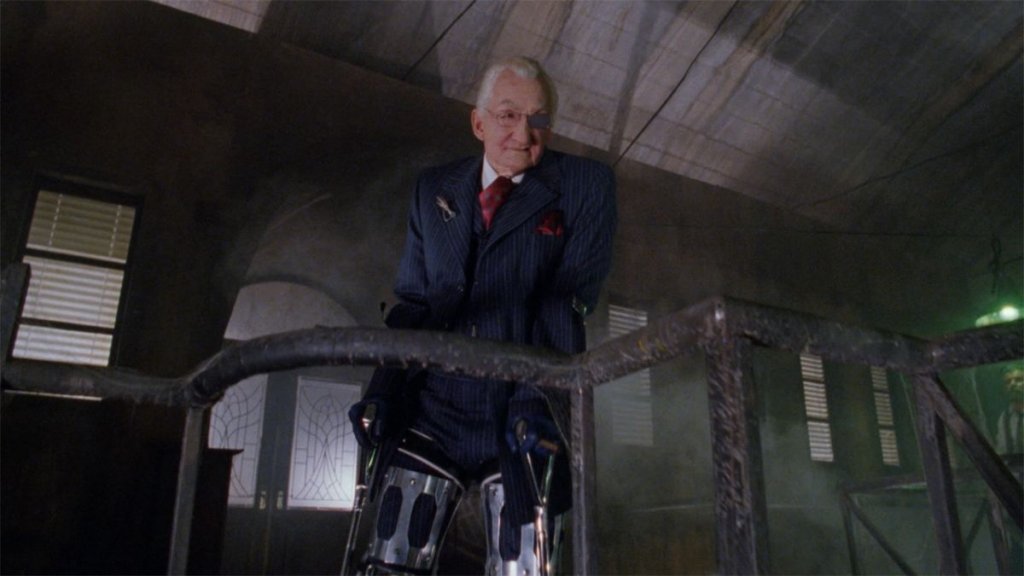 Estejam avisados novamente que The Mangler: O grito de Terror é um filme que se preocupa bem pouco em ser politicamente correto, o que colocará em xeque três grandes pilares da civilização ocidental: "deus, país e a lei" (nem precisamos falar em família). Mas se a transgressão é a sua escolha (assim como é a minha), vá sem medo. Apanhe um pouco de beladona, um livro de magia antiga, adicione uma tonelada de metal pesado, parafusos e abusos físicos e psicológicos e leve ao forno por 666 segundos.
Oh, e não esqueça do sangue. Muito sangue!
LEIA TAMBÉM: 10 CURIOSIDADES SOBRE STEPHEN KING