Nascido e criado no estado de Ohio, onde vive até hoje, o escritor Donald Ray Pollock foi se dedicar à literatura depois de décadas de trabalho em fábricas, estradas e caminhões. O salário era decente, segundo ele, mas ele queria fazer outra coisa. "Foi esse o objetivo inicial e só continuei seguindo adiante", afirma, nesta entrevista exclusiva ao DarkBlog. 
Seu primeiro romance, O Mal Nosso de Cada Dia, publicado pela DarkSide® Books, chega às telas nesta quarta, 16 de setembro. Uma produção original Netflix, a adaptação cinematográfica do livro conta com direção do brasileiro Antonio Campos (Afterschool e The Sinner), produção do ator Jake Gyllenhaal e um elenco cheio de estrelas de Hollywood, protagonizado por Sebastian Stan (Capitão América), Tom Holland (Homem-Aranha), Robert Pattinson (O Farol), Bill Skarsgard (It: A Coisa), Mia Wasikowska (Alice no País das Maravilhas) e Eliza Scanlen (Objetos Cortantes). O autor também participa da produção emprestando sua voz para o narrador da história.
LEIA TAMBÉM: THE DEVIL ALL THE TIME: DESCUBRA QUEM É QUEM NA NOVA PRODUÇÃO DA NETFLIX
Na obra, Pollock constrói, com maestria, uma trama hiper-violenta, ambientada no pós-Segunda Guerra, repleta de personagens desagradáveis em um cenário devastador, cruéis o suficiente para cometerem crimes com a casualidade de quem troca de roupa. Mas isso não é tudo. Há muito mais por trás das manchas de sangue, da avareza e da mesquinharia: o desespero e as limitações de uma cidade pequena, a frustração de seus habitantes, a síntese de quem não equilibra luz e sombra dentro de si.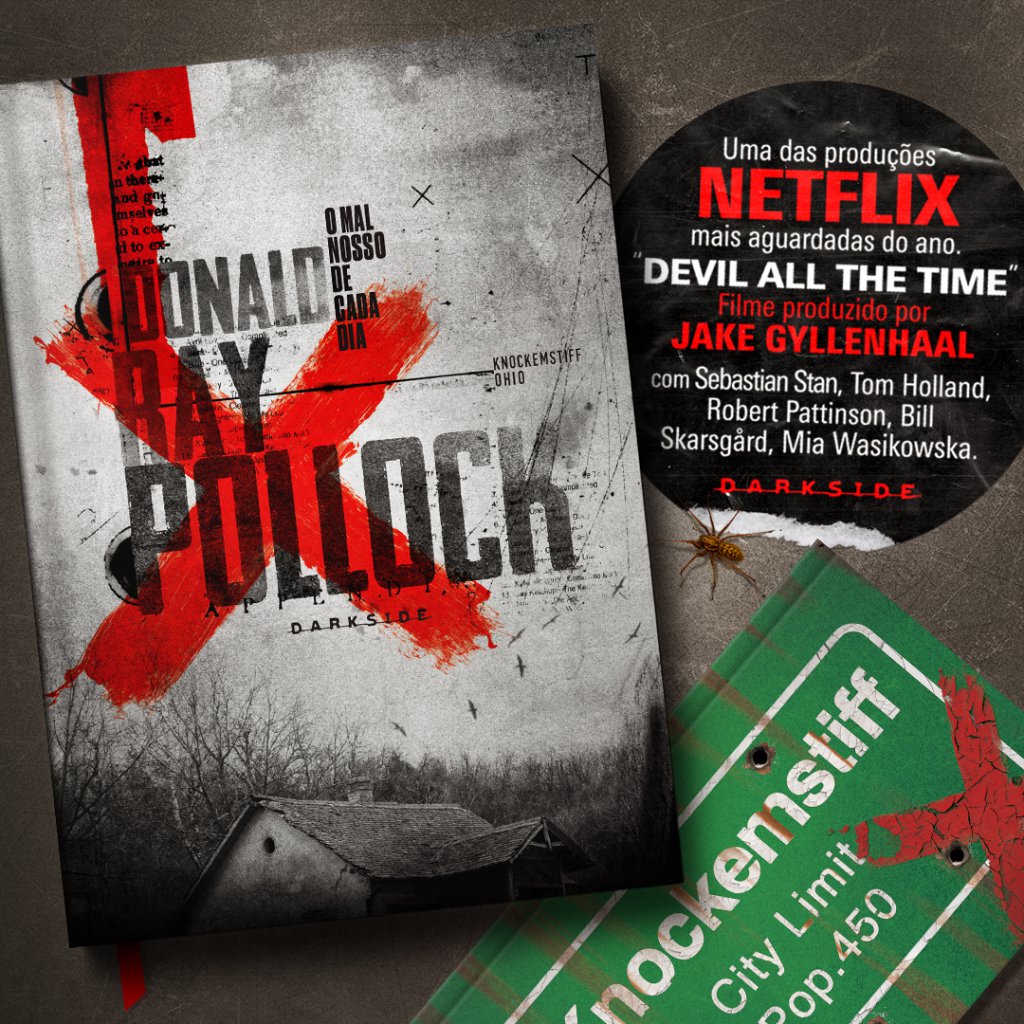 LEIA TAMBÉM: O MAL NOSSO DE CADA DIA É A FÚRIA DA NOVA LITERATURA
A seguir, o autor – que está finalizando sua quarta obra ambientada em seu estado natal –, comenta a importância da leitura desde criança, o papel da religião em sua obra e de como a literatura pode transformar as pessoas, apesar do seu pessimismo generalizado sobre o futuro da humanidade.
DarkSide: Em um universo peculiar de fábricas, estradas e caminhões, em que momento apareceu a sua conexão com a literatura e o processo de escrita?
Donald Ray Pollock: Sobre como cheguei até aqui, sempre gostei muito de ler, mesmo ainda criança, e este provavelmente é o "ingrediente" mais vital para um escritor iniciante. O que quero dizer é que, se você não ama os livros, nem se incomode em tentar escrever um. Trabalhei em fábricas por mais de trinta anos, e o salário era decente, mas, por fim, comecei a pensar que eu gostaria de tentar algo além do trabalho braçal antes de chutar o balde. Então decidi tentar aprender a escrever contos. Foi esse o objetivo inicial e apenas continuei seguindo em frente.
D: O mal tem um protagonismo em sua obra, mesmo que por vezes ele apareça como uma falta de opção para alguns dos seus personagens. Nos últimos anos, emergiram novas formas do mal, ou ele apenas ganhou outros disfarces na mente humana?
DRP: Em primeiro lugar, vamos deixar claro: eu não sou nada "filosófico". Com isso, quero dizer que nem todos os escritores têm respostas para as grandes questões, ou até mesmo para as questões menores, e eu sou um deles. Porém, quanto às novas formas do mal que emergiram, talvez pareça assim pelo fato de estarmos tão "conectados" ultimamente e, portanto, mais atentos e conscientes. Duvido que seja possível superar a maldade dos ditadores do século XX, embora eu aposte que Trump seria páreo duro para todos eles, se ele tivesse uma chance.
D: A religião tem um papel importante e controverso em O Mal Nosso de Cada Dia. Como vê essa proximidade entre a religião e os desejos mais cruéis dos homens?
DRP: Muitos pensam que provavelmente a religião surgiu como um método de controlar as pessoas a partir do momento em que começamos a viver em grupos, para tentar controlar e reprimir os mais desordeiros e violentos. Assim, ela sempre esteve conectada com esses "desejos cruéis", de alguma maneira.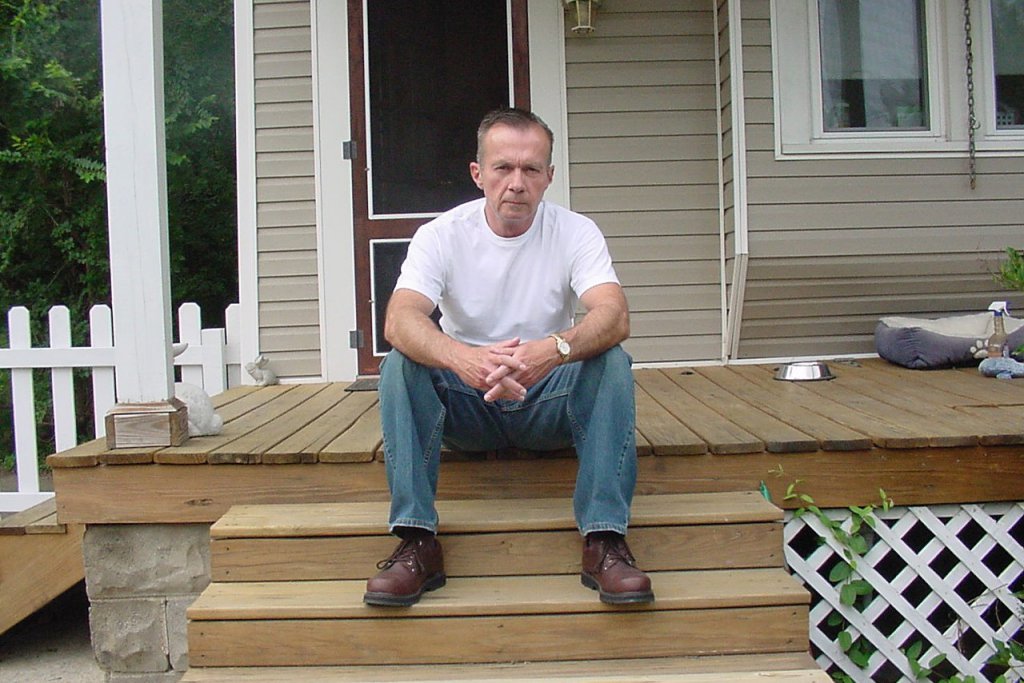 D: Somos dotados de desejos reprimidos, loucura, obsessões e vingança, mas o sentimento de sobrevivência floresce em cada página do romance. A literatura pode transformar um sobrevivente?
DRP: Gostaria de pensar que sim. Ou, ao menos, a literatura nos mostra uma maneira melhor de viver. Claro, muito disso depende dos livros que você lê. Dado o meu pessimismo generalizado sobre o futuro da humanidade, o meu está muito aquém da categoria dos "esperançosos".
D: Em seus livros, você expande cada vez mais o seu escopo espacial e temporal. Em Knockemstiff, há um recorte muito específico, que é expandido em O Mal Nosso de Cada Dia e The Heavenly Table. Esse recorte será expandido ainda mais em seus próximos livros?
DRP: O livro em que estou trabalhando agora se passa inteiramente em Meade, Ohio, ao longo de mais de vinte anos, então talvez se estenda temporalmente, mas não espacialmente. Espero terminá-lo nas próxima duas ou três semanas.
D: Você já afirmou que "Quando era jovem eu só pensava em sair fora. Agora não me vejo fora daqui". O que mudou desde então que o fez mudar de ideia?
DRP: Eu envelheci!
LEIA TAMBÉM: CONHEÇA O INTERIOR DE OHIO PELOS OLHOS DE DONALD RAY POLLOCK
D: Você disse certa vez que começou lendo e copiando contos de autores como Flannery O'Connor e Barry Hannah como um exercício de estilo. Entre suas leituras e descobertas mais recentes, quais autores nos recomendaria a conhecer mais profundamente?
DRP: Devo admitir que não leio muita ficção nova. Há duas razões para isso: primeira, não quero ser influenciado por eles, ou ficar tentado a roubá-los! E, segunda, há muitos escritores antigos, de Shakespeare a Jim Crace, que eu ignorei e não li quando era mais jovem, e estou tentando e estou tentando compensar o tempo perdido, por assim dizer. Mas é claro não há como cobrir nem mesmo uma fração de tudo o que está e vem sendo publicado. Porém, tudo que é possível fazer é continuar virando as páginas e dar o seu melhor.