A Geeked Week, evento anual que apresenta as maiores apostas da Netflix, continua trazendo novidades para os fãs de terror e, durante a programação, um anúncio pegou muita gente de surpresa: pela primeira vez a plataforma irá adaptar obras de Junji Ito, o mestre do horror japonês.
Junji Ito Maniac: Japanese Tales of the Macabre é a coletânea que trará 20 de suas obras — selecionadas pelo próprio autor — para a plataforma em 2023. Durante o anúncio, Ito apresentou os primeiros esboços e revelou 3 histórias que já estão sendo adaptadas: Tomie, Souichi e The Hanging Balloons.
LEIA TAMBÉM: GEEKED WEEK: AS NOVIDADES DA NETFLIX PARA OS DARKSIDERS FICAREM DE OLHO
"Todos os talentosos animadores trabalhando nessa série estão colocando seus esforços para animar minhas histórias, mal posso esperar para ver como eles pegarão meus personagens e os reimaginarão em um estranho e novo mundo."
Tomie, uma das histórias mais famosas de Junji Ito, foi sua primeira obra ser publicada, em 1987. Desde então, tem sido reconhecido como um dos maiores artistas contemporâneos dos mangás de terror. É autor da série Uzumaki, que já foi adaptada para o cinema, e Gyo, transformada em longa de animação. As influências de Ito incluem os artistas de mangá de horror clássico Kazuo Umezu e Hideshi Hino, assim como os autores Yasutaka Tsutsui e H.P. Lovecraft.
LEIA TAMBÉM: JUNJI ITO NA BIENAL DO LIVRO 2021
No vídeo é possível ver algumas de suas obras sobre a mesa, o que podem ser pistas das próximas adaptações. Dentre os mangás, está Fragmentos do Horror, publicado pela DarkSide® Books.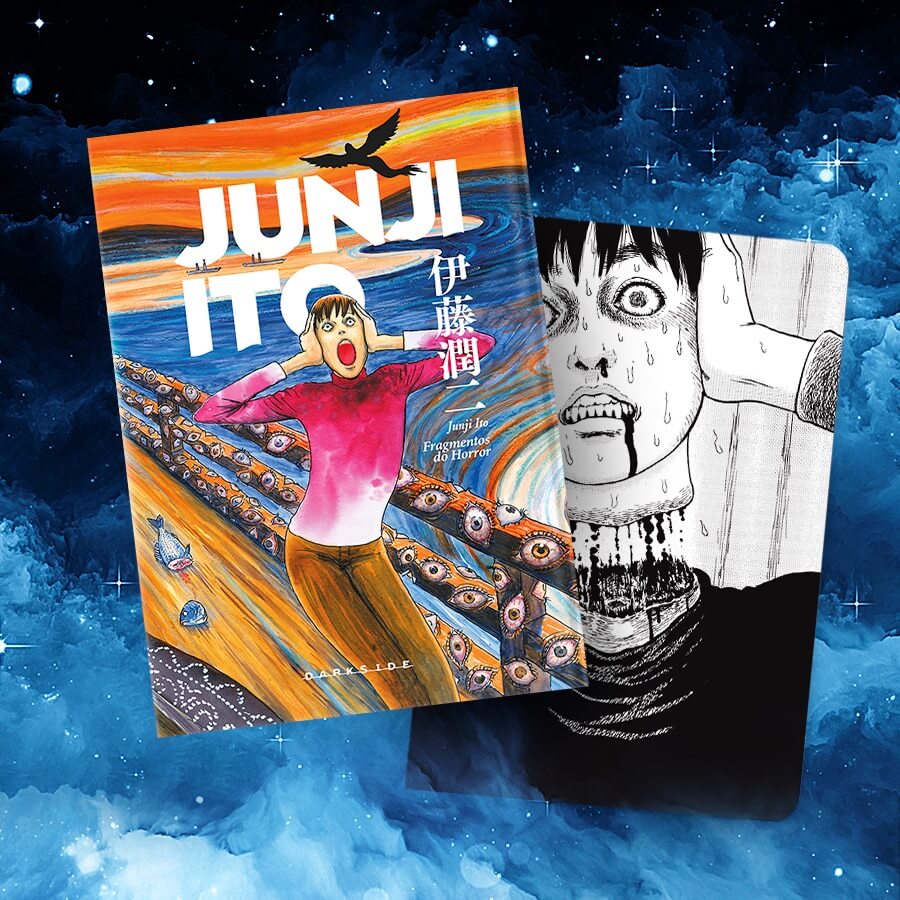 Fragmentos do Horror é uma coleção de histórias curtas, perfeitas para quem quer experimentar o que essa mente tão delirante é capaz de produzir. Ito-san oferece ao leitor nove encontros com o desconhecido. Entre as histórias da coletânea, temos uma mansão velha de madeira que gira sobre seus habitantes. Uma turma de dissecação com um assunto nada comum. Um funeral em que os mortos definitivamente não são postos para descansar. Variando do aterrorizante ao cômico, do erótico para o repugnante, essas histórias apresentam o retorno de Junji Ito há muito aguardado para o mundo do horror.
LEIA TAMBÉM: JUNJI ITO E NAGABE: TERROR E LIRISMO NO MANGÁ