Por Romeu Martins
Entre as muitas, variadas e profundas qualidades de Machado de Assis, uma das mais festejadas sempre foi a forma com que ele lidava com a ironia. Por isso mesmo, é bem provável que não escaparia à pena de nosso maior prosador as coincidências internacionais que marcaram o mês de junho de 2020.
Pois foi logo no início do mês, no dia 2, que foi lançada a mais recente versão para o inglês de um de seus melhores romances. Memórias Póstumas de Brás Cubas, ou melhor dizendo, Posthumous Memoirs of Brás Cubas: A Novel, foi publicado por um selo dedicado a clássicos e recebeu tradução de Flora Thompson-DeVeaux, brasilianista da Brown University (a mesma instituição que reúne o acervo de cartas e manuscritos de H.P. Lovecraft, aliás), que se dedicou por cinco anos a tal tarefa, três deles morando no Brasil. O detalhe que mais chamou a atenção neste lançamento foi que sua primeira tiragem se esgotou no mesmo dia. Sim, em menos de 24 horas, todas as cópias disponíveis foram vendidas.
LEIA TAMBÉM: ENTREVISTA COM ROMEU MARTINS, ORGANIZADOR DA ANTOLOGIA MEDO IMORTAL
Certamente ajudou bastante para que tal fenômeno editorial ocorresse o fato de o prefácio da edição ter sido publicado como ensaio na influente revista The New Yorker naquele mesmo dia. "Redescobrindo um dos livros mais inteligentes já escritos" foi o título do texto de autoria de Dave Eggers, cujo primeiro parágrafo é este:
"A inteligência pula séculos e hemisférios. Não acumula poeira e, quando bem executada, nem envelhece. Memórias Póstumas de Brás Cubas, de Joaquim Maria Machado de Assis, é um desses casos. Há muito esquecido pela maioria, é um dos livros mais inteligentes, divertidos e, portanto, mais vívidos e perenes já escritos. É uma história de amor – muitas histórias de amor, na verdade –, uma comédia de classes, costumes e ego, uma reflexão sobre uma nação e uma época, e é um olhar inflexível sobre a mortalidade ao mesmo tempo em que é uma exploração íntima da própria narrativa. É uma obra-prima brilhante e uma leitura divertida, mas, por nenhuma boa razão, praticamente não foi lido em inglês no século XXI."
A ironia da situação mencionada anteriormente é que a redescoberta nos EUA de um escritor deste porte, um brasileiro negro nascido quando o fim da escravatura era um sonho distante meio século ainda, tenha se dado logo agora. Não apenas no mês de seu aniversário, comemorado no dia 21, mas também no mesmo junho em que aconteceram as maiores manifestações antirracistas daquele país em muitas décadas, como repercussão do covarde assassinato do cidadão negro George Floyd no dia 25 de maio, na cidade americana de Mineápolis. Pelo menos desde os anos de 1960 não se via nada remotamente parecido por lá, e o alcance do movimento Black Lives Matter pode ser medido em escala mundial.
LEIA TAMBÉM: REDESCOBRINDO MACHADO DE ASSIS: UM INTELECTUAL NEGRO
A inteligência da obra de Machado de Assis não é novidade para os leitores da Darkside Books. Não foi à toa que o escritor tenha sido o escolhido para abrir a primeira antologia nacional do selo Medo Clássico: Medo Imortal, lançada pela Caveira em 2019. Tão pouco se deu por acaso a escolha de um dos maiores destaques daquele livro, um conto que na ocasião foi apresentado desta maneira:
"'Pai Contra Mãe', compilado originalmente no livro Relíquias da Casa Velha, de 1906, pode além de tudo ser considerado uma resposta aos críticos que acusam o neto de escravos alforriados, nascido na pobreza e criado no Morro do Livramento, de ter manifestado poucas vezes em sua obra a respeito da monstruosidade da escravidão. Trata-se de um dos retratos mais pungentes e dramáticos do tema, que é capaz de evocar o mais puro horror sem a necessidade de apelar ao sobrenatural."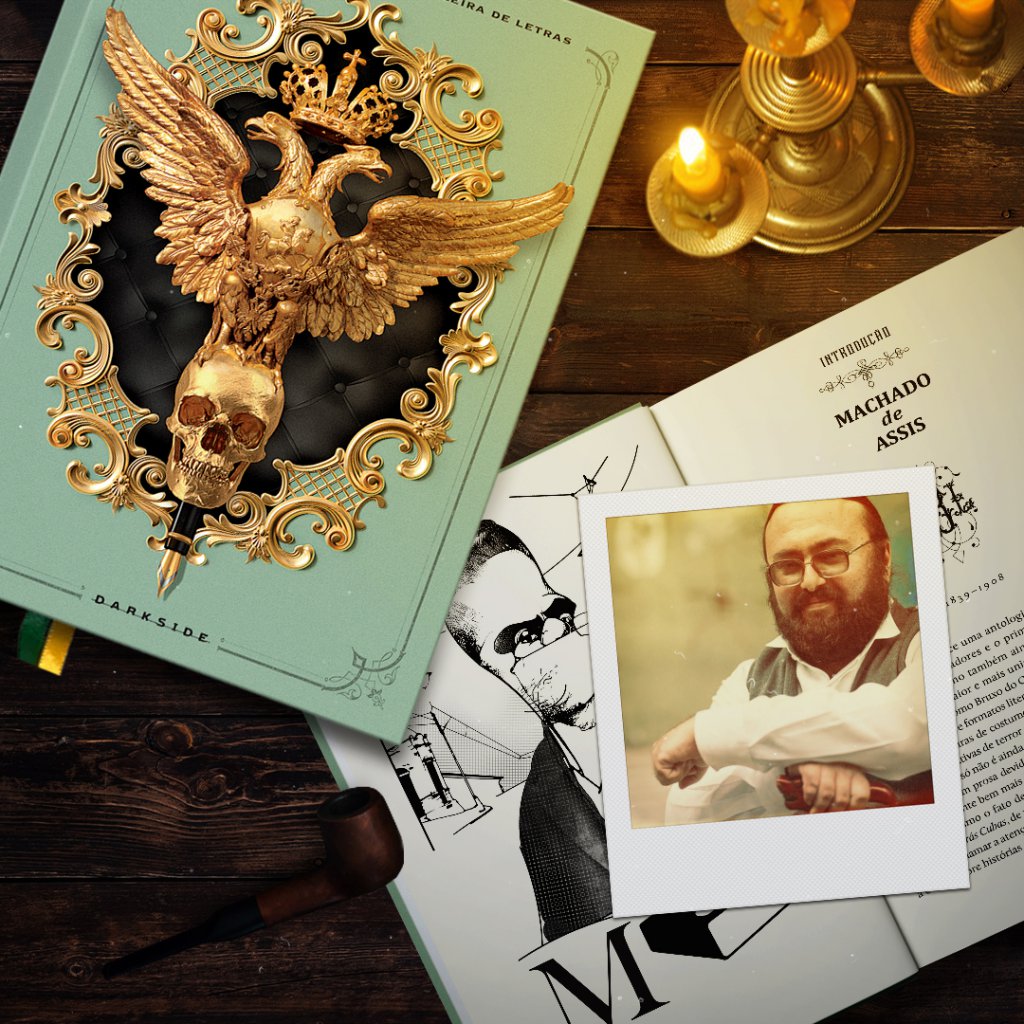 Vidas negras importam. A inteligência importa. Viva Machado de Assis, aos 181 anos e sempre.
Romeu Martins é jornalista, escritor e quadrinista. Foi o organizador da antologia Medo Imortal, para a Darkside Books e recentemente roteirizou uma adaptação para os quadrinhos do conto A Cor que Caiu do Espaço, de H. P. Lovecraft.