Como sabemos, o horror possui muitos pais e muitas mães, e aqui podemos citar gênios da escrita do calibre de Edgar Allan Poe, H. P. Lovecraft, Bram Stoker, Mary Shelley, Richard Matheson e Anne Rice. No cinema, a lista fica ainda maior, e logo encontraremos Alfred Hitchcock, Dario Argento, José Mojica Marins, Rod Serling, George A. Romero, Brianne Murphy, Wes Craven, Lucio Fulci, John Carpenter, Debra Hill, Sharron Miller, Gabrielle Beamont e David Cronenberg (e vamos parar por aqui porque a lista de criadores, roteiristas e diretores é imensa).
LEIA TAMBÉM: LANÇAMENTO: TOM SAVINI: VIDA MONSTRUOSA
Amamos e respeitamos todas essas mentes perturbadoras e iluminadas, mas cá entre nós, quando pensamos em horror, muitas vezes o que nos salta à mente é o elemento "gráfico". Corpos esfolados, deformados, desmembrados, perfurados, rasgados, golpeados, derretidos e, porque não dizer: cabeças explodidas. Sim, se você evocou algumas dessas belas imagens em seu âmago, provavelmente trouxe um nome junto a elas: Tom Savini.
O gênio dos efeitos de maquiagem, ator, escritor, diretor, professor e mestre do horror nasceu em 3 de novembro de 1946 em Pittsburgh, Pensilvânia, nos Estados Unidos. Segundo Savini, sua inspiração inicial para o trabalho no horror emergiu ainda na infância, depois de se encantar com O Homem das Mil Caras (1957), drama protagonizado por James Cagney. Nessa fase, Savini começou a testar possibilidades de maquiagem por sua conta, enquanto também praticava atuação com seus amigos.
Posteriormente, Savini começou seus estudos na Point Park University, mas precisou interromper tudo para servir o exército americano, como fotógrafo de combate, durante a Guerra do Vietnã. O que poderia destruir muitas mentes, acabou por fortalecer a de Savini, e as imagens brutais e chocantes que ele presenciou e documentou ajudaram a forjar a estética extremamente realista de seu trabalho.
Com seu talento, muito estudo e essa bagagem de realidade, Savini se tornou rapidamente conhecido por seu trabalho inovador no campo de efeitos especiais de maquiagem. A consolidação chegou ao lado do pai dos zumbis, George A. Romero, em Despertar dos Mortos — trabalhando com um orçamento digno de sua imaginação, Savini imprimiu em celulose sua marca característica de membros decepados, facadas na cabeça, mordidas, tiros e "extração de tripas".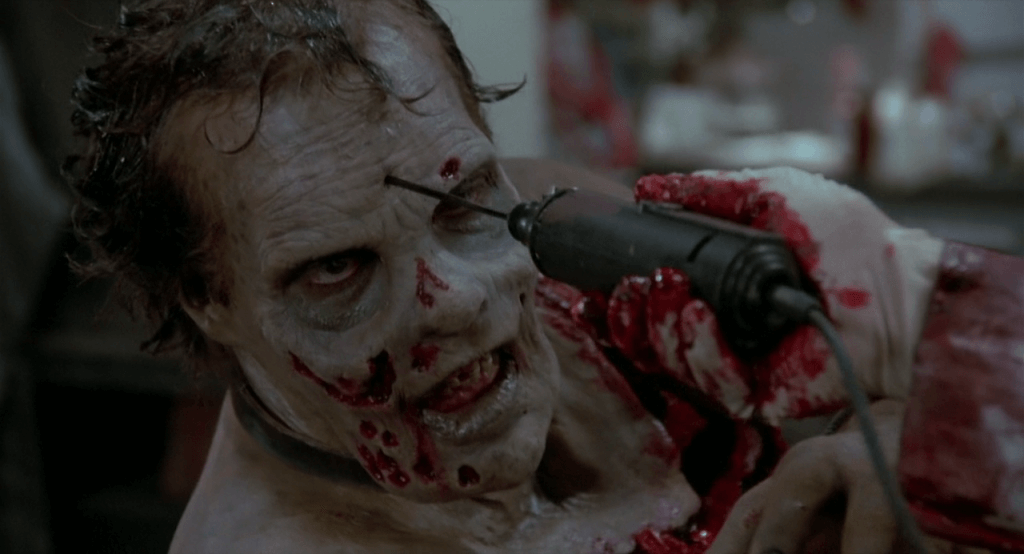 Além de promover toda carnificina técnica possível entre os mortos-vivos, Savini também atuou nos filmes de Romero, e foi o único ator a repetir um papel nos filmes desse universo (como o motociclista "Blades" em Despertar dos Mortos e como "Machete Zombie" (ou Zombie "Blades") em Terra dos Mortos.
Notoriamente, a maioria dos personagens que Savini interpretou em seu começo na dramaturgia era de motociclistas (ou se pareciam com motociclistas). Outro exemplo foi Morgan em Cavaleiros de Aço (1981), de George A. Romero (que também tem uma participação icônica de Stephen e Tabitha King comendo um burgão na arquibancada). Em 1996, Savini também interpretou o motociclista vampiro "Sex Machine" no filme de Quentin Tarantino/Robert Rodriguez, Um Drink no Inferno.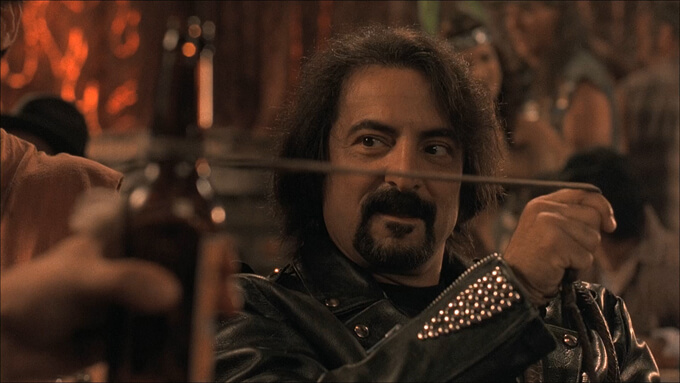 Longe das motos, Savini nos presenteou com uma pequena participação como professor no vídeo do Twisted Sister — no qual ele se transforma em Alice Cooper — para a música "Be Chrool to Your Scuel" (esse videoclipe de 1985 é absolutamente genial!).
Em Planeta Terror (2007), decidiram colocar um uniforme de polícia no Tom (e ficou bom do mesmo jeito). Com tudo isso na balança, uma das mais marcantes participações de Savini como ator continua sendo a do filme O Maníaco (1981), em que Tom não é um motociclista, mas tem sua cabeça explodida por uma espingarda dentro de um carro, um clássico!
Contribuindo em muitos clássicos do cinema de horror, esse mestre emprestou seu "sangue" a mais de cinquenta filmes, mas vale destacar alguns que se tornaram inspiração a muitas outras criações, como Sexta-feira 13 (partes 1 e 4), o já mencionado O Maníaco, Chamas da Morte, Creepshow e O Massacre da Serra Elétrica 2.
LEIA TAMBÉM: TOM SAVINI: O MESTRE DAS MAQUIAGENS DOS FILMES DE TERROR
Como diretor, Savini dirigiu episódios da série de televisão sindicada Galeria do Terror, o remake colorido de 1990 de A noite dos Mortos-Vivos e "House Call", o piloto da série proposta The Chill Factor. Em 2011, participou de The Theatre Bizarre com "Wet Dreams". Em 2019, Savini voltou ao universo de Creepshow no sexto episódio da série.
Passando adiante um pouco de sua habilidade, Savini dirige os programas de Maquiagem de Efeitos Especiais e Filmes Digitais na Pensilvânia, e é autor de vários livros sobre efeitos especiais, incluindo Grande Illusions I e II (1983, 1994) e Bizarro! (1984), que detalham a produção e o funcionamento mecânico de muitos de seus famosos efeitos cinematográficos. Ah, já ia quase esquecendo: a máscara de O Telefone Preto, adaptação do conto original de Joe Hill (e os Kings atacam novamente…), também descende da imaginação de Tom Savini.
Ativo nas redes sociais Instagram e Twitter, Savini muitas vezes é apenas um desses caras legais pra caramba, que posta fotos inacreditáveis, inusitadas e engraçadas — e tem amigos pra lá de interessantes. Um deles é Doug Bradley (nosso eterno Pinhead), a talentosíssima artista do horror Steph Sciullo (companheira de Doug), o falecido George Romero, Greg Nicotero e muitos outros rostos conhecidos do mundo do horror.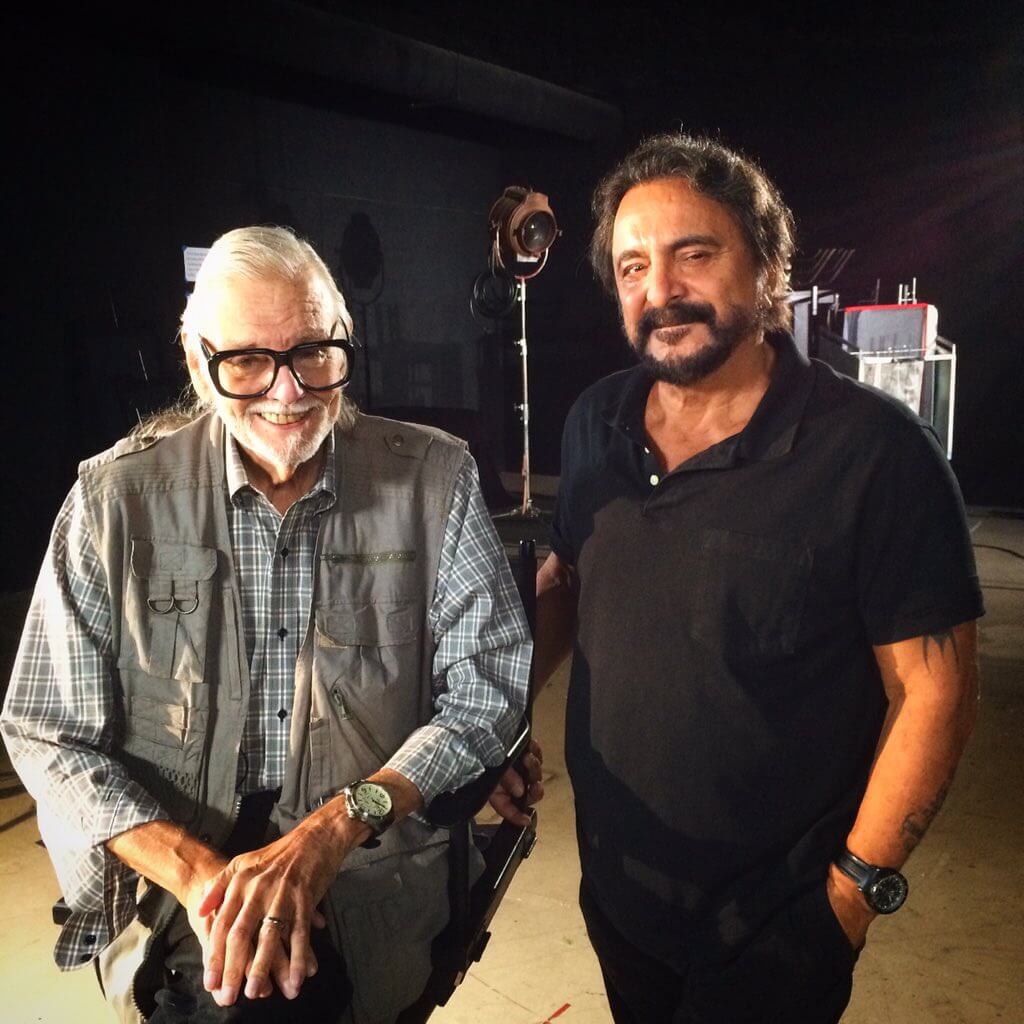 Para finalizar (porque não é de "bom Tom" falar demais em uma postagem), é justo dizer que Savini é um dos consolidadores do gênero horror como conhecemos hoje. Sem Tom Savini, provavelmente o mundo do cinema teria menos cores, e o terror, muito menos vermelho.
"Somos todos pessoas de efeitos especiais em nossas mentes. Olhe para os seus sonhos, está bem? Isso, para mim, é como o maior negócio, que as pessoas não pensam o suficiente. Quando você está sonhando, seus pensamentos estão criando um mundo tão sólido quanto esta mesa." — Tom Savini
LEIA TAMBÉM: O INCRÍVEL MUNDO DOS FILMES QUE PODERIAM NÃO TER EXISTIDO