Personagens que passam por transformações são recorrentes nas obras de Caitlín R. Kiernan, autora de A Menina Submersa (2013) e O Mundo Invisível Entre Nós (2020), ambos publicados pela DarkSide® Books. Esta é a forma que a escritora encontrou de expressar uma questão bem pessoal: Kiernan é transexual.
LEIA TAMBÉM: CONHEÇA A CARREIRA DE CAITLÍN R. KIERNAN, AUTORA DE HISTÓRIAS PREMIADAS
Desde sua primeira infância, como Kenneth R. Wright em Dublin, passando pelo Alabama e se mudando para Rhode Island com sua companheira Kathryn A. Pollnac, que é fotógrafa e também faz bonecas, a escritora sempre buscou deixar sua vida pessoal reservada. A transexualidade é tema presente em suas obras através de personagens que passam por períodos de transformação e de busca por um lugar no mundo.

Ela comentou sobre o assunto em uma entrevista à revista Locus em 2008: "Da mesma forma que eu não quero ser lembrada como uma escritora de horror, eu não quero ser lembrada como uma escritora gay ou como 'aquela escritora trans'. Em entrevistas é um tema que eu me sinto tímida em abordar diretamente". Apesar de nunca ter escondido sua sexualidade, ela não quer que isso se torne um tema central: "Eu nunca escondi a questão da transexualidade, eu só não quero fazer alarde com isso. Não é o que me define".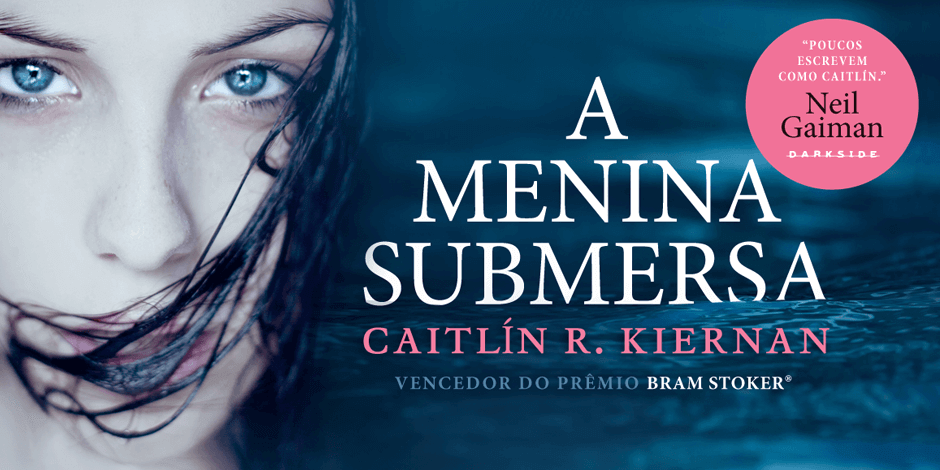 Caitlín R. Kiernan prefere tratar este assunto autobiográfico em suas personagens: "Como eu poderia não escrever sobre ter uma mente e um corpo que não combinam?". Ela acrescenta que é um tema que se mantém forte em suas inspirações e batalhas pessoais: "Eu nunca vou me sentir confortável neste corpo, por vários motivos, e eu sou constantemente atraída ao tema da transformação, em muitos aspectos diferentes".
Esta abordagem, de uma personagem que passa por duras transformações no corpo, está no conto Lágrima Sete Vezes Sal, que faz parte da antologia O Mundo Invisível Entre Nós. Em A Menina Submersa, Caitlín aborda a identidade de gênero, subvertendo alguns estereótipos através da relação das personagens Imp e Abalyn.
LEIA TAMBÉM: SOMBRIAS E REFLEXIVAS: CONHEÇA AS RELEITURAS DARK DE A PEQUENA SEREIA
5 nomes trans ou não-bináries da fantasia
Apesar de se manter discreta sobre o assunto, Caitlín R. Kiernan, através de seus trabalhos, proporciona um ambiente acolhedor, permitindo aos leitores encontrarem eco em suas identificações e desejos. Com suas personagens passando por fortes transformações, ela manda uma forte mensagem ao público de que está tudo bem se questionar, passar por inseguranças e que há mais pessoas que também não se sentem bem na própria pele.
A literatura, a ficção e o ambiente da fantasia são importantes espaços para dar vez a diferentes vozes, de autores com diferentes histórias e dilemas, que se encontram com as mesmas indagações dos leitores. A seguir, apresentamos cinco autores do gênero de fantasia que são trans ou não-bináries:

1. Sarah Gailey: autore conhecide e premiade pelo conto River of Teeth, ganhando um Hugo Award. Seu primeiro romance foi publicado em junho de 2019: Magic for Liars e é considerado uma das melhores fantasias do ano. Sarah se identifica como não-binárie.
2. April Daniels: assim como Caitlín R. Kiernan, esta autora trans também aborda aspectos autobiográficos em suas obras, com direito a super-heróis e heroínas trans e queer.
3. J.Y. Yang: escritore de Cingapura que também se define como não-binárie. Em seus contos steampunk Yang explora o corpo humano como uma embarcação para contar histórias, aproveitando seu background com biologia molecular, jornalismo e comunicação científica.
4. Akwaeke Emezi: mais conhecide pelo livro de estreia, Freshwater, autore trans não-binárie de origem Igbo e Tamil, uma região da Nigéria. Com pouco mais de 30 anos de idade, tem uma prolífica carreira, chegando até a fechar contrato com a FX. No entanto, por questões de saúde, Emezi decidiu dar uma desacelerada no trabalho desde 2019.
5. Charlie Jane Anders: mais conhecida pelas obras Choir Boy e All the birds in the sky, esta autora trans escreve sobre fantasia e ficção-científica, além de também ser editora, apresentadora e uma artista performática.