Bem-vindos a Potter's Bluff!
Quando um fã de horror de longa data pensa em zumbis, em mortos-vivos, provavelmente o que salta à mente é o rosto de George Romero ou o universo descendente de The Walking Dead. Nada mais justo, considerando o tudo e mais um pouco que George, Savini e Greg Nicotero construíram para os mortos que andam, mas diga-se a verdade: se o mercado não conseguiu ser gentil em tempo integral nem mesmo com os pais de todos os mortos-vivos, ele foi um crápula com alguns bons filmes.
LEIA TAMBÉM: A EVOLUÇÃO DOS ZUMBIS NA CULTURA POP
Apenas o nome de um desses clássicos subestimados, em português: Os Mortos Vivos, talvez não refresque sua memória, mas em algum lugar aí dentro existe uma cena escondida. Um fotógrafo em uma praia, uma garota de camisa vermelha, um dia frio e um pouco nublado. Ela se insinua, e ele a fotografa. E ele morre.
Ou talvez você se lembre da capa da fita VHS, que mostra um rosto soterrado em uma paisagem azulada, o rosto lembra uma estátua, a paisagem lembra outro planeta. Ou ainda, pode ser que você se lembre vagamente de um rosto todo enfaixado, apenas com a boca e o olho esquerdo expostos (e não falamos de Fire in The Sky que emprestou o recorte e o levou para uma nave extraterrestre).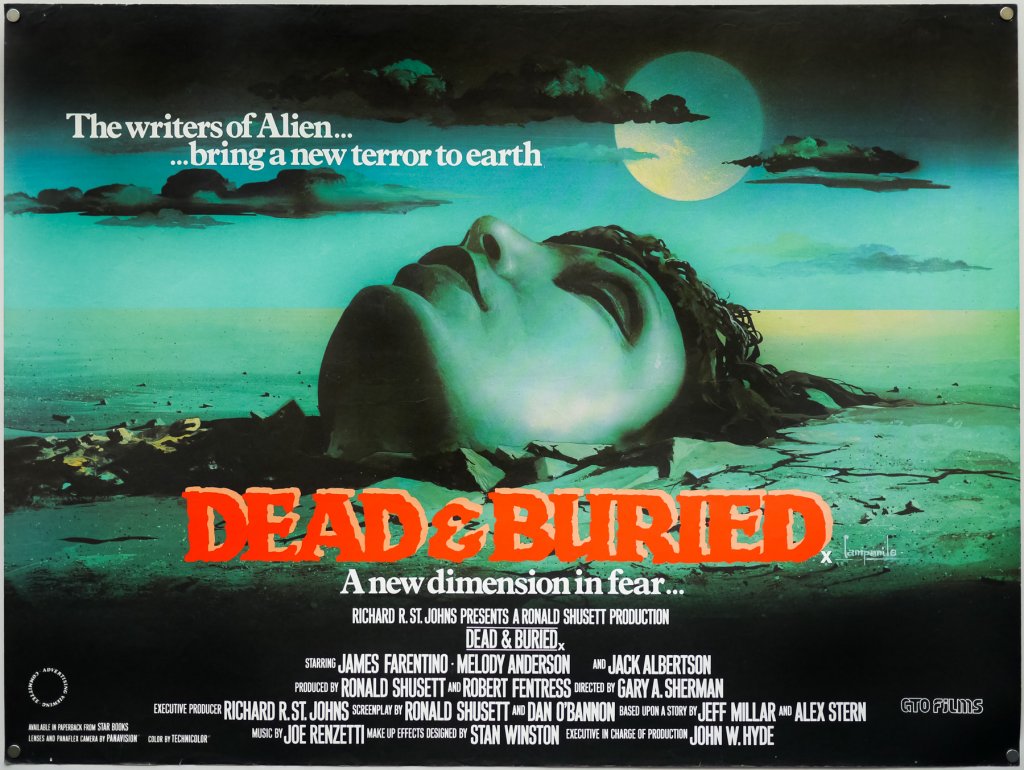 O filme em questão é Dead & Buried, uma joia rara do horror por muitos motivos, mas principalmente pela morbidez da segunda metade do filme. Sim, é um filme sombrio, de ideias sombrias e consequências sombrias que ficarão em sua mente por um bom tempo. Nessa obra de arte esquecida não temos zumbis que se alimentam de carne e cérebro, mas um tipo clássico de morto-vivo, que envolve feitiçaria, religião, Vodu.
A ambientação do filme também contribuiu muito para essa aura obscurecida. Potter's Bluff fica em uma região costeira, o chão está sempre úmido, em boa parte do filme as cenas se passam em lugares fechados ou contaminados por névoa. Existe uma penumbra por toda parte, até mesmo na imagem da película. Em alguns momentos, a fotografia lembra um pouco Salem's Lot de 1979, adaptação para o romance de Stephen King. E se nada disso o convenceu, existe aquele detalhe especial para dar um impulso extra: o filme contou com o roteiro de Ronald Shusett e Dan O'Banno, caso não os reconheça pelo nome, são os mesmos idealizadores de Alien. E nosso amado Robert Englund "Krueger" faz uma ponta na produção, o que deixa tudo mais interessante.
LEIA TAMBÉM: AS MELHORES FACES DO REI DO HORROR
Não vou detalhar o enredo do filme de ponta a ponta para não estragar o passeio de quem deseja se aventurar, mas asseguro que vale a pena sobreviver ao início lento para se deliciar com sua conclusão chocante e obscena. É um final incômodo, mórbido e invasivo, algo que particularmente nos interessa em bons filmes de terror. Por quais motivos esse filme ficou reduzido a um círculo discreto de admiradores aqui no Brasil para sempre será um mistério, mas depois de uma visita, duvido que você o deixará assim tão morto e enterrado…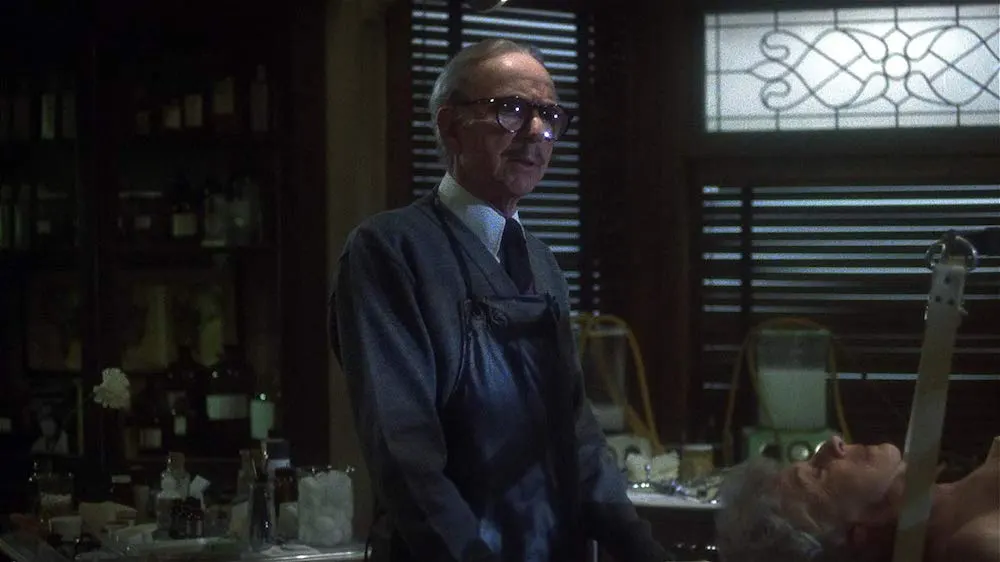 Oh, vale um destaque para a cena da agulha (entendedores entenderão), para as mortes e "re-mortes" super criativas e para a atuação de Jack Albertson, que faz o agente funerário William G. Dobbs — absolutamente brilhante.
"Chame de magia negra. Chame de avanços da medicina. Eu vou levar meu segredo para o túmulo."
LEIA TAMBÉM: A TRANSFORMAÇÃO DOS ZUMBIS NO CINEMA EM 7 FILMES ICÔNICOS